GC Inter-County Championships 22-23 August. Dorset take the Division 1 title. Hertfordshire win Division 2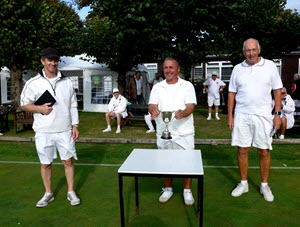 Dorset take the Division 1 title
by Jonathan Powe
28th August 2020 (
GC - Championships
)
The GC Inter-County Championships had a rather different feel this year. And it wasn't all about COVID. To start with, Division 2 had grown to 8 teams with the addition of the Devon team plus a CA Select team which forced a move from Compton to Cheltenham. Meanwhile, due to the understandable limit on numbers at Southwick, the Division 1 counties were restricted to teams of 3, which meant a change to the format. But perhaps the most striking change was the absence of the excellent catering and bar facilities at both venues. Although this meant that the afternoon sessions started rather more promptly than in previous years, it certainly had an effect on the 'festival' atmosphere that is such a feature of the Championships. However, spirits were not dampened too greatly and there was some excellent croquet played at both venues.
At Southwick, the Division 1 format was an all-play-all block, followed by a 2-round knockout for the teams placed 1-4, 5-8 and 9-12. All matches were 3 single games played against opposite numbers in handicap order. On the basis of team handicaps, it looked like Kent, Dorset, Sussex and Somerset (the 2019 winners) would be the teams to watch. At the halfway stage things appeared to be running reasonably to form with Sussex on 5/6 wins and Dorset, Kent, Somerset and Nottinghamshire close behind on 4/6. There were some important top-of-the-table clashes in the final 5 rounds which caused a bit of a shuffle at the top, but in the end it was (in order) Kent, Sussex, Dorset and Somerset in positions 1-4 for the final knockout matches. Close behind was the CA Select team who had punched above their weight in the final few rounds, missing out on 4th place by a whisker.
In the semi-finals, Kent (Pierre Beaudry -4, Simon Carter -4 and Mark Daley -3) beat Somerset (James Galpin -4, Stephen Custance-Baker -1 and Colin Britt -1) with relative ease 3-0. Meanwhile Dorset (Jonathan Powe -4, Steve Leonard -3, David Kendrick -2 (Sun) and Dave Trimmer -2 (Sat)) were matching that scoreline, beating Sussex (Pete Dowd -3, Richard Brooks -2 and Liz Farrow -1) 3-0 to set up a Kent v Dorset final. In their block match played that morning, Kent had beaten Dorset 2-1, but in the final Dorset managed to turn the tables. With the match poised at 1-1, and the final game between David Kendrick and Mark Daley on the 12th hoop, David ran the hoop from 8 yards to win the game 7-5 and the match 2-1. Dorset last won the Championship in 2004 when William Ormerod was a member of the team, so it was fitting that they should get their hands back on the Cup so soon after his passing.
Top 5 individual performers were (in order): Pierre Beaudry (Kent) 11/13; Jonathan Smith (Hants) 7/9; Steve Leonard (Dorset), James Galpin (Somerset) and Les Heard (Northants) all on 10/13.
In Division 2, Hertfordshire carried all before them, winning all 7 of their 2-round matches to take the title. Oxfordshire were close behind on 6/7 followed by Devon on 4/7. A separate report may follow.
Many thanks to Southwick and Cheltenham for the use of their excellent courts and for all their work beforehand to prepare for both events.
All the results are available on Croquet Scores:
Division 1: https://croquetscores.com/2020/gc/inter-county-championship-1
Division 2: https://croquetscores.com/2020/gc/inter-counties-division-2
---