David Warhurst Won The 2020 York White Rose Tournament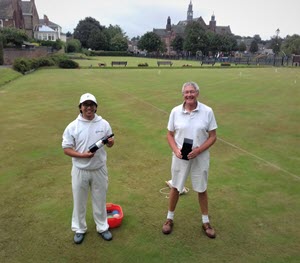 David Warhurst Won The 2020 York White Rose Tournament
by Peter Thompson at York
15-16 August 2020 (
AC
)
The 2020 White Rose tournament at York was fully subscribed despite dodgy weather forecasts and the additional overcast of Covid-19 precautions. 12 players completed 32 games in the course of the two days, with no time-limits being required.
The lawns at York are flat, but were heavy and patchy. The weather threatened but forbore from precipitation and there were no crises; even the large lady who fell into the club on Saturday afternoon was recovered and refurbished without fuss by those present; the consensus was that (temporarily) she may not have been in full command of all her faculties.
David Warhurst beat Beatrice McGlen in one semi-final and Eugene Chang beat Callum Johnson in the other. David then beat Eugene +5 in a closely contested final, Eugene opting to lay up when faced with a long approach to 4-back with his second ball, and David hitting what he left. Callum Johnson did the only triple of the tournament. Sophie McGlen had the highest handicap in the tournament, but was very much a force to be reckoned with and gained some notable scalps. Beatrice presented the prizes. Derek Knight organised a covid-compliant picnic on Saturday evening.
---