To Ell and back: Pete Trimmer Won the AC Third Eight (The Spencer Ell)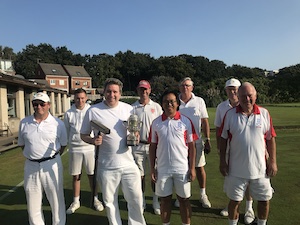 Pete Trimmer wins the AC Third Eight (Spencer Ell Cup)
by Nick Parish at East Dorset LT & Croquet Club
10-14 Sep 2020 (
AC
)
Before the Spencer Ell started, it appeared that there could be only one winner. As it turned out, there were two. Off the field, the very clear winner was Parkstone member David Harrison-Wood, who set hoops which were unyielding at 1/32" clearance (or less - at least one wedge was successfully claimed), and not to be trifled with from any distance. Pictoral evidence is attached.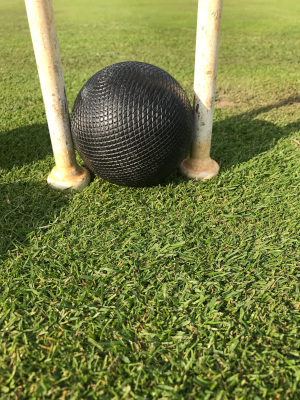 Tight hoops led to many failed attempts
Allied to heavy lawns - lawn 3 was timed at 8 seconds despite the delightful sunny weather - which ruled out some lawn-length shots for some players, and you had a recipe for plenty of clangs, blobs, swearing and mallet smashing, and rather fewer controlled breaks starting at hoop 1 and finished with a controlled leave. As a result, only three TPs were completed, fewer than any other selection event this year and the fewest in the Ell for over 15 years, and there were no easy victories, with no +26s and indeed only two games won by more than +20.
On the field, almost anyone could beat anyone, but the almost was key, because although many got close, very few people could beat Pete Trimmer, who romped away to the trophy. Although he only finished two games clear of runner-up Mark Ormerod, two of his three defeats (one to Ormerod and two to Nick Parish) came in his final two games after his victory was assured with a day to spare, and he may have eased off a little. Parish and Paul Rigge shared third place, but none of the other players were outclassed. Eugene Chang's slow start of one win in his first six games meant his four straight wins in the middle were ultimately to no avail, while Callum Johnson showed huge potential for the future and was fully at home at this level. Manager Phil Cordingley and RoT Mike Town were perhaps unlucky to bring up the rear, between them losing no fewer than ten games by single-digit margins.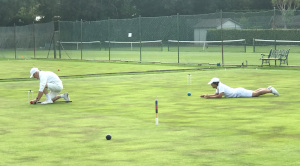 Competitors check for a ball wiring (snooker)'
Trimmer entertained the crowd by laying up for sextuple peels throughout and managed to peel 1b 16 times during the event, although the difficult conditions meant the closest he got to completing one was in his very first game when he got as far as a straight rover peel to finish before breaking-down. Despite this, he still claimed two of the three TPs (the other being a Parish TPO). The other on-field entertainment also featured Trimmer, this time in defeat to Nick Parish. Having reached 4b and peg, Parish embarked on an adventurous break with red, and was sufficiently disgusted after only just wriggling through 4b that he forgot to remove his clip. He then hit the hampered shot, rolled up to penult from seven yards away and ran a sweaty 3-yard angled hoop. However, he carelessly hit yellow in the rover hoop shot and missed the seven-yard peg-out from behind rover. Luckily for him, Trimmer then stuck in h3 and Parish was able to peg out. Elbows bumped, both players left the lawn before the spectators pointed out what had been obvious to everyone but the two combatants - yellow had been the 4b ball and red the peg ball, and the last break had been completed with the wrong ball. Would Parish have noticed if he had removed his clip from 4b immediately after running it? We'll never know.
One of the things you'll never hear a croquet player say is "I'm really looking forward to the trophy presentation". However, this time was the exception, as we were very lucky to have Marion Ormerod, widow of William Ormerod, available to present the trophy to local boy Trimmer, who fittingly had learned much of his croquet from William. The presentation was an extremely emotional affair, and one we were privileged to be present for.
I'd like to finish by thanking Parkstone Club for their hospitality - their excellent food, delightful weather throughout, attentive and helpful locals, and unyielding hoops. Actually, not the last one. No thanks whatsoever for those. They still haunt my nightmares.
Results
PLAYER
PT
MO
NP
PR
EC
CJ
PC
MT
Won
Tot
Pos
Pete Trimmer
+3tp
-12
+16
+10
+12
+9
+3
6
11
1
-10
-15
+20
+3
+9
+14
+16tp
5
Mark Ormerod
-3tp
-10
-13
+17
+15
+23
+20
4
9
2
+10
+20
+3
-14
-11
+3
+19
5
Nick Parish
+12
+10
-3
-14
+6tpo
+7
+10
5
8
3=
+15
-20
+14
+1
-20
-19
-23
3
Paul Rigge
-16
+13
+3
+9
+11
+5
+11
6
8
3=
-20
-3
-14
-16
-17
+4
+3
2
Eugene Chang
-10
-17
+14
-9
-16
+9
-4
2
6
5=
-3
+14
-1
+16
+5
-3
+4
4
Callum Johnson
-12
-15
-6tpo
-11
+16
+13
-3
2
6
5=
-9
+11
+20
+17
-5
-4
+16
4
Phil Cordingley
-9
-23
-7
-5
-9
-13
+7
1
4
7=
-14
-3
+19
-4
+3
+4
-10
3
Mike Town
-3
-20
-10
-11
+4
+3
-7
2
4
7=
-16tp
-19
+23
-3
-4
-16
+10
2
Peeling Stats
| PEELING etc. | op | sxp | qnp | qp | tp | ot | Tot |
| --- | --- | --- | --- | --- | --- | --- | --- |
| On partner | | | | | 2 | | 2 |
| On opponent (winning) | | | | | 1 | n/a | 1 |
| On opponent (losing) | | | | | | n/a | |
| Straight | | | | | | n/a | |
| Total | | | | | 3 | | 3 |
Margin Stats
| Margin of Victory | 1 | 2 | 3 | 4 | 5 | 6 | 7 | 8 | 9 | 10 | 11 | 12 | 13 | 14 | 15 | 16 | 17 | 18 | 19 | 20 | 21 | 22 | 23 | 24 | 25 | 26 | TOTAL |
| --- | --- | --- | --- | --- | --- | --- | --- | --- | --- | --- | --- | --- | --- | --- | --- | --- | --- | --- | --- | --- | --- | --- | --- | --- | --- | --- | --- |
| Occurrences | 1 | | 9 | 4 | 2 | 1 | 2 | | 4 | 5 | 3 | 2 | 2 | 4 | 2 | 5 | 2 | | 2 | 4 | | | 2 | | | | 56 |
Results to Date
Rd
Ln
Thursday, 10 September
1
1
Callum Johnson
beat
Phil Cordingley
+13
2
Mike Town
beat
Eugene Chang
+4
3
Nick Parish
beat
Mark Ormerod
+10
5
Pete Trimmer
beat
Paul Rigge
+16
2
1
Nick Parish
beat
Pete Trimmer
+12
2
Paul Rigge
beat
Mark Ormerod
+13
3
Phil Cordingley
beat
Mike Town
+7
5
Callum Johnson
beat
Eugene Chang
+16
3
1
Mark Ormerod
beat
Eugene Chang
+17
2
Pete Trimmer
beat
Phil Cordingley
+9
3
Paul Rigge
beat
Callum Johnson
+11
5
Nick Parish
beat
Mike Town
+10
Rd
Ln
Friday, 11 September
4
1
Paul Rigge
beat
Phil Cordingley
+5
2
Eugene Chang
beat
Nick Parish
+14
3
Mark Ormerod
beat
Mike Town
+20
5
Pete Trimmer
beat
Callum Johnson
+12
5
1
Pete Trimmer
beat
Mike Town
+3
2
Mark Ormerod
beat
Callum Johnson
+15
3
Nick Parish
beat
Phil Cordingley
+7
5
Paul Rigge
beat
Eugene Chang
+9
6
1
Nick Parish
beat
Callum Johnson
+6tpo
2
Paul Rigge
beat
Mike Town
+11
3
Pete Trimmer
beat
Eugene Chang
+10
5
Mark Ormerod
beat
Phil Cordingley
+23
Rd
Ln
Saturday, 12 September
7
1
Pete Trimmer
beat
Mark Ormerod
+3tp
2
Eugene Chang
beat
Phil Cordingley
+9
3
Mike Town
beat
Callum Johnson
+3
5
Paul Rigge
beat
Nick Parish
+3
8
1
Eugene Chang
beat
Mike Town
+4
2
Mark Ormerod
beat
Nick Parish
+20
3
Pete Trimmer
beat
Paul Rigge
+20
5
Phil Cordingley
beat
Callum Johnson
+4
9
1
Phil Cordingley
beat
Nick Parish
+19
2
Callum Johnson
beat
Paul Rigge
+17
3
Eugene Chang
beat
Mark Ormerod
+14
5
Pete Trimmer
beat
Mike Town
+16tp
Rd
Ln
Sunday, 13 September
10
1
Eugene Chang
beat
Paul Rigge
+16
2
Mike Town
beat
Nick Parish
+23
3
Pete Trimmer
beat
Phil Cordingley
+14
5
Callum Johnson
beat
Mark Ormerod
+11
11
1
Mark Ormerod
beat
Mike Town
+19
2
Pete Trimmer
beat
Eugene Chang
+3
3
Callum Johnson
beat
Nick Parish
+20
5
Paul Rigge
beat
Phil Cordingley
+4
12
1
Pete Trimmer
beat
Callum Johnson
+9
2
Mark Ormerod
beat
Phil Cordingley
+3
3
Paul Rigge
beat
Mike Town
+3
5
Nick Parish
beat
Eugene Chang
+1
Rd
Ln
Monday, 14 September
13
1
Mark Ormerod
beat
Paul Rigge
+3
2
Nick Parish
beat
Pete Trimmer
+15
3
Eugene Chang
beat
Callum Johnson
+5
5
Mike Town
beat
Phil Cordingley
+10
14
1
Phil Cordingley
beat
Eugene Chang
+3
2
Callum Johnson
beat
Mike Town
+16
3
Nick Parish
beat
Paul Rigge
+14
5
Mark Ormerod
beat
Pete Trimmer
+10
---