Phil Eardley Won The The Selectors' Weekend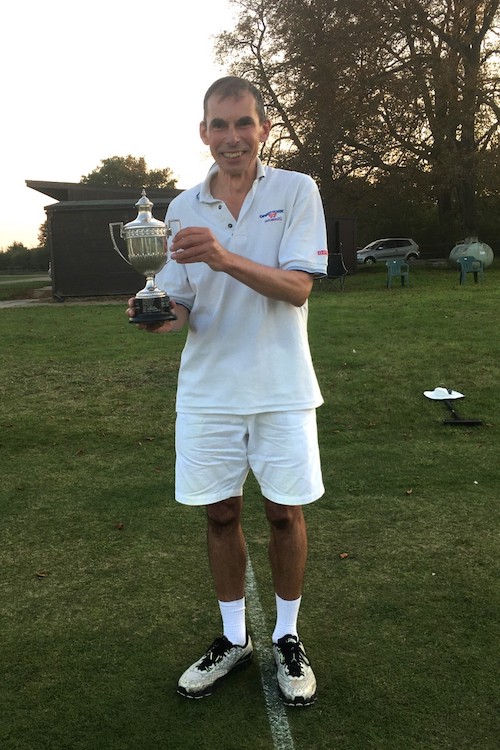 The winner of The Selectors' Weekend 2020 - Phil Eardley (Photo: Rod Ashwell )
by Rich Waterman at Wrest Park
11-13 September 2020 (
AC
)
The Selectors' Weekend was held at Wrest Park from September 11th to 13th 2020.
We were blessed with good weather and equally good company throughout the three days. Parts of the lawns proved a little tricky but overall it was a very fair test of skill.
This was a particularly strong field for this competition, with four players having a handicap of -1.
The sixteen players were split into two all-play-all blocks, with the top two players from each block qualifying for the semi-final (ties would be resolved by who beat whom and then net hoops).
Block A was Phil Eardley (-1), Debbie Lines (-1), David Warhurst (-0.5), Jonathan Wolfe (0), Rod Ashwell (-0.5), Dave Gunn (1), Cliff Jones (1) and Sophie McGlen (3.5).
Block B was Rich Waterman (-1), David Marsh (-1), Bryan Harral (-0.5), Andy Dibben (-0.5), Brian Havill (0.5), Beatrice McGlen (0.5), Neil Coote (1.5) and Neal Bacon (1.5).
The first round of matches resulted in a surprising three TPs from the eight matches. Unfortunately, we only managed another three TPs in all of the remaining games in the competition!
By the end of Day one, Block A had a clear leader with Phil Eardley on three wins out of three. Block B had two leaders with Rich Waterman and David Marsh also on a 100% record.
Day two continued with Phil Eardley pulling further clear in Block A and maintaining his 100% record with six wins. Block B became a little more complicated with both David Marsh and Rich Waterman suffering unexpected losses but still leading the way with five wins each.
At the start of day three we had one more round of block matches to play. Phil Eardley had already qualified from Block A, as had David Marsh in Block B by virtue of holding the who beat whom tiebreaker over those in contention. Both Debbie Lines in Block A and Rich Waterman in Block B knew that a final win would see them through. A loss for Debbie would see either Jonathan Wolfe, David Warhurst or Rod Ashwell have a chance in Block A. A loss for Rich Waterman would present opportunities for Bryan Harral and Beatrice McGlen in Block B.
While many of the players were working out the permutations, they became somewhat irrelevant as Debbie Lines inflicted the first defeat on Phil Eardley (+23) and Rich Waterman defeated David Marsh (+24TP).
The top four seeds from the start of the tournament had qualified for the semi-finals.
The semi-finals were:
Phil Eardley (Winner Block A) v David Marsh (R.Up Block B)
Rich Waterman (Winner Block B) v Debbie Lines (R.Up Block A)
John Bevington from the host club very kindly cut Lawn 1 before the semi-finals which made a big difference to the conditions. At this point I should extend a big thankyou to the host club for looking after us so well and a thankyou for the hard work from its members, including three who were playing: Rod Ashwell, David Marsh and Bryan Harral.
In the first semi-final, both players had opportunities, but Phil Eardley continued with his excellent play and prevailed +12. The other semi-final was a battle between two Essex team-mates. Debbie played the better croquet, but Rich hit pretty much everything and won +9.
In the 3rd/4th place playoff, Debbie Lines went on to win +9 against David Marsh. Bryan Harral had also secured the "best of the rest" prize with the most wins outside the semi-finalists.
The final was a somewhat scrappy affair. I think both players were a little nervous and Rich Waterman had problems approaching hoop 4 from awkward positions. In the end Phil Eardley's excellent play from the previous days kicked in and he deservedly went on to win by +12.
A big thankyou to Cliff Jones for managing the tournament with his usual grace and efficiency. We all received laminated schedules at the start of the tournament and as expected Cliff dealt well with some block games finishing in 1.5 hours and others going to 4 hours. He also supplied some bonus wine prizes for the 3rd/4th finishers and to Bryan for winning the "best of the rest".
Also thankyou to Debbie Lines for being the tournament referee. The absence of any dramas is the best testament to good refereeing.
We also had an opportunity to make a socially distanced presentation to Sophie McGlen - the winner of the Steel Memorial Bowl for the most improved female association player of 2019. Sophie played extremely well over the three days. Playing off a handicap of 3.5, she beat two minus handicap players, with a few close defeats as well.
Overall a very enjoyable three days and congratulations once again to Phil Eardley on his win. In his closing speech he referred to this being his first win for quite a few years. I doubt he will have to wait that long for the next one.
Rich Waterman
Full results available on Croquet Scores: https://croquetscores.com/2020/ac/selectors-weekend
---