CA National Junior Weekend Unveils Stars of the Future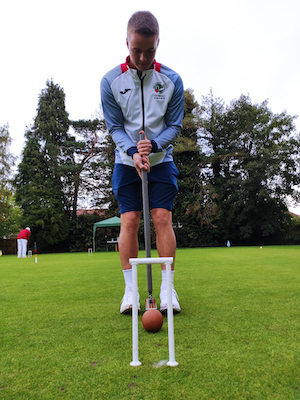 Daniel Gott models the CA U25 Squad kit
by Eugene Chang at Watford Croquet Club
6th October 2020 (
CA Official News
)
The weekend saw 18 participants, 9 Taskforce and a crew of parents, teachers and local club members gather for an energetic schedule of croquet exercises and matches. With participants aged 10 to 22 and Taskforce members aged 19 to 60+, there was a buzz from the first hit to the final presentation. Smartly attired in the newly-commissioned CA U25 Squad kit (modelled by Daniel Gott) and with CA caps and ball markers sponsored by Mark at the CA Office, we were set for a cracking event.
The CA's revived Junior Programme started midway through lockdown, aiming to build a network of young players, create a safe environment for support and learning, and organise activities led by top young players and coaches. The fortnightly Zoom calls focussed on team-building activities and introducing key croquet drills, with breakout rooms a key feature of replicating small-group dynamics, building rapport and celebrating croquet successes. As lockdown eased, Programme participants and the Taskforce arranged regional meetups at Pendle, Wrest Park, Cheltenham, Dulwich and Edgbaston which gave that vital face-to-face connection and precious lawn time.
The National meetup at Watford was a finale for the 2020 Programme and provided everyone with the opportunity to compete in a team event, with additional incentives by merging the event with the CA AC Schools and Juniors Championships. We split into three teams and spent the first day playing 'ProAm' style doubles matches in GC and 14 point AC, and also completing cross-code exercises such as peg shoot-outs, clearance drills and 2-ball breaks. Within the AC matches, pairings chose between traditional doubles, alternate-stroke doubles, or the pro playing croquet strokes only, creating some fascinating breaks. There was some excellent quality in the exercises - one participant, Todd Ballantine-Morris, hit 8/8 at the peg from the boundary and Sam Cuthbert completed 53 continuous back/forth hoop runs. Taskforce members also got stuck in with valuable team points on offer - Daniel Gott led the way with a 14-hoop 2-ball break, although other Taskforce were somewhat outscored by their junior counterparts!
The trophy presentation
Sunday saw participants alternate rounds of KO GC and AC singles to contest the Juniors Championships in each code. The best AC turn saw Harvey Smith, who had just been pegged-out by Aston, finish next turn by hitting a 20-yard roquet into corner 3 with his H1 ball and digging out a 3-ball break; whilst in GC, Ellie Ross (who relocated from NZ to the UK during lockdown just in time to join the Junior Programme) demonstrated her international quality with a series of clinical victories, characterised by solid hooping and positional play.
Those knocked-out continued to enjoy themselves with Irish speed croquet, further ProAm doubles and spontaneous friendlies all occurring. The parents and teachers on the sidelines were no slouches at croquet either, filling in as needed to provide some welcome coaching.
In the AC singles final, Albie Willett put in a nerveless timed-turn to hit in and turn a 2-hoop deficit into a 5-point lead, pegging-out his front ball leaving 3 balls in corners and a near-impossible task for 2015 winner Eden Rogers.
Meanwhile, in the GC singles final, 2020's standout rapid improver Aston Wade (five wins and one 2nd place finish in six CA tournaments, both AC and GC) defeated Ellie in straight games 7-4, 7-4, to crown a sixth trophy for 2020 and a warm send-off to start his degree at Exeter University. He will be a strong addition to Budleigh Salterton and Sidmouth clubs.
The School's Championship was won by Farlingaye for the sixth (!!) year in a row, and the team event was won by Daniel Gott (captain, TF), Will Mellor, Albie Willett, Sam Cuthbert, Todd Ballantine-Morris, Will Hollman, Cosmo Denny, Rich Waterman (TF), Ian Shore (TF) and Eugene Chang (TF).
The trophies were presented via elbow-bump by Quiller Barrett, CA President, who delivered a fantastic speech and thanked the indefatigable Simon Hathrell and his local Watford members for their tireless work at facilitating and supporting the event throughout the somewhat torrid weather conditions, and without running water/electricity.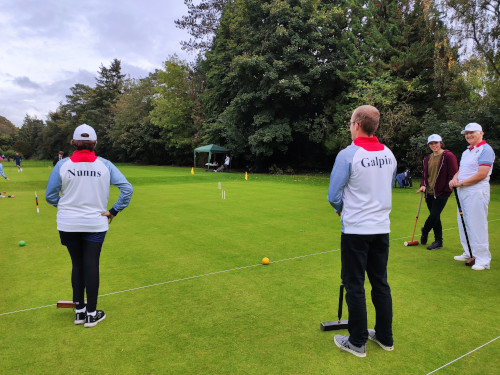 The Shirts!
Know any young players who could join the Junior Programme for 2021? Contact Eugene Chang.
Handicap Reductions
Albie Willett (AC) 8 to 5
Aston Wade (AC) 3.5 to 1, (GC) 2 to 0
Harvey Smith (GC) 8 to 4
Results
AC Schools Championship: Farlingaye School beat Bradfield College
AC Juniors Championship: Albie Willett beat Eden Rogers +8t (18 pt)
GC Juniors Championship: Aston Wade beat Ellie Ross 7-4 7-4
---