Rachel Gee Wins The Cheltenham Ascot Qualifier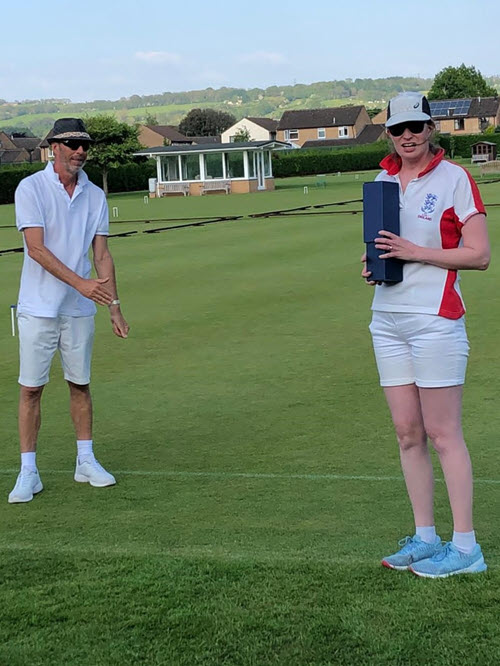 Ascot Cup Qualifier June 2021 Winner Rachel Gee
by Ivor Brand at Cheltenham
7th June 2021 (
GC
)
Perhaps it should not have been a surprise that the three top seeds for this event sure enough finished as the top three in this year's Ascot cup championship qualifier at Cheltenham over the May bank holiday. The standard of play as expected with nearly half the field being minus players was always going to be high. The lawns were looking great and the catering was excellent and so a massive thank you to Cheltenham especially the Magee's!
I will start with semi finals which saw Richard Bilton progress past fellow Nottingham man Ian Burridge 2-1 into the final to meet Rachel Gee who had also progressed past Lionel Tibble 2-0. The final got under with an expectant group of fellow players watching a display of hard hitting and smooth hooping which saw Rachel take the first game 7-4. Meanwhile on an adjacent lawn Ian Burridige was securing his deserved 3rd place podium finish with a tight 7-6 win over Lionel Tibble. So, back to the final Richard came out strong and went into a 2-0 lead only to be pegged back to 3-3 by Rachel and at this point 'a person of non-gender luck' had a turn which we have no doubt all experienced at some time. Richard with a ball set up at hoop 7 cut rushed Rachel's ball which was destined for the M5 into the jaws. This allowed Rachel to as expected win the next two hoops although Richard responded by taking hoop 9 and so to another critical part of the game. Rachel was taking more time than usual to make a decision about whether to clear Richard to the middle of the north boundary or take on hoop 10 from 7yards away. She backed herself and moved 6-4 ahead. Richard took hoop 11 at his normal pace and finished on the south boundary, Rachel played a perfect wired ball down which left only half a ball available for Richard to shoot at. Unfortunately, he narrowly hit the wire leaving Rachel to finish the game and match 7-5.
So, here is how we all progressed throughout the weekend. Once again this tournament was full with 32 eager players willing and able to make the best of what was going to be a hot, sunny and enjoyable weekend. The only dilemma was why did the manager only take 8 through to the knock out and not 16 which had been done in the previous Cheltenham (Barter cup) tournament. The reason being with a larger field of 32 playing 'untimed' there was a greater risk of the blocks not being finished on the first day. This would have left a potential of 4 knock out rounds of best of three (12 games) to be played (untimed) on the second day. At least if the tournament guidelines were to be adhered to, oh well maybe next year? Unfortunately, the manager was one those that finished in 3rd place and so missed out of the knock out. 'Covid' also played its part with two late withdrawals, but fortunately two reserves were available, and the four blocks were 'again' reseeded. The format had been 'reluctantly' decided to put 8 into the knock out, with 3rd & 4th places going into another block for final positions and so on down the blocks. Therefore, it was important to keep the numbers in the blocks even so as to avoid any byes (like the Barter cup). Unfortunately, another 'Covid' victim the day before meant the manager was always going to be grateful to someone for stepping in to help out, on this occasion it was David Magee who was able to play the morning before returning to catering duties. No worries, this had bought the manager some time to look around for help. This arrived in the shape of young Harvey Smith who was having some coaching at the club. All sorted then, well it would have been if a self diagnosed doctor did not have to retire back to Oxfordshire with a bad back, mid morning. Thankfully, young Sam Cuthbert was also having some coaching and he too was keen and able to help out the manager to play the remaining games to avoid any 'byes'
So, to the blocks Rachel Gee swept all aside in block A, undefeated throughout the tournament in fact not dropping a single game. Young Eleanor Ross from New Zealand was a good runner up with the manager finishing 3rd. Block B saw Ian Burridge again progress undefeated with Stephen Leonard as runner up over Richard Brand on net points in 3rd. Block C also saw Richard Bilton progress undefeated along with young Jack Good as runner up over Morgan Case in 3rd. Block D also saw Lionel Tibble march through as block winner, but the runner up spot was narrowly taken by Richard Brooks over Simon Carter by a single net point!
The second day saw the top four seeded players left progress to the semi finals, albeit young Jack Good did give Ian Burridge a scare taking the first game off him, while Stephen Leonard also put up a fight taking a game off Richard Bilton. The following runner's up block was equally as tight with everyone taking games off of each other resulting in young Eleanor Ross wining the block on net points from Stephen Leonard.
The consolation blocks were about to start when once again the manager was indebted Deborah Albertson (proud mum of young Sam fame) for stepping in for an absentee??? Fittingly unlucky Simon Carter won the 9-16 block with David Goacher finishing as the runner up. Tony Butcher narrowly won the 17-24 block by a single net point from Neil Humphreys who finished as runner up. The 25-32 block was won by an undefeated reinvigorated Richard Thompson (who was seen the hanging his head muttering about his contact lens the previous day) over Graham Good who finished as runner up. At his point the manager must say his last thank you to Naomi Whitehead who was called upon from home after lunch to take the place of another 'bad back' retiree, so as to avoid the 'bye' and anyone sitting out on what was another glorious weekend.
Finally, my gratitude goes to my block scorers Richard Brand, Tony Forbes, Klim Sebright, Darryl Whitehead and Mrs Good (another 'proud mum' of Jack). Also, to Richard Bilton who so efficiently updated croquet scores for me. It's a real team effort!!!
---