England won the International Challenge and the AC Home Internationals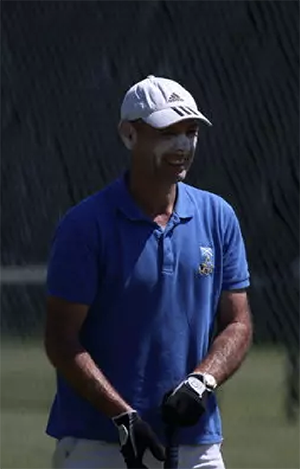 Chris Coull of Scotland ponders his next move (Photo: Samir Patel)
by Sam Murray at East Dorset LTCC
12-13 June 2021 (
International
)
Four teams, England, Scotland, Wales, and 'The Bomardiers' gathered in glorious sunshine at East Dorset LTCC on the 12th and 13th June, competing for the 2021 International Challenge, with the first three also fighting it out for the Home Internationals. With Covid having ravaged the croquet scene for over a year (and having prevented Ireland from sending a team), this was the first international event since the AC World Championships in February 2020.
The lawns showed some variability in pace, whilst initially firm hoops relented as matches wore on. The England-Scotland match saw the top pair of Samir Patel and Duncan Reeve exchanging triples, the last of these by Patel in a losing cause. The second pair of Maugham and Murray was a scrappier affair, but with Murray taking that 2-0, Scotland had a scent of victory against the Auld Enemy. However England's strength in depth (their no. 4 Mark Suter has a handicap of -2.5) proved too much, and the last three saw off their Scottish opponents without conceding a game.
Wales narrowly overcame the Bomardiers, with creditable wins for Callum Johnson and Aston Wade over their Welsh counterparts Chris Williams and Tudor Jenkins respectively, but with wins at 1 and 2 for Ian Burridge and Angharrad Walters, the match was decided by a tense 2-1 win for Rich Waterman of Wales over Jane Morrison, the Bombardiers' Irish captain.
England made lighter work in their test against the Bombardiers, dropping just a single game, albeit with two matches not completed, whilst just enough results in the Scotland v. Wales clash were reached to give the latter victory.
The final round of matches saw a hard-fought victory for Scotland over the Bombardiers, whilst England sealed victory for both events with their top 4 all scoring match wins against Wales.
The weather, hospitality, and creditable performances from the U25 players in the Bombardiers team ensured a memorable return for international croquet. EDLTCC, and Samir Patel as manager of the event, were duly thanked for their hard work in ensuring a successful weekend.
| Team | Tests | Matches | Games |
| --- | --- | --- | --- |
| England | 3 | 10 | 24 |
| Wales | 2 | 5 | 15 |
| Scotland | 1 | 7 | 16 |
| Bombardiers | 0 | 2 | 10 |
England
David Maugham (captain)
Dominic Nunns
Nick Parish
Samir Patel
Mark Suter
Wales
Ian Burridge (captain)
Tudor Jenkins
Angharrad Walters
Rich Waterman
Chris Williams
Scotland
Alastair Burn-Murdoch
Chris Coull
Sam Murray
Duncan Reeve (captain)
David Warhurst
The Bombardiers
James Galpin
Daniel Gott
Callum Johnson
Jane Morrison (captain)
Aston Wade
Full results:
croquetscores.com/2021/ac/international-challenge
---