Tobi Savage retains the Ramsgate GC Open Championship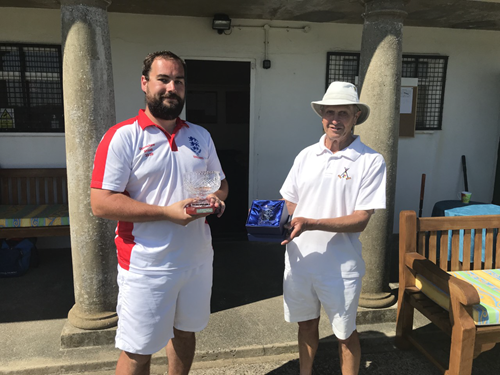 Tobi Savage retains the Ramsgate GC Open (Photo: Trevor Longman)
by Trevor Longman at Ramsgate
22nd June 2021 (
GC - Championships
)
The competition was played in glorious weather conditions over the weekend of 12/13 June, where Tobi Savage retained the top GC competition to be played annually in Kent. Tobi retained the trophy he first won in 2019; the event not being played in 2020. In a tough field containing 5 England internationals, two of them former world champions, Tobi won all his preliminary games, dropped only one game in the knockout series, and won the final in two straight games.
The first day saw the block stage, with Euan Burridge topping Block 1, Stephen Mulliner, Lionel Tibble and Tony Butcher also progressing to the knockout finals phase. In Block 2 Tobi Savage was top with Robert Fulford, Charlie Martin and Andrew Hobbs also making the finals.
With a fairly early finish of the blocks and in perfect weather conditions, it was agreed to start the finals that evening. The quarter finals went to top seeds, Burridge, Fulford and Savage, although an epic performance by local "lad" Charlie Martin, who is ranked 200 places lower in the rankings table, saw the UK No 2, Mulliner, beaten in 2 straight games, 7-5, 7-5.
The second day started with the plate competition for the players who did not get through to the finals plus a double block play off for the losing quarter finalists. After a late finish on the first day, the semi-finalists had an extra half hour lie in, well it was Sunday. Both semi-finals went to three games, with Savage beating Martin 7-0, 4-7, 7-2 and Fulford winning against Burridge 6-7, 7-5, 7-3, a great result for Rob who had not played a competitive GC competition since mid-2019.
However, Savage was unmerciful in the final triumphing over Fulford in 2 straight games 7-2, 7-3 and deservedly retained the Ramsgate GC Open trophy. Martin was placed third, on a walk over, and Mulliner headed the QF Round-Robin, winning all his games.
Praise must also go to Duncan Catterall (HC +4), a very promising young player from High Wickham/Dulwich, playing in his first major competition, who won the "Plate" event. Well done to him and to Charlie Martin for their individual successes in the tournament. Hopefully this will inspire younger players to enter challenging events and more senior players to never give up.
---