Klim Seabright won Nailsea June Advanced Tournament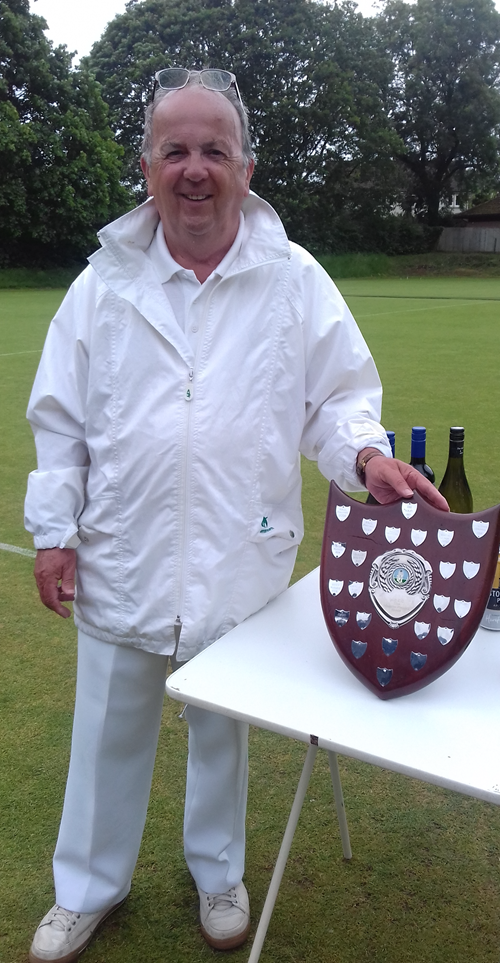 Klim Seabright won the Nailsea June tournament (Photo: Mrs Seabright)
by Kathy Wallace at Nailsea
23rd June (
AC
)
We decided to run our usual B and C Class Tournaments as class tournaments this year, thus broadening the handicap ranges without the need for matches against very disparate handicaps. This turned out to be a successful move and both tournaments filled up quickly. The need for two extra trophies was a welcome excitement during the Spring Lockdown. It was decided to name one of the new trophies in honour of Greta Stringer who was a Nailsea stalwart for many years but is sadly now too frail to play. The other new trophy will be revealed in July.
With Covid Restrictions firmly in place, the weather forecasts were viewed with trepidation. In fact the weather held out and there was no need to scurry to cars. The sun umbrellas provided good shelter from the very fine drizzle that persisted for much of Sunday.
The players in the upper class were competing for the Margaret Fleming Shield. The handicaps ranged from 0.5 to 4 and the players were placed in two blocks of four. In the first block, net points had to be used to separate Geoff Hughes (3), Klim Seabright (4), and Robert Upton (1.5), all on two wins but Geoff and Klim were the clear leaders. In the other block, Andrew Wise (0.5) and Stephen Custance-Baker (2), sailed though on three and two wins respectively. In the semi-finals, Geoff had a convincing win over Stephen and Klim triumphed over Andrew. The final looked set for an exciting match between two positive and speedy players. However, Geoff's form deserted him and Klim won +20, taking the prize for the quickest victory (1h 40min) as well as the shield. This was just reward for Klim who stepped in to replace a late withdrawal.
In the other class, the handicaps ranged from 4.5 to 7. In one block, Kathy Wallace (5) and Mike Salisbury (7) went through on two wins and net points. In the other block, Peter Kirby (4.5) and Peter Balchin (4.5) reached the semi-finals by virtue of three and two wins respectively. Peter Balchin then beat Kathy and Peter Kirby beat Mike Salisbury setting up an all-Peter Final. This was an equally one-sided Final with Peter Kirby triumphing +23, although not so quickly as Klim! Peter is relatively new to croquet, this being his first tournament. He is a worthy winner of the brand new Greta Stringer Cup.
The players were complimentary about the much improved Nailsea lawns and also about the friendly atmosphere that prevailed in spite of the notices and reminders about Covid safety. It was lovely to be back hosting a tournament but it will be even better when we can all pile into the Clubhouse and sit round the tables together. Our July Advanced Class Singles and August GC tournaments are full but there are spaces in the Advanced Tournament, managed by Marcus Evans, on 14/15 August.
---