Rachel Gee won the GC Women's Open Championship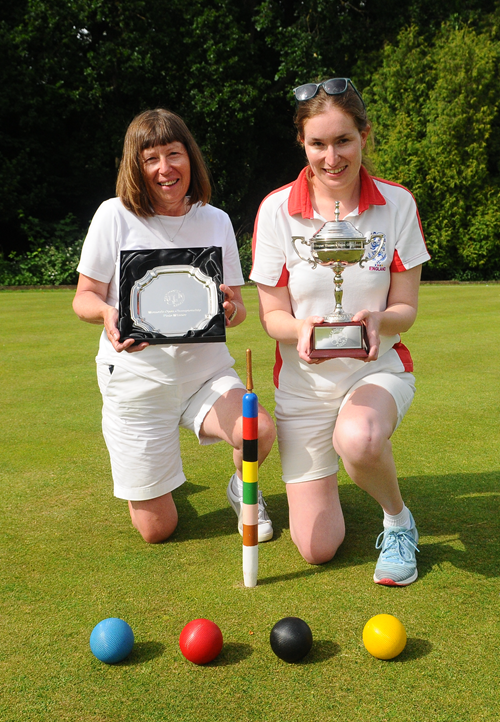 Judith Rowe (plate) & Rachel Gee (Cup) winners, GC Women's Open Championship 2021 (Photo: Frances Colman)
by Frances Colman at Nottingham
28th June 2021 (
GC - Championships
)
Rachel Gee wins the newly styled GC Women's Open Championship (11-14 June)
Rachel Gee won the first edition of the newly styled Golf Croquet Women's Open Championship, now awarded the high Grade 2 Championship status by the CA.
She started as red hot favourite, of course, and didn't disappoint, running through the three-day tournament without dropping a game, to further extend her already remarkable unbeaten record of 30 ranking games, coming into this Championship.
Some late withdrawals taxed the management's skill in sticking to the stated aim of replicating the British Open Championship as far as possible, with a full 'best of three games' format throughout, whilst a quality field, that included Scotland international Lorna Dewar and former MacRobertson Shield (AC World Team Championship) player Debbie Lines, remained impressive for this inaugural event.
Multiple revisions of the playing format were planned as the participation numbers fluctuated (with disappointing 10 withdrawals in total) and finally a 'two blocks of seven players' arrangement for the reduced field of 14 was scheduled, with x-games provided for those with long sit-outs that unpredictable 'best of threes' inevitably provide.
The Blocks, Day 1
The first round of the block games pitted Gee (Ashby, handicap -4) versus her mother Judith Rowe (Ashby, 7), and although the former Women's World Champion took that unusual challenge easily in her stride, the four hops that Judith did score had the distinction of being the most that her daughter conceded all tournament!
Celest Gee (Ealing,8) succumbed to an existing ankle injury after one match and her withdrawal reduced the Red block to six but did little to move things along as the early two game matches gave way to a string that went to a third game decider.
It seemed that Michelle Leonard (Winterborne Valley, 3) was involved in most of these while Rowe had the longest waits on a tough opening day that saw four rounds completed, but not until 19.15.
Sophie McGlen (Nottingham, 2) had the shot of the day that really must be recorded at this point for the sake of the feat, made all the more remarkable because it was achieved in only her seventh ever GC match.
She scored hoop 5 with a jump (not an overused skill in her more familiar AC career), managed somehow to miss the centre peg (which was correctly positioned [we checked]) and also ran hoop 6!
Sophie had only entered this Championship thanks to a lucky conversation at the Mary Rose Final (where she was pictured in a bobble hat for the front page of the last Gazette), and hasty AC to GC learning exercise at Phyllis Court with Frances Colman and Chris Roberts three weeks before this tournament, had revealed that this very straight hitter could go far in this as yet unfamiliar game.
The Blocks Day 2 - Clear winners but a scramble for the other qualifying places
Cathy Turski (Nottingham, 4) was another injury drop-out on the morning of day 2, by the end of which, it was clear that the Day 1 whip cracking by manager Colman had been a wise move, when both blocks needed play-offs to determine one third and two fourth placed qualifiers for the championship knock-out on Day 3.
Gee qualified with ease from the blue block undefeated, along with Leonard who did it the hard way by going to a deciding game in three matches, while Andrea Huxley (Guildford, 1), Ann Brookes (Colchester,1) and surprise package Lynne Pearcy (Roehampton, 2) had to play-off for the remaining two places.
The Red block was rather more straight forward, with Dewar (unattached, -1) mirroring Gee's undefeated show, topping the table to qualify along with Lines (unattached, -1) and Glynnis Davies (Northampton, 3) both on three match wins.
Davies had done well to beat the seedings to finish in second place on net hoops and Jane Pringle (Aukland,1) was unfortunate to go into the play-off for the fourth qualifying place after recoding an upset win over Lines.
The play-offs
The Red block play-off pitted McGlen against Pringle, and just like their deciding block game, it went to the 13th hoop with the former looking for a repeat of the earlier result, and she achieved it after a degree interactive drama.
Meanwhile, the Blue block had three players chasing two places and Pearcy sneaked past Brookes 7-6 to claim the first one, before Brookes then had to beat Huxley twice, 7-4, 7-4 to claim the other.
Huxley had carried an injury all tournament and deserves much praise for soldering on to this point before understandably calling it a day.
The Plate Final - Manning v Rowe
A full 'best of three games' match was very well contested between the only other players left standing and was very well contested between Marian Manning and Judith Rowe who had both grown in confidence as the tournament had progressed
Rowe took the first game 7-3 and Manning reversed that score line in game 2 to set up a deciding game after lunch which Rowe took 7- 5, winning the plate and a deserved handicap reduction to 6.
Quarter and semi-finals
Gee brushed aside McGlen 7-1, 7-3 but Leonard took three games (of course) to defeat Davies who had had a super tournament 6-7, 7-6, 7-5 as did Leonard who reduced her handicap from 3 to 2.
Dewar survived a real scare when she dropped her first game to Brookes and went to hoop 13 in the second game before recovering to get home 5-7, 7-6, 7-5.
The shock result was in the Pearcy v Lines tie however when the former scored a terrific 7-1 first game to establish a momentum and then followed that with a close 7-6 win.
Pearce took this confidence into her semi with Gee, was cock-a-hoop to have got that far and enjoyed the experience for playing Gee, despite the 7-4, 7-2 score lines.
Dewar recovered from her tough quarter and despatched the understandably tired Leonard 7-4, 7-3.
The Final - Gee v Dewar
The remaining players chose not to pursue the bowl event (for positions 5 to 8) beyond its semi-final stage or to play the 3rd/4th play-off match, but instead settle back to watch the Championship Final which, thanks to Dewar's qualification now had an international flavour.
Dewar contested most of the hoops but was let down by her scoring strokes, which was a shame given that she had looked so assured throughout the tournament.
On the other hand, Gee was machine like and she punished Dewar's errors savagely on her way to a 7-2, 7-2 victory.
The presentations were of course a 'Family Affair', with the silverware, a brand-new cup and plate, going to daughter and mother respectively, and proceedings ended with a plea form manager Frances Colman and winner Rachel Gee, to make this tournament grow by 'selling it' to all competitive women players.
See you all a Surbiton for the 2022 Women's GC Championship.
---