Mens & Womens Championship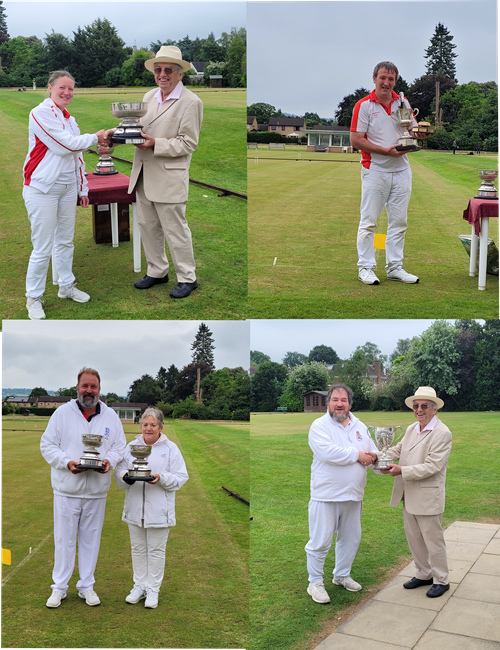 Prize Winners from the Mens and Womens Championship (Photo: Robert Wilkinson)
by James Death at Cheltenham
20 Jun 2021 (
AC - Championships
)
The Mens and Womens Championship started on Wednesday 16th June with the mixed doubles. It was the largest field for a long time with 12 pairs. Format was 2 blocks of 6 with top 2 going into a knockout. Sarah Hayes as manager planned to get through 4 rounds of games on the first day but even with time limits of 2hr 45, sufficient games went to time that the 4th round didn't happen as the evening approached.
Thursday and the singles started. Mark Avery was the first to finish a match, done by 11.30. The closest matches in the Mens draw were Burridge/Trimmer & Suter/Giraud. A resurgent Ian Burridge came back from game down, winning the second +1 before running away with the third. Mark Suter also came back from game down with two triples, the second being just +5tp. Avery, having sat around for several hours then had to play Suter in the second round but only finished the first game before stopping for the night.
In the Womens draw, the close early match was Beatrice McGlen against Jane Morrison, Beatrice eventually winning in 3 games.
Friday was quarter final day but the two Mark's being behind restarted at 8.30 to help keep the event on track. Mark Avery winning in three. Managers nightmares started forming as the morning rain turned into flooded lawns by lunch, all lawns were unplayable for several hours. Lawns 4&5 were the first to recover, followed by 1. On 4 James Death finished his match against Jamie Burch and Sarah Hayes beat Wendy Wu on 5. Several doubles games went on at about 5.30 with several players clock watching before the England football match at 8. One game was pegged down due to the agreed leave to watch the match.
On Saturday Harry Fisher resumed 1-1 against Ian Burridge and finished him off by 11 o'clock. Paddy Chapman finished his match against Christian Carter and Stephen Mulliner beat Mark Avery having had all of Friday off due to waiting for an opponent and then the flood. Chapman and Mulliner then played their semi final and traded triple peels in the first two games. In the third Paddy did a qpo and pegged two out with a large lead. After some cat and mouse Stephen hit while for hoop 3 and finished on a 10 hoop break. In the other semi final James Death was in control against Harry Fisher and won 2-0.
In the womens semi finals Gabrielle Higgins was ruthless against Lorna Dewar winning +26 +26, Sarah Hayes beat a tiring Beatrice after a close first game. This was after Beatrice had come through a close match against Alison Maugham. The pegged down doubles went back on and Omied Hallam and Heather Bennett beat Mark Suter and Sarah Hayes, meaning Mark and Sarah had to play their last block game against Alain Giraud and Annabel McDiarmid to resolve the block starting at 7.30pm. A quick triple from Mark was enough to qualify for the semi finals top of their block.
Sunday morning and the tournament had doubles semi finals and singles finals to go. Doubles semi finals started at 9am, Death and McGlen beat the Maughams playing alternate shot. Dave and Alison finishing one break passing their son to each other while playing each stroke. In the other game Gabrielle and Christian had a chance to win but the pegout was missed from about 5 yards. This allowed Suter and Hayes back in and eventually won +1.
Singles finals followed starting at about 11am, Gabrielle and Sarah both played well but Gabrielle hit more and ran out a comfortable winner. James and Stephen had an exciting final, a quick quad from James in the first, a triple to Stephen in the second. In the decider James went to 1back second turn, Stephen failed 1 third turn and James had a 6 yard shot for a potential sextuple fourth turn but missed. Stephen laid for a sextuple of his own but the break slowly disintegrated and he broke down at 1 back and 3 back. James failed to punish the error and Stephen progressed to 4 back and peg. James hit what would have been his last shot and started a sextuple of his own. Only 3 peels done and he pegged Stephen out leaving 4back and peg against 4back. Stephen forgot his contact and missed his lift and the following 40yard shot he was given before James finished with a turn that had an equal number of poor shots and extravagant shots to rescue it, only scattering the crowd twice!
In the Du Pre plate knockout Robin Brown beat Pete Trimmer in the final.
The initial prizegiving was then done, where David & Eileen Magee got a lot of thanking for the endless number of tasks they did to help the event run in the background. They were seen always smiling, and Julia Lowery who entered all the results in croquet scores. Then the mixed doubles final took place. Beatrice got round after a couple of false starts, James then got in and played a perfect cannon to 1 and 2 but failed the hoop badly. Sarah got round and with the lift missed, Mark made no mistake with a triple peel to retain the mixed doubles title.
Full results are at https://croquetscores.com/2021/ac/mens-womens-and-mixed-doubles including commentary from the singles finals by Joel Taylor
---