18 year old Aston Wade is the new Open GC Champion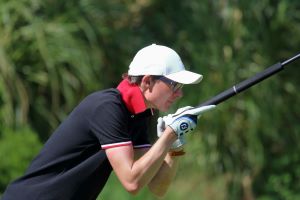 Aston Wade won the GC Open Championship (Photo: Samir Patel)
by Stephen Mulliner at Sussex County Croquet Club
28th June 2021 (
GC - Championships
)
Sussex County CC again played host to the GC Open and provided courts in the now-expected excellent condition despite having heavy rainfall in the preceding days. The pandemic was no doubt to blame for the fact that the field was three short of the normal 32. However, on the plus side, there were no fewer than eight aged under 30 with Aston Wade and Euan Burridge still in their teens. The players were divided into four all-play-all blocks with the top four qualifying for the knock-out stage. Reg Bamford had missed the 2020 event owing to quarantine restrictions and was back to regain the title that he and Stephen Mulliner had kept to themselves for 20 years despite the best efforts of John-Paul Moberly and others to end the duopoly.
Block A was headed by Bamford and Euan Burridge. Euan took the middle game in their block match and was otherwise undefeated, playing in his usual high-powered style which sometimes led to breaks in play to retrieve lost balls! Jonathan Claxton, a Dulwich member, took up GC in September 2019 and qualified for the knock-out comfortably with an impressive 4/6, including a 2-0 win against the ever-competitive Lionel Tibble, the only other player to take a game off Bamford and became the fourth qualifier.
John-Paul Moberly, the England captain, looked to be in impressive form in Block B which he won undefeated, dropping just one game to Richard Bilton. Richard survived tough battles with Tim Jolliff and Morgan Case and finished second with 4/5 (Robert Clark sadly had had to withdraw with a painful back). Tim Jolliff was a clear third with 3/5 and a play-off led to Andrew Hobbs getting the other qualifying spot.
Block C was won by an undefeated Ian Burridge with Rachel Gee in second place. Stuart Smith had displayed great giant-killing skills in the 2020 block stage but had a tougher time this year but qualified comfortably behind Roehampton's Tim Russell who won four tight matches for third place.
18 year old Aston Wade played his first GC event in August 2020 and stole the show in Block D with six impressive wins with straight hitting, good medium-range hooping and sensible tactics. He calmly recovered from 4-6 and 5-6 down in his games against Stephen Mulliner, who does not often fail to convert such leads. Mulliner also lost to Steve Leonard in three games but ended up with 4/6 and second place with better net games than either Leonard or Ryan Cabble who was making a welcome return to the GC Opens and showing much improved form.
The knock-out stage produced only one semi-surprise in the defeat of an in-form Ian Burridge by the ever-determined Steve Leonard 7-4, 4-7, 7-4. However, Stephen Mulliner and Euan Burridge had to battle over three games to get past Jonathan Claxton and Tim Russell, the latter being a full-value 7-6, 6-7, 7-6 result. The other ties went as expected with Reg Bamford, Richard Bilton, Aston Wade, Rachel Gee and John-Paul Moberly all progressing to the quarter-finals in straight games.
Life became more interesting in the quarter-finals. Richard Bilton at his best is a match for anyone and accounted for Reg Bamford 7-5, 7-5 with a blizzard of 5 yard hoops. Aston Wade is a very well-mannered young man but Rachel Gee might be forgiven for wondering as she was despatched 7-5, 7-0. John-Paul Moberly and Euan Burridge traded high-speed clearances but the England captain always had the edge and won 7-5, 7-3. Stephen Mulliner and Steve Leonard were the last to finish with Mulliner grinding out a 7-5, 5-7, 7-2 victory.
Moberly started his semi-final against Mulliner in awesome shooting form and swiftly won the first 7-4. Mulliner changed styles to respond to the barrage with some success and a precision block from the east boundary at 11 when 5-5 enabled him to take the second game 7-6. Moberly profited from a failed block attempt at 5 in game 3 and went on to lead 6-4. Mulliner took on a boundary shot at 11 and ran it to just short of the peg to get back to 6-5 but just missed the 7 yarder at 12 and John-Paul was through to his fourth final in five years and the Bamford/Mulliner hegemony was finally over.
In the other semi-final, Aston Wade continued to impress by taking the first game against Richard Bilton by a comfortable 7-3. However, Bilton responded by taking a tight second game 7-6 and it was all to play for in the third. Nonetheless, Aston continued his calm and accurate game and took the third 7-4. It was already an extraordinary performance by someone who, albeit with some earlier AC experience, had played his first ranked GC event in August 2020.
If there were any bookies at Southwick, they would have been offering short odds on John-Paul, given his experience, temperament and firepower, being fifth time lucky and finally getting his name on the Open trophy. However, the opponent always has a say!
Game 1 began with John-Paul winning the toss and playing Blue to 4 feet dead in front of hoop 1 but Aston promptly middled the 21 yard clearance. Game on! John-Paul built a 5-3 lead but was pulled back to 5-5 and, after Aston nailed the clearance at 11 with his Yellow ending 4 yards north of 12, John-Paul missed the half-court return and found himself 6-5 down. Aston went for the 7-5 win with Yellow but glued it to the east upright. With John-Paul in good jumping position, Aston's next stroke with Yellow was a very mature play away, leaving the hoop for Blue but ensuring that Yellow could play to 13. John-Paul took 12 but, after Aston had played Red to four yards north of 13, missed twice and Aston ran 13 cleanly to lead 1-0.
John-Paul responded by dominating game 2 almost from start to finish, reaching 5-1 and taking the game 7-3. What now? Aston quickly led 2-0 but John-Paul ran hoop 3 with Blue for 2-1 and stopped 3 yards north of hoop 4. The response from Aston - run hoop 4 from 22 yards for 3-1! The next two hoops were shared and hoop 7 became a battleground with four rotations before it was resolved by successive boundary attempts - with John-Paul failing and Aston succeeding for a 5-2 lead. John-Paul took hoop 8 for 5-3 but Aston always had the upper hand at hoop 9 and eventually ran it smoothly from the boundary for 6-3 and one hand on the trophy, perhaps? But others have failed to convert from this position so what would he do? The answer was simple. John-Paul played Blue to 4 yards south of 10 and Aston took on a 15 yard hoop with Red and ran it, barely touching a wire, for game, match and title! It was an extraordinarily mature and impressive performance by a young player in his first Open Championship when playing one of the best players in the world. Aston's rate of improvement has been simply phenomenal, with his grade rising from 1,650 to 2,358 in less than a year and one can only wonder what might lie ahead. With Aston and Euan Burridge improving so fast, England's prospects for the next Golf Croquet World Team Championship now look distinctly hopeful.
The Bowl was played as a block of six followed by a final in which Lionel Tibble came from behind to defeat Tim Jolliff 5-7, 7-6, 7-5. Richard Brooks won the Plate final with a 7-3, 2-7, 7-3 victory over Robin Wootton.
Southwick's welcome and catering was as good as the courts and warmly acknowledged by the players and spectators.
---