Richard Williamson won the Sidmouth Advanced Weekend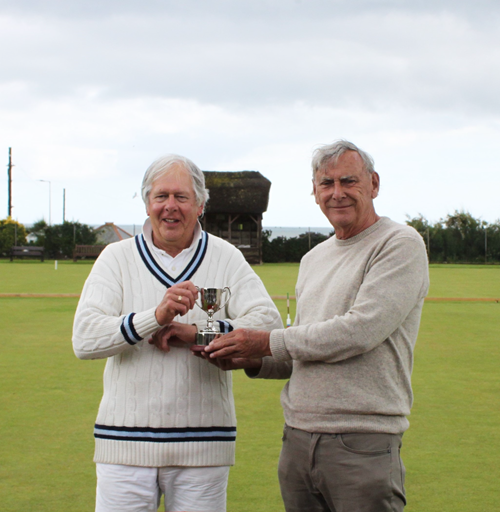 Richard Williamson receiving the Connaught Cup
by Peter Nelson at Sidmouth
12th July (
AC
)
Following some withdrawals the entry was reduced to eight players with handicaps ranging from 4 to 8. With the reduced number of entries the tournament was organised as an "Egyptian" with three games played on Saturday and two on Sunday. Games were played to advanced rules and were timed with a duration of two and a half hours.
The opening round saw Richard Williamson (Bristol) play John Low (Sussex County) with Williamson winning a close game. This proved decisive as both players went on to win all their remaining games leaving Williamson the clear winner with 5 wins and Low the runner-up with 4.
Mention should also be made of Kevin Wright (Auchincrive) who managed 3 wins although being joint highest handicap.
The weather was changeable and there were showers, but although conditions were challenging at times play was not interrupted at any point.
Handicap changes were Richard Williamson 4 to 3.5 and Jane Babbage 4 to 4.5.
Richard Williamson as winner was awarded the Connaught Cup.
---