East Dorset June Week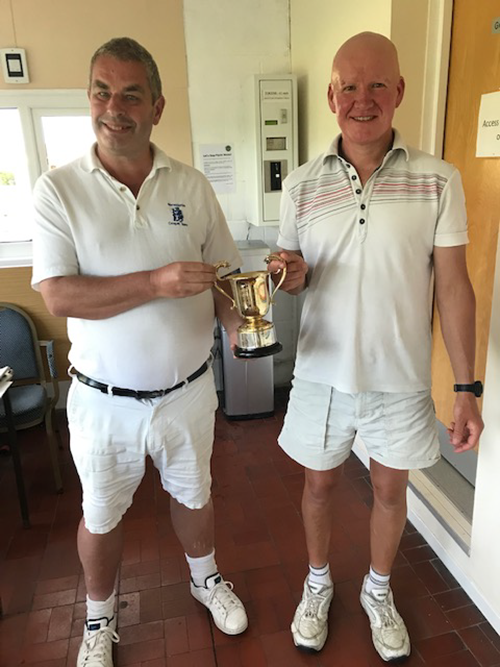 Andrew Gregory presenting a trophy to Tim O'Donnell
by David Williams at East Dorset
12th July (
AC - Mixed
)
Another enjoyable series of events well run by the ever attentive and flexible manager Andrew Gregory.
Handicap, Level Advanced, Doubles, something for everyone.
The Handicap Doubles for the Summer Cups was played over the first two days and the final saw Anthony Dix (-1/2) and Alan Jones (7) beat the Hamptworth pair of Tim O'Donnell (1/2) and Chris Weedon (6) plus 9.
The Handicap Singles Knock-out for the Cripps Memorial Bowl was won by the fast improving Tim O'Donnell (more on him later), beating Sue Longcroft (10) ex East Dorset now York, plus 8.
The Handicap Singles Flexible for the Evans Bowl was won by Anthony Dix (-1/2) who was returning after a 2 years lay off beating Fran Lambert (12) from Newport plus 3.
The C Class for the Cope Cup, played as an 'all play all' saw Mike Rice (11) winning all of his games to take the trophy, with Sue Longcroft, making her trip from 'oop narth' worthwhile, winning the runner up customary bottle of wine.
The B Class was a Draw and Process which were married as David Williams (3.5) had reached both finals but was beaten by our worthy manager Andrew Gregory (2.5) Newport plus 16.
This then brought us to the final of the A Class for the Dorset Salver on the last day, and what a final it proved to be.
The stormy weather had improved during the week and in sunshine on a warm late Saturday afternoon all was calm apart from a certain Hamptworth player who was super charged.
After the holder Jonathan Powe (-2) had taken his first ball to four back, Tim O'Donnell hit in taking his first ball to peg and in the process executed an immaculate triple peel on Jonathan's first ball. His first TPO!!
There followed much 'cat and mouse' with Jonathan reduced to just one ball but after playing into the corners he hit in to Tim's ball close to hoop one, and with some fine long hoop runs to the boundary for position, stuck in hoop six with Tim's balls close by.
This was the opportunity Tim was waiting for and enabled him to complete an all round three ball innings with his second ball, winning plus 8TPO and bringing his handicap down to scratch.
He will always remember this performance and after only playing for four years it is felt that there is a lot more to come.
East Dorset's lawns were in good condition throughout the week despite the heavy rain at times, and it is hoped that more visitors will wish to enter in the future.
The mix of events cater for all levels of play and visitors are made very welcome by the club.
Report Note. Players East Dorset unless shown otherwise.
David Williams
June 2021
---