Ian Lines won the Blewbury Advanced Weekend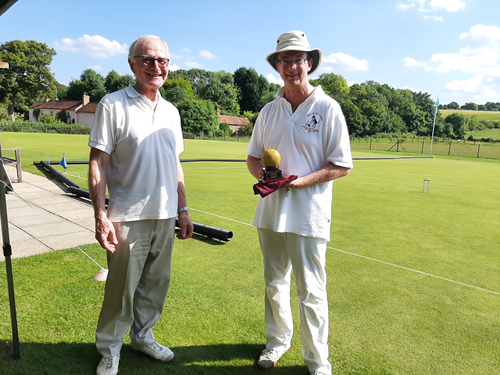 Paul Wolff and Ian Lines
by Debbie Lines at Blewbury
20th July (
AC
)
Blewbury Croquet Club welcomed us on Saturday morning with clear blue skies and warm weather. Nine enthusiastic CPs arrived to enjoy the excellent lawns, which were running to around 12 Plummers. Given the temperatures we were extremely glad that the club had put up a huge gazebo from under which we viewed the lawns and their beautiful backdrop of rolling Oxfordshire countryside.
Ian Lines soon took a lead and finished the first day unbeaten on 5 wins. Despite a late night (the pub took nearly two hours to bring food), he maintained his form and had a further 3 wins on Sunday to finish on 8 out of 8. Second place on 4 out of 5 was Neal Bacon. Congratulations also to Edward Olhausen, the highest handicap in the tournament playing off 5, who won two out of his six games.
Thank you to Paul Wolff for setting the lawns each morning and to June and the catering team for the excellent lunches. The club made us feel extremely welcome and we hope to be back again soon.
---