England won the Golf Croquet Home Internationals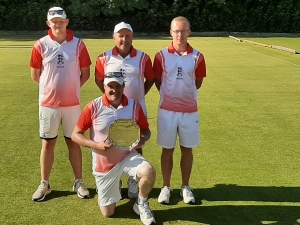 England won the GC HIs Back:Euan Burridge, Steve Leonard and James Galpin Front:Stuart Smith (Capt) (Photo: Ian Burridge)
by Ian Burridge at Nailsea
20th July 2021 (
International
)
Now in its 4th year, it was the turn of Wales to host this event. Without a four lawn venue in Wales, the event was held at Nailsea. The club provided excellent playing conditions with firm hoops and courts which sped up noticeably over the course of the hot weekend, there was even a Welsh flag flying from the flagpole.
Ireland was unfortunately absent due to Covid so a format was devised with the Test Matches between the three remaining teams interleaved throughout the weekend, with each contest ultimately being a best of 9 match (3 best of 2 doubles and 6 best of 3 singles).
England got off to the worst possible start against Scotland, with captain Stuart Smith and Steve Leonard losing their opening doubles match to Lorna Dewar and Stephen Wright, a loss which was quickly avenged by Euan Burridge and James Galpin against the same pair. Martin Murray picked up a win in the singles against Steve Leonard but otherwise, it was relatively plain sailing for the English as they ran out 7-2 winners.
The Welsh team had been depleted by the late withdrawal of Angharrad Walters who was replaced by Mike Parry who partnered Chris Roberts in the doubles. The pair ran Martin Murray and Rosemary Saunders Robertson close in the opening doubles with Scotland, before losing 7-6, 7-6. The match was relatively in the balance throughout and came down to Wales needing to win one of the last two matches of the weekend to secure the victory. Sarah Melvin achieved this in three games against Rosemary and when Chris Roberts also beat Lorna Dewar the Welsh had a rather flattering 6.5 to 2.5 victory.
Wales managed to share both the opening doubles matches against England, however, although Wales had their chances relatively comfortable 2-0 victories for James Galpin over Chris Roberts and Stuart Smith over Sarah Melvin gave England a 3-1 overnight lead. Victories for Ian Burridge against James and Euan, to maintain his unbeaten singles record in the event, was not enough for Wales with England winning all the other remaining matches to secure a 6-3 victory.
Placings
England 2 Wins
Wales 1 Win
Scotland 0 Wins
Full results are available at croquetscores.com/2021/gc/home-internationals
---