Dominic Nunns won the COWhorn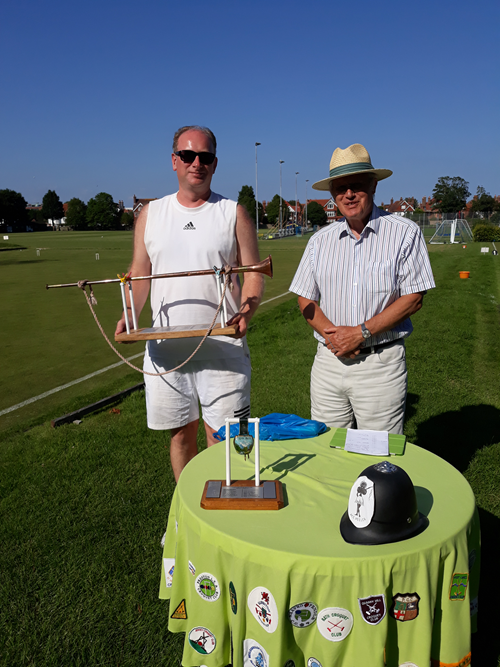 Dominic Nunns winner of the COWhorn
by Roger Wood at Compton
23rd July 2021 (
AC
)
Dominic Nunns makes it a hat-trick of wins
The sun shone from a clear blue sky for the whole weekend providing ideal conditions for outdoor living and adherence to covid restrictions. Saturday's breeze brought some relief during the hottest part of the day but had died away on Sunday leaving all to seek the shade. Having had to cancel in 2020 it was good to get an entry of 16; five new faces and some old friends - Ian Vincent clocking up his 22nd appearance to top George Noble's previous record of 21.
Round 2 of the knockout saw David Maugham fall to a Nigel Polhill triple. Meanwhile Alison, fresh from a +26 win over Andrew Gregory in round 1, beat Ian to earn a match against COWhorn holder Dominic Nunns in the best-of-3 semi-final where she was the weekend's only player to take a game off the eventual winner. Andrew Hobbs won through to the other semi-final where he too won the first game with a fine triple but Nigel won the match. Dominic was now in fine form winning the final with two more triples - all over by 3 o'clock and the peeling prize in the bag.
In the contest for the COWbell all hung in the balance until the result of the very last game. At 4 o'clock four potential winners were in contention but, 55 minutes later, Andrew Gregory's win over Phil Cordingley saw him undefeated in the Swiss and secured the trophy.
Knockout for the COWhorn
Round 1
David Maugham beat Christopher Crowcroft +17
Nigel Polhill beat Phil Dunk +2
Annabel McDiarmid beat Phil Cordingley +4
Andrew Hobbs beat Roger Tedstone +17
Alison Maugham beat Andrew Gregory +26
Ian Vincent beat Neil Coote +17
Paul Castell beat Mark Fawcett +10
Dominic Nunns beat Chris O'Byrne +23
Round 2
Nigel Polhill beat David Maugham +15tp
Andrew Hobbs beat Annabel McDiarmid +23
Alison Maugham beat Ian Vincent +16
Dominic Nunns beat Paul Castell +18tp
Semi-finals
Nigel Polhill beat Andrew Hobbs -24tp +11 +17
Dominic Nunns beat Alison Maugham -12 +5 +26tp
Final
Dominic Nunns beat Nigel Polhill +26tp +17tp
3rd place playoff
Alison Maugham beat Andrew Hobbs +16 +17
Swiss for the COWbell
Winner: Andrew Gregory (4/5)
(5/7) Annabel McDiarmid
(4/6) Ian Vincent
(3/5) Neil Coote
(4/7) Paul Castell, Phil Cordingley
(3/7) Mark Fawcett, David Maugham
(2/7) Chris O'Byrne
(1/5) Roger Tedstone
(1/6) Phil Dunk
(0/5) Christopher Crowcroft
Ace peeler: Dominic Nunns
COWpat: Phil Cordingley
---