Jack Good won the Lancashire Open Championship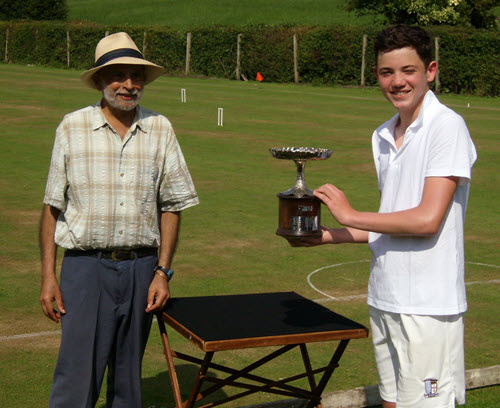 Jack Good receiving the trophy from Abdul Ahmad (Photo: Paul Rigge)
by Paul Rigge at Pendle
23rd July 2021 (
GC - Championships
)
What a difference twelve months can make! This time last year, Pendle was the only tournament held in this country so players came from far and wide to enjoy the Covid safe outdoors. This time, we had to compete with an 'A' Level, an 'Open' grade & even the Home International's all scheduled onto our allocated Northern Championship weekend. Unsurprisingly then, the quantity of players entered was down but Quality...more about that later...
Pendle supplied four newly set courts, freshly mown sun-parched surface cut to 4mm meaning that the slightest tap on a ball caused it to travel & travel & travel some more - challenging. Internationally renowned Abdul Ahmad again agreed to manage, but it proved to be a simple matter. Single all-play-all block to sort out full seeding order for the KO title race.
And so to the play in the baking 27o C heat;
Top Seed? - 15yo Jack Good, second seed? - another U25yo, Callum Johnson with the rest of the more established players scrambling for the other slots. (8th Seed - the other U25yo, James Thomas).
The decision was made to start with the Bo3 QF on the first day, but only two games - if all three would be required, the third could wait for the morning. In the event, 3 of the four *did* only need two rubbers to advance into the semi's, but interest turned to the battle taking place between two U25's - Jack(S1) Vs James(S8), both playing the same tactic, shooting hard & straight to either clear or run hoops from distance with neither apparently aware of positional approaches..overnight some suspense, waiting to see how it would be resolved in the "shoot-out" deciding rubber...
After a sweltering night, with no respite from the heat on offer (not many clubs have air conditioning up here..) the out-standing game from the QF started on time with all the other players being granted a late start - mattered not, they all appeared to spectate the contest on offer. Quality battle with Jack prevailing through.
And so to the semi's, with the 'out' players assigned their own 5th to 8th KO games. As befitting the stature of an Ascot Cup qualifier, both of the Semis required the three rubbers allowed to resolve (and the winner of the first game, not progressing..
With all the other places resolved (well mostly) and a few other club members attending to view, the Final started on Court One to a packed veranda (the hoops having been reset for the match over lunch by the manager). I'd like to report that a close contest ensued, but frankly, it really was very one-sided. Rigge had no response to Good's long-range clearances as his own evaporated with miss after miss and he succumbed in two to the blooming rising star - Jack Good.
---