Tony Butcher won the GC Veterans Championship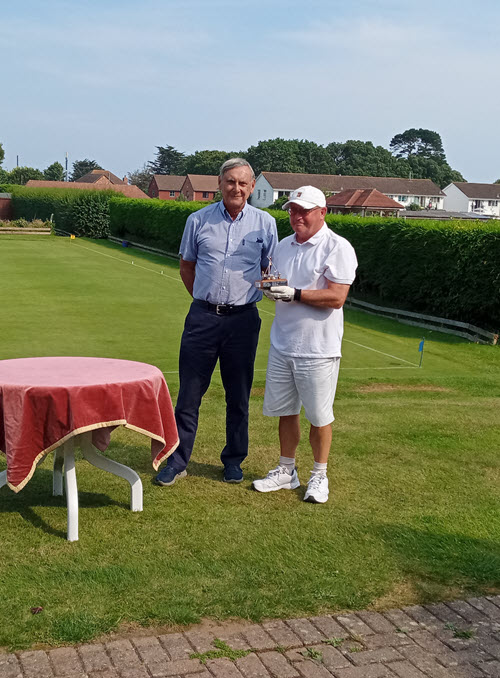 Tony Butcher with the Alan Oldham Memorial Trivet
by Louise Smith at Budleigh Salterton
23rd July 2021 (
GC - Championships
)
The GC Veterans Championship was held over three consecutive, blisteringly hot days, at Budleigh Salterton Croquet Club in Devon.
Budleigh's courts were in superb condition, and as always a warm welcome was received from their volunteer members providing refreshments and their chairman, John O'Gorman.
Twenty Two competitors began the event, which due to this number, was run as a cross block format in the initial stages.
Day one consisted of 7 rounds with the Red block proving slightly stronger with 42 individual wins, over Blue block players who gained 35 victories between them.
James Field had a run of seven straight wins, but from the opposing block Liz Farrow (Sussex County) had 6 out of seven, only losing 3/7 to James in the last game on Day one.
Chris Sheen (Colchester) also ended the day strongly with only one lost game to the previous tournament winner, Richard Brookes (Sussex County).
Mike Fensome, (Phyllis Court), Steve Leonard, (Winterbourne Valley), Colin Britt, (Camerton & Peasedown), Tony Butcher, (Southchurch), and David Thirtle-Watts, (Hunstanton) also ended Day one in strong positions with 5 wins from 11 games.
Day two, was probably hotter still with the temperature reaching soaring heights, so the ice creams provided were very welcome!
Liz Farrow continued her excellent run of victories winning all four remaining block games, winning Blue block with 10 wins, as did James Field, (Red block) who never dropped at game at all, topping his block with 11 straight wins.
The remaining places for the Championship Knock out went to Red Block : Chris Sheen 7 wins, Steve Leonard 7 wins and Colin Britt 6 wins. Blue Block, Tony Butcher 9 wins, Richard Brooks 7 wins, David Thirtle-Watts 7 wins.
Again, Liz Farrow, evidently in great form, won her quarter final 2/0 against David Thirtle-Watts with all the other Quarter Finals running to a third game. Steve Leonard overcame Chris Sheen 7/5. 5/7, 7/5, Tony Butcher came back from an initial loss to beat Richard Brookes 6/7, 7/5, 7/4; and James Field did the same with his opponent Colin Britt, 6/7, 7/3, 7/5.
The plate blocks were organised for the players to play the opponents they hadn't yet met, which of course meant players of their own colour blocks.
Red block began with 7 players and, due to a withdrawal, Blue block began with 6 players. Day two afternoon was therefore organised for three rounds for the Reds and two for the Blues, the remainder to be completed the next morning. At the close of Day two, Stephen Custance-Baker, (Taunton Deane) led with three straight wins.
A welcome slight drop in temperature for Day three saw a change of fortunes for the two strongest players at that point in the KO. Liz Farrow was beaten 2/0 by Steve Leonard in the first Semi Final, that was completed speedily, with scores of 7/4, 7/6 to Steve Leonard. The second semi final between James Field and Tony Butcher, again produced some close scores, but Tony triumphed over the so far unbeaten James, 7/6, 5/7, 7/4.
The Shield got underway with Richard Brookes v David Thirtle-Watts, which the latter player won 2/0, and Chris Sheen v Colin Britt. Despite a comeback in game two to win 7/4, Colin Britt eventually lost 1/2 games to Chris Sheen, which moved Chris on to face David in the Shield Final.
The Shield final produced some excellent close run play in the first two games with matching scores, 7/5 to Chris Sheen in game 1 and 7/5 to David Thirtle-Watts in game 2. Some powerful clearances and hoop runs in game three took Chris Sheen to victory with a game result of 7/3.
Meanwhile, the plate blocks continued, a withdrawal from Red block due to injury discounted some of the earlier rounds, but Stephen Custance-Baker continued on form winning all of his games.
It was a closer situation in the Blue block with both Ron Carter and Charles Sale on 4 wins, however a better hoop difference took Charles on to the Plate Final.
The plate final saw a reversal of fortunes for each player, with Stephen Custance-Baker beating Charles Sale 7/2 in game one, and Charles beating Stephen 7/2 in game 2. The deciding game, saw Charles knuckle down, and despite some tactical play from Stephen , Charles took the game 7/3 to win the Plate.
The Championship Final between Steve Leonard and Tony Butcher began after lunch with both players having a decent warm up time before play commenced. The pair seemed very evenly matched with a nip and tuck performance from both, however, Tony made an excellent 3.5yard jump on hoop 10 leaving Steve's blue ball in the jaws. Game one then came to the ultimate finish with Steve running a hoop 12 equalizer, and both players then heading for the golden hoop. Tony's well positioned first ball received two attacking shots from Steve, his second delivered from near the back boundary just clipped Tony's first ball, moving it slightly. However, this didn't do enough as Tony calmly ran the 13th hoop to win 7/6.
In game two, Steve rallied from the previous loss in game one. He took an early two hoop lead, and despite narrowing differences in the scoreline as the game progressed, Steve remained confident, and won 7/5 to equalize the match at one game each.
The final third game in the Championship had a large audience of almost all players and some club spectators, and did not disappoint. It appeared that it could go either way as we turned towards hoop 11 with both players on 5 all. Tony then went 6/5 up which meant Steve needed to win the 12th hoop, which he duly took. Tony again placed an excellent first shot up to the 13th, and this well positioned first ball took him on to a 7/6 victory and the Championship title.
---