Ged Smolskas wins Fylde Jubilee Trophy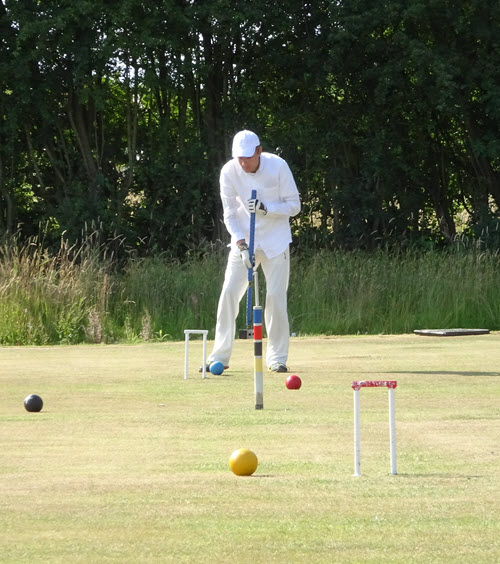 Gediminas Smolskas in play at Fylde
by Peter Wilson at Fylde
26th July 2021 (
AC
)
As with so many tournaments this year our numbers were down, we had six. On the plus side it created single banked games and a pleasantly quiet atmosphere during the games. Two time winner John Henderson beat Fylde's Phil Snowden in round 1 with a masterclass of patience. Gediminas Smolskas narrowly beat John in a nail biting finish. Phil beat Ged in the final round. Both players are learning the game rapidly, but Phil pegged Ged out and his extra experience got him home.
Unfortunately by this point we had two withdrawals from our already small field of six. Both absentees had very good reasons. Replacements were brought in.
After the last round with a three way tie out of only four players, the tie breakers all remained equal. Five areas at different distances from the peg were chosen with 2 points for the nearest (2 yards), six points for the farthest ( 8 yards). John, Ged and Phil were asked to secretly select three areas on paper, then cards were drawn to decide the order of play. Ged scored 3 and 4 but missed from 6, but that proved to be the winning score.
The lawns played fast.
---