Mark Suter won the Eastern Championship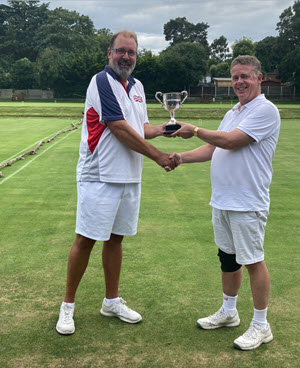 Mark Suter receiving the Easterns trophy from runner up and manager Dave Maugham (Photo: Alison Maugham)
by James Death at Colchester
27th July 2021 (
AC - Championships
)
Mark Suter was undefeated through the Eastern Championship.
A select field of 6 arrived at Colchester to compete for the title, Mark despatched Ian Burridge 3-0 in short order and settled back to see who he would play from the other side.
David Maugham worked his way past Nick Steiner and Alison Maugham caused the big upset by fighting back from game down to beat Mark Avery.
By the end of Saturday Alison was 2-1 down to Dave. Sunday morning, Alison tied the match 2 all before succumbing in the fifth.
Mark then continued in the same vein of form as he had on Saturday and despatched Dave 3-0 as well to win his first regional title.
Full scores are on croquet scores.
---