Phyllis Court beat Maldon 5-1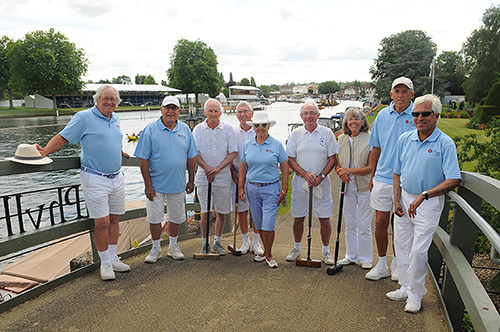 Phyllis Court (in Blue) welcome Maldon on their first visit to Henley-on-Thames.
by Christopher Roberts at Phyllis Court
29 Jul 2021 (
GC - Federations Shield
)
Phyllis Court cruised into the semi-finals of the national GC Federations Shield handicap competition, with a convincing 5.5 to 1.5 win over the Maldon club from Essex.
The Henley side played the same gambling hand that served them well in their first round match against Croquet Durham, and that was to field a team of much lower handicappers that their opponents, and hope that the handicap system would unwind in their favour.
The absence of the unavailable Ian Norris (handicap -2) forced Phyllis Court to change their winning team and they plumped to bring in Chris Roberts (-3) despite the larger number of extra turns he would have to concede.
The plan worked well with Roberts blowing aside Neil Clark (7) with a barrage of hard long distance hits to win his first game 7-3, and although Clark was more composed in the second game and used his extra turns to better effect, he improved on his score only slightly as Roberts won 7-4.
Meanwhile, it was all going the home side's way in the doubles rubber too, where Roger Goldring (-1) and Raghu Iyer (3) were always in control against Al Brown (1) and Jean Healey (4) and won comparative quickly 7- 5, 7-4.
The visitors were not without some cheer however, and their captain Chris Joslin (8) played his extra turns very intelligently to efficiently close-out the best efforts of Phyllis Court's Robin Coates, who was reduced to shooting speculatively from far off positions.
Joslin won that rubber 4-7, 4-7 to hold Phyllis Court to a 2-1 half time lead.
After lunch, the teams posed on the Phyllis Court footbridge and Roberts presented Joslin with a club burgee to mark Maldon's long away trip and first visit to Henley, but soon after the niceties were temporarily suspended as Phyllis Court turned the match screw in the 'head to head' singles rubbers.
Goldring was first to finish with a comfortable 7-6, 7-4 win over Healey, and whilst Roberts played out a very long first game 7-5 win over Brown, Coates and Iyer both took their matches to deciding third games.
It was Iyer in fact, who completed his three-game match first and secured the team match victory, with an excellent come-back win 2-7, 7-6, 7-5 over Joslin.
Coates added gloss to Phyllis Court's team victory with a 7-4, 6 -7, 7-5 win over Clark just as Roberts was beaten 5-7 in their second game by Brown.
With the team match result established, Roberts and Brown left their deciding game un-played and contributed half a point each for the team score which finished 5.5 to 1.5.
Phyllis Court will now face the South-West handicap champions Western-super-Mare at a time and venue to be decided, but before 7 September.
Results digest:
(Phyllis Court names first)
Roger Goldring (-1) & Raghu Iyer (3) beat Al Brown (1) & Jean Healey (4) 7-5,7-4
Chris Roberts (-3) beat Neil Clark (7) 7-3, 7-4
Robin Coates (1) lost to Chris joslin (8) 4-7, 4-7
Chris Roberts (-3) drew with Al Brown (1) 7-5, 5-7
Roger Goldring (-1) beat Jean Healey (4) 7-6, 7-4
Robin Coates (1) beat Neil Clark (7) 7-4, 6-7, 7-5
Raghu Iyer (3) beat Chris Joslin (8) 2-7, 7-6, 7-5
---