CA Conference in Cheltenham - Read all about it!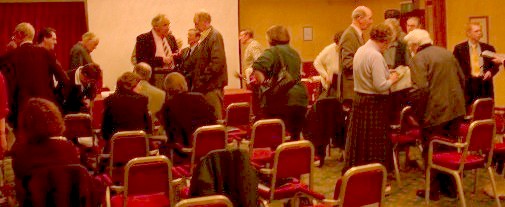 CA Club Conference
by Dave Kibble
9th March 2003 (
Other News
)
More than 30 members attended the club conference in Cheltenham today. They heard about the possibilities of registering for charitable status or as CASCs, which allows reclaim of tax on donations, how the CA can give practical and financial help to developing clubs and the lessons learnt from the recent survey that can help to recruit new members to clubs.
There was lively discussion on how the CA can help clubs and good feedback was given on some of the ideas being pursued by the CA. Those in attendance felt that much more can be done to help ailing clubs get back into a healthy state and that resources should be diverted to this rather than creating new clubs.
The conference will be repeated in Huddersfield on Saturday 29th March at the Cedar Court Hotel starting at 11.30 am. All CA members are invited so go and have your say!
Quiller Barrett said "We had an extremely encouraging response from the club representatives who attended. They provided Council members with just the kind of feedback we were hoping for on the new initiatives we are planning to take to give further practical and financial help to our clubs.
"Our President, John Solomon, will chair your conference at Huddersfield. He and I, together with many representatives from Council, are looking forward to meeting members who understandably we do not often see at CA meetings in the south. It's important that we have good representation from clubs such as yours so we can hear the views of members all over the UK. I very much hope that at least one member of your club will be able to come along to have their say.
---