Debbie Lines won the York White Rose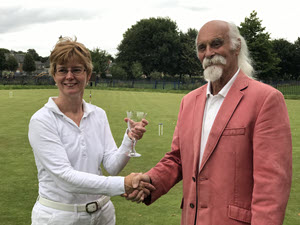 Debbie Lines being congratulated by Cliff Jones (Photo: David Warhurst)
by Peter Thompson at York
25th August 2021 (
AC
)
The 2021 White Rose tournament at York was fully subscribed as usual, with 13 players completing 43 games in the course of the two days. Time-limits were imposed on only two games.
It was felt generally that the lawns at York were appreciably better than last year, but that they were still rather heavy and should ideally be cut shorter. The weather threatened for much of the time, but there was only one actual shower, of very light rain which lasted for about an hour. Players were mindful of Covid-19 and behaved impeccably throughout. Eight of those present enjoyed an excellent dinner on Saturday evening at Valentino's Italian restaurant (which is located about 300 yards from the club.)
In total, 12 triple peels were completed by Debbie Lines (5), Ian Lines (5), Omied Hallam and Cliff Jones. In the semi-finals, Debbie beat David Warhurst and Callum Johnson beat Omied; Debbie then beat Callum +24tp in the final with a characteristically controlled and seemingly inevitable triple. Cliff presented the prizes.
Both Ian and Debbie completed three consecutive triples on the Saturday of the tournament; is anyone aware of comparable feats of marital harmony among the croquet-playing fraternity/sorority?
---