Guildford & Godalming GC A-Level Tournament CARA Cup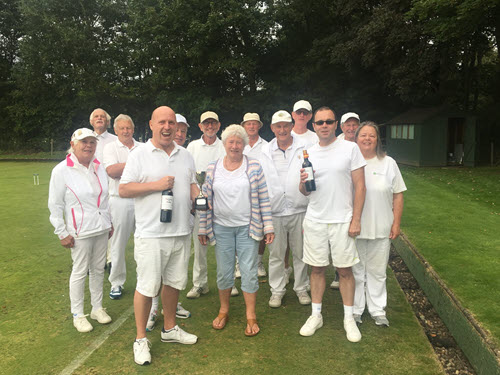 Guildford and Godalming GC A-Level
by Mike Huxley at Guildford & Godalming
6th September (
GC
)
14 players, with handicaps ranging from 0 to 4 arrived to compete for the CARA Cup in an all-play-all format. The weather was kind on both days - completely dry with a smattering of sunshine and warmth.
The early leader on Friday was Bridget Goodman (Ealing, 3), who raced off into a strong position, winning five in a row and taking some notable scalps on the way, including that of the 2020 winner, Neil Humphreys (Sussex County, 0). Even though she lost the last two games of the day, she ended with five wins out of seven, equalled by Peter Balchin (Glamorgan, 0). At this point, Bridget was forced by unfortunate circumstances to withdraw from the second day's play.
With the field now reduced to 13 players, Peter Balchin struck for home, winning all his 5 games on Saturday and finishing on 10 wins out of 12. Making a determined defence of his title, Neil Humphreys claimed second place, winning eight out of 12.
It was an intriguing competition throughout, speckled with flashes of brilliance. Well done to all the players and to the club's support team, who catered splendidly for the competitors.
1st: Peter Balchin (Glamorgan) 10 wins
2nd Neil Humphreys (Sussex County) 8 wins
3rd Paul Gunn (Wingrave) 7 wins, net hoops +5
4th Jane Humphreys (Sussex County) 7 wins, net hoops +3
---