Stephen Mulliner won the English National Singles Championship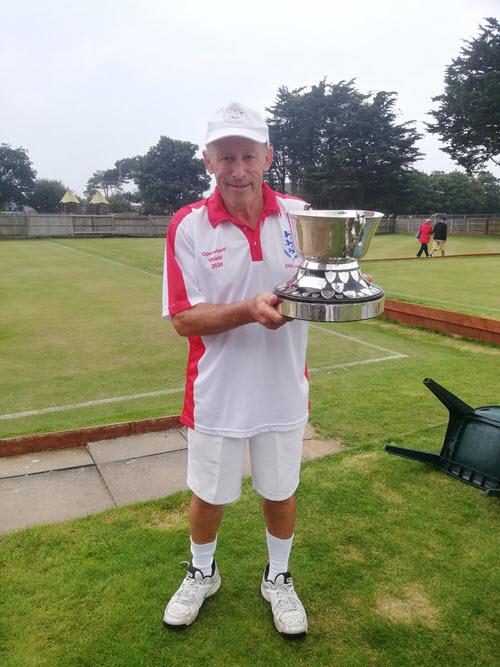 Stephen Mulliner with the Ascot Cup
by Louise Smith at Hunstanton
21st September 2021 (
GC - Championships
)
Hunstanton Croquet Club were the 2021 hosts of the English National Singles Championship contested by players from qualifying events held around the country.
All competitors received a warm and hospitable welcome, and as ever, the Hunstanton courts were in excellent condition, set and maintained by dedicated club volunteers.
Complimentary tea and cake were provided each day, as well as the generous provision of Hunstanton Croquet Club etched glass coasters for both the Bowl and Plate winners.
For day one, the format consisted of four blocks of four players in ranked order with Rachel Gee, Stephen Mulliner, Ian Burridge, and Aston Wade top seeds in their respective blocks, with matches against all opponents consisting of best of three games.
Rachel Gee started well, winning her first match against Ellie Ross 2/0, but met second seed Richard Bilton in the second round, and lost that match in two straight games. Rachel went on to beat her final opponent, Les Heard, again with a 2/0 victory, giving her a place in the Quarter Finals.
Richard gained a second win against Les Heard with Ellie also gaining two match wins, beating Richard and Les. However, it was Richard who joined Rachel in reaching the knock- out stages with 2 net games above Ellie.
The trend continued with the top two seeds from each of the remaining blocks, B, C and D all qualifying for the knock-out stages.
Qualifiers from Block C and Block D were namely, Ian Burridge, Jack Good (C), Aston Wade, and Stuart M Smith (D), alongside Lionel Tibble from block B, all reaching the next stage with 2 match wins each.
Stephen Mulliner qualified with a full house of 3 match wins from block B, giving a taster of things to come....
Re-seeding under the MGBS system gave rise to some interesting selections for the Quarter Finals, with three of the four matches containing players under 25.
Rachel Gee and Jack Good had victories of one game each, at 7/5, 4/7, however Jack beat the defending champion in the third, and earnt a place in the Semi Finals.
Aston Wade's games against Lionel Tibble followed a similar pattern with Aston losing the first game 6/7 but taking wins in the next two games, 7/2 and 7/6.
Richard Bilton faced Stephen Mulliner. A hard fought first game for both players ensued, which culminated in a superb boundary jump taken by Richard through hoop 13. However, this one game advantage was short lived with Stephen Mulliner coming back strongly winning the subsequent games 7/3 and 7/4 to take the match.
The games in the remaining quarter final, Ian Burridge v Stuart M Smith had very different changes of fortunes experienced in both games. The ebb and flow of game one led to the golden hoop, with Stuart missing his chance of the hoop with his first ball that took position. This error cost him the game with Ian running the hoop to win from the boundary. In game 2, Ian found himself 1/5 behind, but remained focused, and fought back with some excellent long distance hoop running play - the winning shot through hoop 12 coming from up near hoop 11 and giving Ian a 7/5 win.
Meanwhile, the four players that qualified through the Plate blocks, Steve Leonard, Callum Johnson and Raouf Allim progressed to the Semi Final playoffs alongside Ellie Ross who won all her Plate block games with a 7/4 score-line.
The Plate Semi Finals produced identical game scores, Ellie beating Steve 10/8 and Raouf beating Callum 10/8. Sadly, due to a pre-existing condition, the Plate Final was conceded by Raouf, giving the unbeaten Ellie the first place Plate winner position, which was well deserved based upon her wins in the block and Semi Final victory.
The Bowl Final produced a straight 2 game match victory for Richard Bilton, 7/4 and 7/3 over Lionel Tibble, a solid, accurate performance given by Richard throughout, despite some of Lionel's excellent centre ball clearances.
The main event Semi Finals got underway with the two youngest players in the tournament battling for a place in the Final. In two very closely fought games Jack's powerful hoop running gave him the match over Aston with game results of 7/5 and 7/6.
The other Semi Final with Ian Burridge against Stephen Mulliner went to three games, the deciding hoop 13 in game 3 taken calmly by Stephen after a missed clearance attempt, results : 7/2, 5/7, 7/6.
The Final was therefore set to be an interesting match between one of croquet's youngest rising stars, Jack Good, and the croquet icon that is Stephen Mulliner....
Indeed, Stephen's experience came to the fore, and with a calm but deadly approach he quickly took a 4 hoop lead, easily taking a win in game one, 7/1.
However, the youthful Jack fought back in game 2, and managed a double hoop run with one powerful stroke, straight through hoops 7 and 8. This wasn't enough to bring him back into contention as Stephen took the second game 7/4.
A well-deserved victory for Stephen Mulliner as the Ascot Cup Winner 2021, adding to his impressive catalogue of Championship titles.
Footnote : It should be mentioned that Jack Good's performance over the weekend has lifted his ranking to overtake that of Blake Fields to become the top ranked U18 player in the World. A fantastic achievement.
---