Sheffield beat St Albans to win the Secretary's Shield 4-3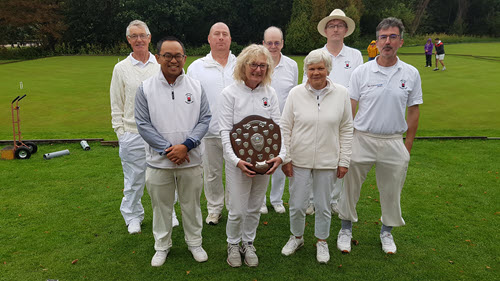 Sheffield and St Albans
by Eugene Chang at Nottingham
28th September 2021 (
AC - Secretary's Shield
)
Sheffield Croquet Club completed a tough comeback win 4-3 against a strong St Alban's team (the 2019 winners) to win the Secretary's Shield for the third time, following successes in 2017 and 2018. Three of the eight competing players earned their CA Bronze awards in this match, with breaks of ten or more hoops using bisques (two of whom made 11 hoops without bisques, so the Silver award is not far away!).
St Alban's got off to a flying start in the brilliant autumnal sunshine, with their singles players dispatching their opposition with relative ease. The doubles see-sawed each way with Heather Bennett (St Alban's captain) pegging out Eugene Chang to leave his partner, Sheffield captain Margaret (Maggie) Crossland, on 4b alone. With time running out, the St Alban's pair reached rover (H12) and peg only for Maggie to hit in, make her final hoop and finish. 2-1 at lunch.
The afternoon saw Stuart Stafford play two outstanding breaks to beat Maggie quickly and take the match score to 3-1, whilst Eugene beat Heather to pull one back. With the heavens about to open, the crowd made a quick cuppa back at the pavilion and watched under shelter. Mark Simmerson levelled the tie for Sheffield, leaving a decider between his team mate Trevor Billard and St Alban's stalwart Stephen Mills. Stephen established an early lead before excellent play by Trevor earned him the lead. With the final hour of the match twisting and turning between the pair, time was called with Trevor on rover (H12) and peg, and Stephen on 4b and peg. Trevor separated in to corners 1 and 4, leaving Stephen's balls together in the middle of north boundary. Stephen approached 4b with a long take off, made the hoop and the return roquet, and rolled up to penult leaving a long straight hoop. Sadly for St Alban's he failed the hoop to lose by 1 on time, sparking off celebrations in the Sheffield camp, who had been updating their club WhatsApp group with blow-by-blow text commentary.
The Shield was presented by outgoing CA Hon Secretary Ian Vincent, who thanked Nottingham for hosting the final and congratulated both teams on an excellent performances, both in the final and in winning their respective regional leagues the year before.
Results (St Albans names first)
Morning
Heather Bennett (1) & Stuart Stafford (12) lost to Eugene Chang (-1½) & Margaret Crossland (14) -3
Stephen Mills (5) beat Mark Simmerson (6) +17
Roger Bowman (11) beat Trevor Billard (2½) +26
Afternoon
Heather Bennett (1) lost to Eugene Chang (-1½) -18
Stephen Mills (5) lost to Trevor Billard (2½) -1(T) 23-22
Roger Bowman (11) lost to Mark Simmerson (6) -14
Stuart Stafford (12) beat Margaret Crossland (14) +20
CA Bronze Awards
Mark Simmerson (Sheffield)
Roger Bowman (St Alban's)
Stuart Stafford (St Alban's)
---