Jamie Burch Won The South of England Championship 2021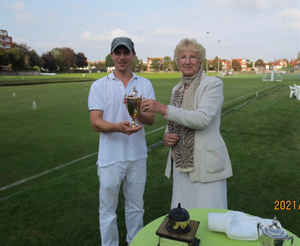 Jamie Burch Won The South of England Championship 2021
by Roger Wood
1st October 2021 (
AC - Championships
)
The sun shone, a gentle breeze blew, a steady rain of beechnuts fell on lawn 2, crows, starlings and seagulls fed on the emerging leatherjackets whenever the lawns were unoccupied and one cheeky magpie kept raiding the clubhouse in search of cake: autumn in Eastbourne saw one of the strongest fields of recent years assembled to do battle in pursuit of gold and silverware. Unfortunately, of the 22 original entrants 4 had to withdraw before the event, including our most devoted attendee (23 appearances) and defending champion David Maugham.
First to impress, in full flow on Friday, was James Death. In the space of a little over 90 minutes his two wins against Ian Lines saw one sextuple attempt come to grief at the last - having completed all six peels he was unable to peg out after hitting the peelee while making rover himself - no such problem in the second. Then Gabrielle Higgins, although she got one ball round, suffered a similar fate on Saturday morning going down to two sextuples in just two hours! So, the peeling prize was settled by 11:30 on day two! Mark Avery was also on good form and earned his place in the final without dropping a game. Things did not go quite so smoothly for the other finalist Jamie Burch, the only seed drawn in the first round - each of his matches against Debbie Lines, Pete Trimmer and James Death went to three games netting him more lawn time than any other player. Undaunted he secured two wins against Mark in games which followed the same overall pattern with one or two turns of cat and mouse thrown in: Jamie went early to 4-back; Mark tripled peeled Jamie's ball and pegged it out and made a few hoops with the other ball; Jamie hit and finished, winning the championship for the fourth time.
Not to be outdone on the peeling front Pete Trimmer and Duncan Reeve each demonstrated their skills with a single sextuple win in the Swiss. At the close of play on Saturday Ian Lines and Gabrielle Higgins led the field in the Swiss, with Duncan Reeve and Sam Murray close behind. The top eight contested a knockout on Sunday where Gabrielle and Sam won through to the final which was won by Sam with a triple peel.
The hoops were very firm in the dry ground which also made the lawns moderately fast - thanks to groundsman John Crisford and his team for their preparation. Thanks too to Hilary for the lunches and a succession of ladies for the teas.
South of England Championship - for the O'Callaghan Gold Cup
Round 1
Jamie BURCH beat Mark Ormerod +12 +18tp
Debbie Lines beat Richard H Smith +9 +9
Round 2
Mark AVERY beat Rich Waterman +19 +23tp
Robert Wilkinson beat Sam MURRAY -22 +25 +4tpo
Dominic NUNNS beat Jack Wicks +23tp +5tp
Robin BROWN beat Nigel Polhill -17 +19tp +22
Jamie BURCH beat Debbie Lines +19tp -8 +12otp
Pete TRIMMER beat Chris O'Byrne +26tp +25
Gabrielle Higgins beat Duncan REEVE -12 +7 +16
James DEATH beat Ian Lines +26 +26sxp
Quarter-Finals
Mark AVERY beat Robert Wilkinson +2tp +20tp
Dominic NUNNS beat Robin BROWN +15 +3
Jamie BURCH beat Pete TRIMMER +20 -2 +26tp
James DEATH beat Gabrielle Higgins +26sxp +18sxp Semi-Finals
Mark AVERY beat Dominic NUNNS +13 +18tp
Jamie BURCH beat James DEATH -16 +7tp +10
Final
Jamie BURCH beat Mark AVERY +7otp +12otp
3rd place playoff
Dominic NUNNS beat James DEATH +5
Swiss consolation event - for the Sussex Union Cup
(2 days Swiss, day 3 KO for top 8 players)
Round 1
Gabrielle Higgins beat Mark Ormerod +16
Debbie Lines beat Robert Wilkinson +2
Sam Murray beat Duncan Reeve +14
Robin Brown Beat Ian Lines +7
Semi-finals
Gabrielle Higgins beat Debbie Lines +16
Sam Murray beat Robin Brown +2
Final
Sam Murray beat Gabrielle Higgins +12tp
Peeling prize: James Death.
---