Stephen Mulliner won the Dulwich President's Selection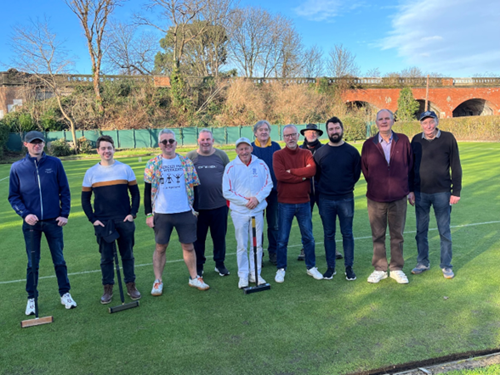 Players at the Dulwich President's Selection 2022
by Guy Scurfield at Dulwich
10th January (
GC
)
After a year off, the 7th running of the President's took place over the weekend of 8/9th Jan 2022 at Dulwich Croquet Club.
Dulwich Guests
Guy Scurfield Andrew Hobbs
John Spiers Aston Wade
Jonny Claxton Howard Cheyne
Andrew Dymond Lionel Tibble
Pierre Beaudry Nick Cheyne
Simon Carter Stephen Mulliner
Day 1
As in previous years, visitors from across the country came to Dulwich to play in a, "faintly mad to attempt" weekend event in January. The focus being on having fun, meeting new people and some fierce competition along the way (combined handicaps of over -30), playing for the Christopher Robin Cup. Aston, Andrew and Stephen's first time at the event.
A round robin cross block format, Dulwich vs Visitors in single 13-point games
A rather wet and dank day greeted us, so we were looking to get 3 rounds in before the rain really took over. Players got on with it, and with the lawns in excellent condition, great shots were seen everywhere; 4 rounds were completed before lunch. At which point 2 of the 3 lawns were under water…
A hearty lunch was had by all, with time to reflect and decide what to do in the afternoon. However, the rain eased up, and allowed round 5 to be played, in rotation on the upper lawn 3, and by close of play (darkness had fallen) there was one match left to complete of the 5th round.
Day 2
A beautiful day, a huge contrast from the dire weather played through on Day 1.
Round 5 and 6 completed in quick order, which allowed semi finals to be held - best of 3, 7 point matches (in block) with the unorthodox start (looking to remove the first shot advantage).
Pierre vs Simon 4-3, 4-2
Stephen vs Andrew H 4-2, 4-3
In the meantime, the rest of the players took part in a knockout plate event, consisting of single 9 point games, with Aston prevailing over Jonny in the final as lunch approached.
Lunch, a excellent BBQ of steak and sausages, joined by 20/25 spectators.
Post lunch, the final between Pierre and Stephen. Pierre had beaten Stephen 7-1 in the round robin, one could feel Stephen gearing up for revenge….
A cagey first game, back and forth, with some phenomenal clearances Stephen won 7-5….
Game 2 saw some uncharacteristic errors from Pierre, Stephen getting out to a 6-3 lead followed by an almighty tussle at hoop 10, with both players missing multiple opportunities to run the hoop, clearly the nerves were getting to them both. Understandable, given the magnitude of the event and the slightly partisan crowd cheering on.
Pierre eventually got hoop 10, but Stephen got his hoop running back together and won game 2, 7-4.
1st - Stephen - Christopher Robin trophy, £150, Simon Carter cufflinks, bottle of malt whiskey & years membership to DCC
2nd - Pierre - £50, Simon Carter Cufflinks & a bottle of brandy
3rd - Andrew Hobbs - Bottle of brandy
Plate winner - Aston Wade - trophy and bottle of brandy
A brilliant weekend, much enjoyed by players and spectators alike, and all very happy that the sun came out on Sunday..
Thanks everyone for being a part of it…
---