StuartM Smith wins the opening ENSC Qualifier (Sidmouth) 23/24th April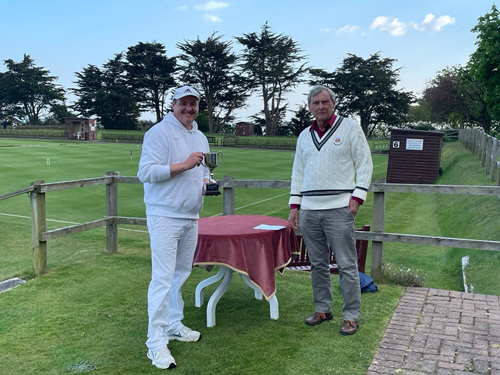 Stuart M Smith receiving the trophy from Peter Nelson (Photo: Sue Lightbody)
by Louise Smith at Sidmouth
26th April (
GC
)
The Sidmouth GC Championship is the first ENSC qualifying event in the season's calendar, and as always, attracted a strong field of players. The usual format of Block play followed by a knockout saw no surprise results from Block A, ending in ranking order, Stephen Mulliner, Stuart M. Smith, Tim Russell and Tim Jolliff. Block B saw the holder Jonathan Powe pipped to the top spot by third block seed Steve Leonard on hoop difference, both attaining 6 wins. They were joined in the knock-out by Nick Archer and 6th seed, Guy Scurfield.
Mulliner v Scurfield, Powe v Russell and Smith v Archer finished their respective Quarter Finals 2/0, (Mulliner, Powe and Smith prevailing), with Leonard succeeding over Jolliff 2/1.
The Semi-Finals were a much longer affair. Mulliner went down to Powe 5/7 in the first, with a reversal of fortunes in the second game, 7/3 to Mulliner. Smith beat Leonard 7/1 followed with a much tighter second game, losing 6/7 (Smith/Leonard). Both Semi Finals entered the deciding third games with strong, considered play from all, eventually Mulliner took the win over Powe 7/4 and Smith over Leonard 7/6.
Meanwhile, one withdrawal due to a pre-existing health condition created an uneven Plate Block, so Player/Manager Louise Smith withdrew to even up the numbers and concentrate on managerial duties. Full participation throughout the Bowl play-offs and remaining Plate Block players saw Nick Archer narrowly succeed over Guy Scurfield in the Bowl Final 7/6 in the third game, and David Goacher beat Sam Cuthbert 7/5 in the Plate Final.
The Championship Final.
With a close Block game result, Mulliner 7 Smith 6, the Final was set to be an interesting match. Smith was in great form, consistently hitting long range target from any position on the court, and Mulliner soon found himself 5/2 down.
Smith had been hooping well and had the opportunity to reach 6/2 at hoop 8 with a 4 yard shot. But this shot failed and Mulliner saw and took his opportunity to redress his position. Three successive hoops from Mulliner levelled the score-line to 5 all. This prompted a strong counter reaction from Smith to take the next two hoops, winning the game 7/5.
Undeterred, Game 2 saw Mulliner take the lead to 5/3. Hoops 9 and 10 again saw a decisive response, this time from Smith to level the score to 5/5, with hoop 11 the next vital shot. Mulliner had two balls in front of 11 and Smith had an angled approach from the back boundary. Mirroring the situation in their block game when Mulliner ran hoop 13 from an angled boundary strike, Smith aimed and ran a superb boundary shot through 11 and on behind 12.
Hoop 12 went to Mulliner, now 6/6, with his blue ball positioned nicely halfway towards 13. Smith, with first approach, put in a well positioned yellow 2 yards in front of the golden hoop. Blue fired and missed, Red then also took up a hoop running position. Mulliner had no option but to fire at yellow with black from behind hoop 12, but again a miss put both his balls on the back boundary line. Smith decisively ran hoop 13 with yellow taking the match 2/0 and Championship title.
Thanks to Richard Brooks, Tournament Referee.
---