Oxford student croquet is back with enthusiasm!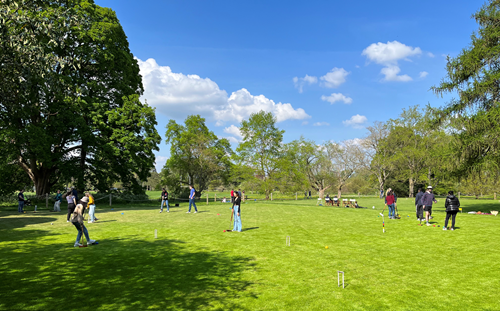 Beginners on the Oxford University lawns (Photo: Dr Ian Plummer)
by Dr Ian Plummer at Oxford
27th April (
AC
)
With Covid restrictions over, 196 teams (784 students) have entered this year's Oxford University inter-collegiate (cuppers) competition. Teams of four players from the same college play two AC doubles matches with one game played on their own college lawn and the other away. Some colleges have entered as many as 15 teams. This gives a huge number of young people exposed to croquet, not only the players but the other students watching as they lounge in their college quads.
Whilst previously we have had up to 512 teams enter, this is a marvellous entry given the momentum lost in the past two years. Cuppers was not played in 2020 and was restricted to 32 teams last year. Again we are most pleased to have the Croquet Association sponsoring cuppers and supporting student croquet.
The University Association Croquet Club has already hosted a well attended demonstration match accompanied by an expert commentary and started its familiar programme of high intensity free coaching sessions led by Dr Ian Plummer. Hopeful players attend to learn the secrets of the game to gain an advantage in the early rounds of the cuppers competition. Cuppers is played as a knock-out competition over the next 8 weeks of the very short Oxford summer term.
---