Lynn Pearcy won the East Dorset Women's GC Open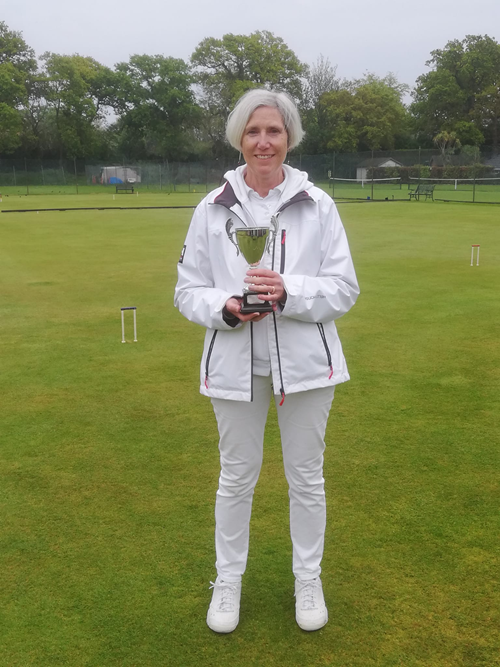 Lynn Pearcy at the Women's GC Open
by Steve Leonard at East Dorset
3rd May (
GC
)
Attracting a field of competitors from Ramsgate, Colchester, Sidmouth, Northampton, Leighton-Linslade, Winterborne Valley and host club East Dorset.
They descended into deepest Dorset on May Day Bank Holiday weekend for the inaugural East Dorset Women's GC Open.
Split into 2 groups of 7 playing a cross block format and with handicaps ranging from 1 to 10 .
Block A was topped by Ann Brookes from Colchester with 6/7 wins with Michelle Leonard taking 2nd position with 5/7 wins with both of her losses coming on the 13th hoop.
Christina Rice 3rd on 4/7 and Marilyn Robinson edging Sandra Allan out of 4th spot on a superior net hoops.
Block B was dominated by Sidmouth's Louise Smith winning 7/7 but behind her it was a very tight affair with the next 4 players all on 4/7 wins.
Kath Burt was the unlucky player missing out on net hoops, with Judith Pengelly, Lynn Pearcy and the home player Marion Nagle playing off 7 handicap making it through to the quarter finals.
Sunday's weather was not so kind as it started to drizzle with rain early morning and never really stopped all day.
The 1/4 finals were a one game 19 point contest and the closest of those was fought out between Michelle Leonard and Christina Rice going right down to the 19th hoop, where both ladies had chances to win but, in the end, Marilyn prevailed,
10-9 giving Michelle her 3rd loss of the weekend all of them on the golden hoop!
The other games were not so close Louise beating Marion 10-4, Ann beating Marilyn 10-4 and Lynn over coming Judith 10-6.
So the Semi Finals were contested by the top 4 Dgrade players.
As expected they were all tight affairs both going to the 3rd set Lynn after losing the first set to Ann 4-7 went onto win the next 2 sets 7-2 7-3
Whilst Christina took the scalp of the unbeaten Louise in another hard fought semi-final 7-3 3-7 7-2
The final was played in worsening rain but again both players made it another 3 setter with Lynn beating Christina 7-5 6-7 7-2
Kath Burt made up for missing out on the knock out stages on net hoops by winning the plate , whilst Judith won the Bowl beating Michelle in the final 5-7 7-5 7-5.
So Lynn Pearcy won the inaugural East Dorset Women's GC Open and hopefully she will be returning next year to defend her crown.
Hopefully this tournament will become a regular fixture on the CA Calendar and attract more ladies to make their way down to the sunny South Coast!!!
---