Cliff Jones won the Surbiton B-Level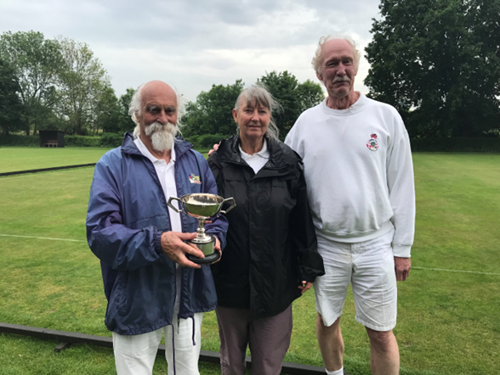 Cliff Jones, Chris Osmond, who presented the prizes, & Kevin Carter, the mangler (Photo: Charlie Martin)
by Kevin Carter at Surbiton
17th May (
AC
)
Cliff Jones rolled back the years to win the 2022 Surbiton 'Super-B', for players on scratch and above. Cliff played very well, retaining all his trademark accuracy, honed over many years as a minus player. He remained unbeaten with 6/6, after a final against Liz Farrow.
23 lined up for the tournament - not full for the first time in many years, continuing the unhappy trend of fewer players in AC handicap and B-level events. At lunchtime on the second day the top four from the swiss went into a knock-out, in which Cliff beat David Boyd and Liz beat Andrew Dutton. The remainder continued the swiss competition, with Andy Dibben securing the Best-of-the-Rest prize.
Perhaps quality, too, is in retreat, since in easy conditions, not many TP attempts got very far. The unluckiest was Cliff's three peels before a failure to finish. Only Barry Holland went all the way and, with this being his first in competition, he won his gold badge.
Players had come from as far afield as Ramsgate, Kenilworth and Madrid to enjoy Surbiton's hospitality and fine lawns, and a rather wet sunday.
---