Tim Jolliff wins first GC Open Series Tournament at Sidmouth CC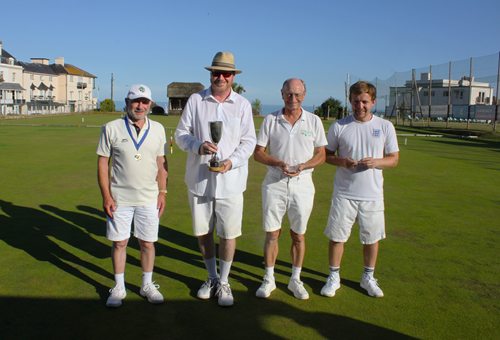 Phillip Blake (Plate), Tim Jolliff (Winner), Stephen Custance-Baker (Bowl) & Ryan Cabble (Runner Up) (Photo: Ed Dolphin)
by Louise Smith at Sidmouth
12th July (
GC
)
The inaugural Sidmouth GC Open, part of the Open Series, took place on 9/10th July with a full field of 16 players, including two from New Zealand and others from a broad spectrum of UK clubs.
Block A saw the top three seeds comfortably through to the main knock-out, Nick Archer (Watford), Tim Jolliff (Budleigh), and Ryan Cabble (Nailsea) with Sidmouth club member Philip Harris (6th seed) taking the fourth spot.
The top four seeds within Block B went forward to the main knock-out with Stephen Custance Baker (Taunton Deane) taking 2nd spot above Stuart M. Smith (Budleigh) on hoop difference. Topping this block was Tim Russell, (Roehampton) and in fourth spot visiting Kiwi, Helen Reeves - the only player to take a game from Tim Russell in the block play.
The main knock-out produced a whole array of differing fortunes, Helen again making her presence felt as she despatched top seed Nick Archer in the quarter finals, 7/4, 6/7, 7/5. Although performing very well in recent months, Stephen Custance Baker hadn't quite got what was needed to overcome Ryan Cabble, Ryan taking this quarter final win reasonably comfortably at 7/3, 7/4.
The other two quarter finals produced a win for Tim Jolliff over three games with Stuart M. Smith, and an epic battle between Philip Harris (2hcp) and Tim Russell (-3hcp), with Tim taking the final game as he did the first, 7/5, 5/7, 7/5.
Philip continued his excellent and consistent play in the 7/8th place play-offs, with another notable win over Nick Archer (-3).
Ryan Cabble continued his progress in the semi-final, despatching Helen Reeves in two games, comfortably at 7/3, 7/3.
Meanwhile, in the other semi-final, Tim Russell faced another tense three game match with Tim Jolliff, the latter proving methodical and solid, taking the win 5/7, 7/4, 7/4.
In the consolation matches, the Bowl was won by Stephen Custance-Baker, underpinning his return to form, and the Plate block was arranged as an All-Play-All for seven players, resulting in a narrow win for Philip Blake of Kenilworth over Stephen Thornton, based upon 'who beat who' after all other factors were tied.
The main Final between Ryan Cabble and Tim Jolliff began with a powerful start from Ryan, taking the first game 7/5. Tim countered with a methodical reply that gave him the second game with a decisive 7/1 result. The deciding third game did not disappoint the local spectators with a brilliant 15-yard hoop run from Ryan at hoop 10 and both players demonstrating some excellent jump shots - expertly caught on camera by Ed Dolphin of Sidmouth CC. An equalizer at hoop 12 bringing the score to 6 All gave Ryan some problems for 13, with neither of his balls having a clear shot or view to counter his opponent. However, a short volley of shots resulted in a 7/6 victory for Tim Jolliff, his first, and well deserved, GC Open Series title.
***
On a separate note, I would like to acknowledge Robert Archer, commandeered into service without any complaint - to help me with the scoring, as I was Manager and player! Robert is a stalwart supporter of his brother Nick, travelling the country to different tournaments and always ready to lend a helping hand, for which, on behalf of all Managers, I want to say thank you, Robert!
---