Barter Trophy GC C-Level series at Cheltenham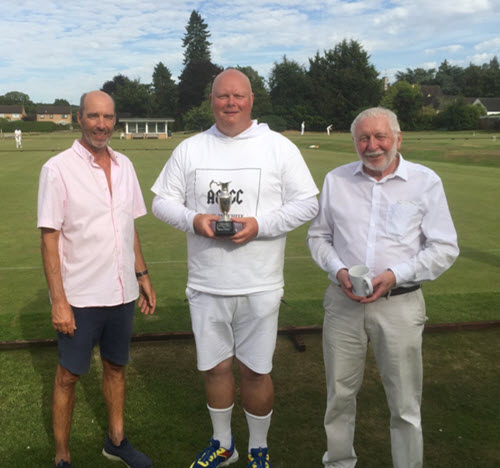 Giles Pepperell (winner) & Michael Tideswell receiving their prizes from Ivor Brand (manager)
by Ivor Brand at Cheltenham
15th July (
GC
)
For the second year running this proved to be a glorious day and the competitive field had yet again increased to and stayed at 20 (thanks to local members Callum Paterson and Jette Wade Davis) who stepped in late after withdrawals to keep the numbers even! The competition was run as 4 blocks of 5 with everyone enjoying a bye out of the heat as it turned out. The resulting block finish then put the players into 5 mini knockout events for final positions.
Credit must go to Jim the lawns manager who was able to provide 8 'immaculate lawns' (as was said by several players). However, as the heat grew the competitors started to find the conditions challenging and therefore it was a surprise that only 8 games out 60 went to time!
Although, most of the block positions were eagerly contested, there were 4 undefeated winners : Giles Pepperell, Michael Tideswell, Jill Bateman, and Carol Jamieson which would contest this year's Barter trophy.
In the end it was Giles who played Michael (having won on 13th hoop) who played in the final. The game was as tight as expected with it being tied at 4-4, Giles pulled away to win and receive the Barter trophy from Ivor Brand (manager). Congratulations to both players who subsequently triggered handicap reductions!!!
The other knock out finals were coming to a conclusion as follows:
Block 2 final was won by Andy Jones after Carol Cowlshaw had to withdraw due to the heat. Block 3 was won by Richard Pinder on the 13th hoop over 'new boy' Callum Paterson. Block 4 was won by Peter Martell over Carol Wadsworth. Block 5 was won by Andy Brister over 'new girl' Jette Wade Davis.
Congratulations to all our winners and finally thank you to the marvellous tea ladies that were put on in a very hot afternoon.
---