Stephen Cornelius won the Peterborough AC Handicap Weekend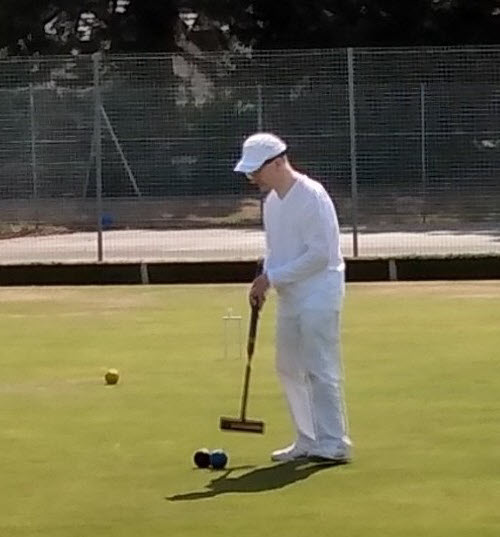 Stephen Cornelius pauses for thought (Photo: Adrian Kirby)
by Adrian Kirby at Peterborough
19th July (
AC - Handicap
)
Local player Stephen Cornelius is the new AC Handicap Champion at Peterborough
He also won the Doubles, in a new partnership with Jonathan Toye (Downham Market). Stephen returned to croquet last year after a thirty-year gap (encouraged by his sister, Debbie Lines.)
Both events had been fully subscribed (12 entrants), but a series of late withdrawals (one just two hours before the start of the Singles) reduced the entry to eight for the Doubles and nine for the Singles. Lots of rework for Adrian Kirby, the Manager and your humble narrator.
Each of the four Doubles pairings played all the others in 18-point games, with all clips starting on Hoop 5. Rather neatly, the distribution of wins was 3:2:1:0, with Jonathan (5) and Stephen (11) emerging victorious. They beat Adrian (-0.5) and Ken Knock (Pinchbeck 14) 18:12, Charles Ostler (Pinchbeck 2) and Terrey Sparks (Great Dunham 3.5) 18:0, and Watford-based defending champions Mark Homan (5) and David Robinson (16) 18:8.
For the Singles, Stephen, Jonathan, Charles and Adrian were joined by players from: Norwich - John Reddish (4.5) and defending champion David Wicks (6); Nottingham - Peter Hanley (2); Beverley - Jim Gillespie (10); and Sheffield - Mark Simmerson (6).
Each of five 'Blue Block' players was supposed to play all five 'Red Block' players and vice versa, but the antepenultimate hour withdrawal (from Red) meant Blue Blockers had only four opponents, and the Games Won main determinant of placings had to be superseded by Percentage Wins.
Stephen trounced both Charles and David (+26), and had a fairly comfortable win against Mark (+11T - 22:11), but faced a tough opponent, Peter, in his final game. This was destined to be the last to finish, and John and Adrian, who were 'in the clubhouse' on 75% Win Percentages and with superior count-back stats, were willing Peter to prevail and deny Stephen a 100% record.
It was a rather dour encounter, but with a dramatic denouement. Stephen was one up with three of his nine bisques still standing as time approached, but it gradually dawned on the gallery that he wasn't going to use the bisques, even though he - as well as Peter - had checked with the manager (and referee) that he wouldn't be able to use them in the extension period. He broke down, at Peter's hoop, with Peter joined up, moments before Time was called. Peter tied the score, but - disturbed by 'passing traffic' (double-bankers just finishing) - he broke down on Stephen's hoop. Stephen hit in and made two hoops to finish +2T (15:13) and win the Ken Hope-Jones Shield.
The next day, consultations with the local CA Handicapper led to Stephen being awarded a handicap cut from 11 to 8. Mark's handicap also came down, from 6 to 5. Well done to both!
How to explain that quixotic non-use of bisques at the death? Well… your humble narrator would like to believe that it was gentlemanly - 'if there were no time limit I would need to conserve bisques for the second half of my hoops, so I won't take advantage of the time limit by using them now'. Dear reader, what do you think?
---