Robert Fulford won the Dorset Open GC Championship (Open Series)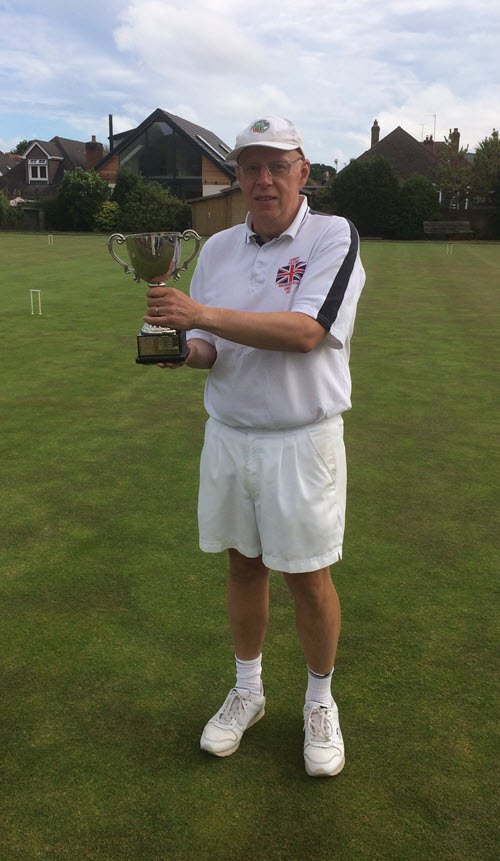 Robert Fulford
by Jonathan Powe at East Dorset
28th July (
GC - Championships
)
After experiencing the heady heights of the Championship Series last year, the Dorset Open reverted back to the Open Series this year. It made little difference to the quality of the field, which included six players with handicaps of -3 or better. Robert Fulford joined us for the first time, as did Tim O'Donnell who has appeared near the top of the UK rankings after some impressive performances at Hamptworth and elsewhere in recent years. Many of the usual suspects were there again including Lionel Tibble, back after a year off in 2021, and Steve Leonard, fresh from his victory at the GC Veterans the week before.
As usual, sixteen entrants were split into two blocks of 8, which produced 8 quarter-finalists for the Knockout and 8 for the Plate.
There were a couple of surprises in the Block A. Both Paul Durkin (4/7 wins) and Les Heard (3/7) qualified at the expense of Steve Leonard (3/7) and Stephen Custance-Baker (3/7), Les making it through on net points. The other qualifiers were Fulford (7/7) and Tibble (6/7).
Block B ran largely to form. The qualifiers were Stuart M Smith (7/7), Tim O'Donnell (6/7), Jonathan Powe (5/7) and David Bell (4/7).
There were some interesting moments in the Championship Knockout. First, when Paul Durkin won the first game in his QF against Tim O'Donnell 7-4 and took the second game to the 13th hoop. Tim coped well with the pressure, running the 13th to level the match before winning the third 7-3. This set up a fascinating semi-final clash between Tim and Robert, which proved to be a long and very tightly-fought battle. Tim won the first game 7-3 and took the second to the 13th with some excellent tactical play and strong hoop-running, but Robert's class shone through in the final game, taking the match 2-1.
In the other half of the draw, Lionel Tibble made his way to the final with little trouble, beating Powe (7-4, 7-5) and Smith (7-2, 7-4).
In the Championship Final, Robert raced ahead in the first game winning 7-1. Lionel came back strongly in the second and took an early lead, but an excellent jump shot by Robert at the 5th hoop, followed by a 10-yard hoop at the 6th brought Robert back into the game. He then won the 7th and 8th hoops, giving him control of the game before eventually winning the Championship at the 12th.
Steve Leonard's form rallied on Sunday and he emerged as the Plate winner, beating Stephen Custance-Baker 7-5 in the final.
Key results:
Plate Final: Steve Leonard beat Stephen Custance-Baker 7-5
Championship:
QF1: Robert Fulford beat David Bell 7-3, 7-2
QF2: Tim O'Donnell beat Paul Durkin 4-7, 7-6, 7-3
QF3: Lionel Tibble beat Jonathan Powe 7-4, 7-5
QF4: Stuart M Smith beat Les Heard 7-5, 7-5
5th/6th Playoff (Bowl Final): Paul Durkin beat Jonathan Powe 7-3
SF1: Robert Fulford beat Tim O'Donnell 3-7, 7-6, 7-4
SF2: Lionel Tibble beat Stuart M Smith 7-2, 7-4
3rd/4th Playoff: Stuart M Smith beat Tim O'Donnell 10-8
Final: Robert Fulford beat Lionel Tibble 7-1, 7-5
Full results on Croquet Scores here
---