Aston Wade retains the Student Championships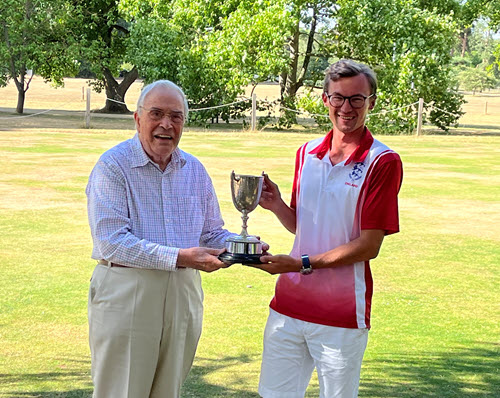 Quiller Barrett presenting Aston Wade the Student Championship trophy (Photo: Ian Plummer)
by Teddy Wilmot-Sitwell at Oxford
29th July (
AC
)
On the 23rd and 24th of July 2022, Oxford University Association Croquet Club was thrilled to host the Student AC Championships again this year. It was a busy weekend of croquet, with both a doubles and a singles tournament running simultaneously, and most players entering both. We were also impressed by the spread of player skill levels, although all were eager to play Level Advanced, with handicaps ranging from a -1 (Aston Wade, Exeter University) to a 22 (Julius Gasson, Cambridge University)! Some unevenness to the lawns managed to level the competition a little bit, as all found them challenging at times.
In the doubles, all played all, though the brothers Jerome and Julius lost both of their first matches, leaving the other two to battle it out in the final. After a tight game, one of the two Cambridge teams came out on top (Finn Gavin and Felix O'Rahilly), beating the Exeter team (Aston Wade and Kieran Moore) in the final on Saturday evening. Once the singles games in the evening finished early, those of us not in the doubles final had been doing a mixture of quick and casual one-ball games, tips, and friendly coaching. However, we soon set aside our practice games as we became enthralled by the neck and neck competition between the doubles finalists. Finn (10) and Felix (10) had already let Aston (-1) slip round to leave his clip on rover, and were instead focusing on holding Kieran (a complete novice) back. They finished with +2 as Time was called, but Aston drew even with a long hit in, running rover and pegging out, but not before lining Kieran up for his next hoop (hoop 2). It was to no avail, however, as Finn hit Kieran on the next shot, eventually snatching the golden point from an outnumbered Kieran to grasp the victory. Kieran's work was impressive, for someone with enthusiasm but next to no experience, but it was testament to Aston's skill that he carried the team so far, even jumping over a hoop to regroup with his partner ball at one stage. Congratulations to Finn and Felix on their victory.
The Saturday evening matches were followed by an excellent dinner at the Royal Oak pub, courtesy of the OUACC, where all the players were able to relax and socialise after a long day in the sun (with another exciting day ahead). The dinner was followed by further drinks, a late night ice cream, and even some last minute accommodation arrangements.
The singles (handicaps: -1, 3, 5, 8, 10, 10, 22, and 22*) was played over both Saturday and Sunday, kicked off by Albie Willett (5, University of Wales Trinity St David) impressing the onlookers with the power with which he hit the balls. While the OUACC had to protect the shins of onlookers, reset hoops after every stroke, and replace a broken timer and a mangled clip, we have decline to forward the charges to Mr Willett. With an impressive opening gambit, Albie, predominantly a GC player, ran hoops 1 and 2 in a 1-ball break. This feat clearly inspired confidence in Julius (22, Cambridge University) who pulled off the same trick in his first match.
The top end of the singles also saw a good few attempts (some particularly ambitious) at triple peels of all flavours, but they were generally abandoned due to challenging conditions. Nevertheless, Albie, Sophie, and Aston each made admirable attempts (I also made an attempt, but it was so far from admirable that I hesitate to mention it) which showed the higher handicappers just how good players can get.
The final, however, ended up being between (Teddy, 8, Oxford University) and Aston (-1, Exeter University) both of whom were undefeated in the singles. The final thus managed to usurp the expected handicap order, as I had managed lucky wins against Albie (5) and Sophie (3). Aston Wade managed to maintain his title as winner of the Dudley Hamilton-Miller Trophy, however, beating me decisively as I failed to pull together any confident breaks. Quiller Barrett, CA President, paid us the honour of saying a few words and awarding the trophies to Finn and Felix, and Aston. We are immensely grateful for everything that Mr Barrett has done for student croquet during his time as CA President.
Players
Albie Willett 5 Wales Trinity St David
Aston Wade -1 Exeter
Felix O'Rahilly 10 Cambridge
Finn Sutcliffe 10 Cambridge
Jerome Gasson 22 Cambridge
Julius Gasson 22* Cambridge
Kieran Moore N/A Exeter
Sophie McGlen 3 Reading
Teddy Wilmot-Sitwell 8 Oxford
---