John Greenwood won the Kent Cup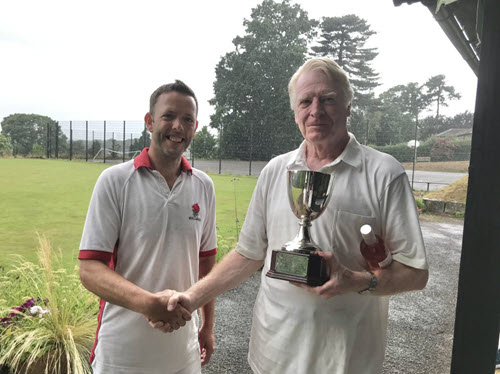 David Dray (2021 winner) presenting the trophy to John Greenwood
by Jon Diamond at Ramsgate
3rd August (
AC
)
Play started promptly Saturday 30th July with six players competing in the glorious weather and the lawns were looking green and true…
David Dray, as tournament manager, decided that the format would be a round robin all-play-all to determine the overall winner. After the first round went to 3.5 hours, a time limit of 3 hours was applied to subsequent rounds.
After close of play on Saturday there were four players with 2 out of 3 wins.
Sunday started on time again at 9:30am. In Round 4:
In the David Dray vs John Greenwood game, John had two well controlled turns having improved his style of play recently, following a bad patch. He won 26-23 in a tight game.
For the Ramsgate grudge match both players are very capable of setting up 4 ball breaks and hitting in cross lawn, despite struggling with the much slower lawns than Ramsgate. On this occasion Charlie Martin beat Trevor Longman fairly easily, with Trevor only making 5 hoops.
Roger Staples from Middlesborough making his regular annual trip down to Kent had a great tussle with Tim Luke, who was playing with his distinctive own style. Roger just winning on time 23-20.
In Round 5:
There was a great contest between John Greenwood and Tim Luke. John played extremely well from the start, making sure Tim stayed sitting in his seat. However, John kept his nerve all the way through to run out a relatively easy winner, as he needed to.
Trevor had a tight game with David and was in front for most of the game, but David kept his cool to grab the win by just 3 hoops.
Charlie also had a tight game with Roger and ended winning by 5 hoops, but it wasn't enough to win the title as he had lost previously to John.
The placings were John Greenwood 1st, Charlie Martin second and David Dray in 3rd place - Tim had his handicap reduced to 4.5.
Detailed results are here: https://croquetscores.com/2022/ac/kent-cup/block
---