Jack Good wins the Nottingham B-Level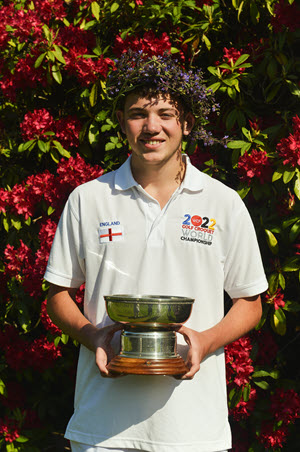 Jack Good, winner of the Sage Bowl
by Richard White at Nottingham
8th June (
AC
)
This year's Nottingham B Level attracted 26 players from around the country.
We almost filled the full range of handicaps with 3 scratch players and going up to 8 at the other end. I think it was the strongest entry yet.
The weather was ideal. Sunny, warm and bright with a cooling and non-intrusive breeze.
Nottingham's 4 new West lawns played very well. Most players preferred these and were requesting games on them. The original 5 East lawns are still very good but now feel inferior to the new ones.
If the lawns can keep dry, they should provide excellent playing conditions for next weekend's East Midlands Championship and the Opens next month.
The earlier rounds of this year's Sage Bowl went pretty much to form. The exception being Jack Good playing off a 5 handicap and, in theory, the 25th best player there.
By the end of Saturday Jack had booked his place in the Semi-final on Sunday. Alex McIntyre the current holder was to be his opposition. The other semi was between the reliable and controlled George Plant and a rejuvenated Anthony (ARK) Miller.
Both results went to the, at least in theory, weaker player.
Jack and ARK played in a well fought single game final. The hoops were reset and tightened but it made little difference to a good quality game.
Jack emerged the winner +10. He did miss the peg out with the forward ball from close by having run a fist-pumped Rover. A couple of turns later he hit the peg with a shot from corner 4.
Both finalists were rewarded with automatic handicap reductions. Jack's being a double step down to 4.
To put this win in perspective I can only find 6 ranking games of AC in Jack's history.
Jack played some Short Croquet in 2018 aged 11. His 2019 season was cut short by a broken leg. 2020 was …. well 2020…. He played 12 AC handicap games in 2021 and won a handicap tournament at Southport. He did not play any AC in 2022. His first ever advanced games were 3 weeks ago at Cheltenham which are the only 6 games on the system for him.
His GC record is probably better known, appreciated and speaks for its self.
Jack is by far the youngest recipient of the Sage Bowl. I suspect this record will last some time.
---