Reg Bamford won the Ramsgate Golf Croquet International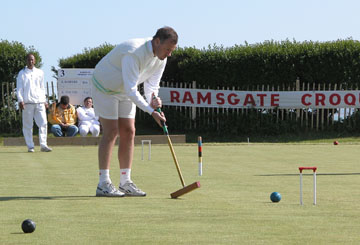 Reg Bamford in play, Khaled Younis (Egypt) watching (Photo: Quiller Barrett)
by Roy Ware
10th June 2003 (
GC
)
The Ramsgate Golf croquet International lived up to its reputation of being a top tournament with an International flavour.
As in previous years twelve players were selected from the top twenty of the UK Golf Croquet ranking list, and twelve overseas players were invited. This included players from New Zealand, South Africa, Ireland, Belgium, Germany, USA and Egypt.
The weather was fine, lawns in excellent condition, Ball boys ready and referees on court.
The youngest player participating, David Dray,21, from the home club has had a very good start to the season. He was well placed at Surbiton and won the Lancashire Open resulting in a rise from 28th to 15th in the UK rankings. Did this mean that a few results might ensue.
As it happened it was not David that caused the shocks. John Moore continued his poor run of form finishing bottom of his block. Bill Arliss, however, beat the current World Champion, Khaled Younis, to finish top of his block, and Salah Hassan was beaten by David Hopkins, who also finished top of his block.
The final was between Reg Bamford and Khaled Younis played as a best of three 13 point games. Overnight rain had not affected the lawns but during the afternoon the wind had got up giving the players something else to think about. Khaled took the first game 7 - 6 but was noticeably worried by the wind. I am sure that Reg put his experience of playing in the winds that blow around Cape Town to good use and won the next two games 7 - 2, 7 - 2.
The home club had again been successful in getting TV coverage on BBC South East on Friday, Saturday and Sunday. This was backed up with interviews on Radio Kent on the same days plus a final report on the Monday.
This tournament gets stronger every year and the tournament committee felt privileged to have such High profile players taking part.
Next year the tournament will be held one weekend later, 12th & 13th June
---