Nottinghamshire won the GC Inter-Counties (Division 1)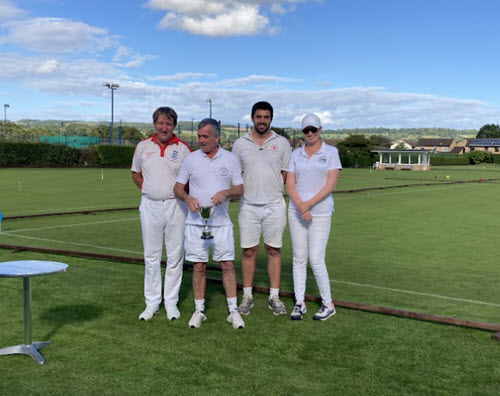 The successful Nottinghamshire team
by Jonathan Powe at Cheltenham
21st August (
GC
)
Nottinghamshire (Ian Burridge, James Death, Rachel Gee, Will Gee) won Division 1 of the GC Inter-County Championship at Cheltenham on 19-20 August for the third successive year, winning all 11 of their matches and dropping only 3 of their 33 games over the course of the weekend.
The punters had thought that Yorkshire (Richard Bilton, Callum Johnson, Richard M Smith, Stuart Smith, Robert Wilkinson) or Somerset (Dominic Aarvold, Ryan Cabble, Stephen Custance-Baker, Marcus Evans, David Goacher, Tim Jolliff) might give Notts a run for their money. Sadly, Yorkshire faded early, losing 2 of their first 3 matches (to Dorset and Middlesex) and ended up in 4th place on 6/11. Somerset (up from Div 2) were beaten by Yorkshire 0-3 in their first match, which put them on the back foot, but they rallied well until late afternoon on Saturday when they were beaten 1-2 in the crucial tie against Notts. They finished in 2nd on 8/11 having lost their final match against Hertfordshire (Nick Archer, Jason Carley, Kevin Connolly, John Noble, John Taylor). Herts had a strong weekend, ending up 3rd on 7/11.
At the foot of the table, four teams (Sussex, Middlesex, Hampshire and Surrey) were battling to stay out of the relegation zone in their final few matches on Sunday. Following some tense games, it was Sussex and Middlesex (both 4/11) who managed to stay up, leaving Hampshire (2/11) and Surrey (1/11) in the bottom two slots. They will join Division 2 in 2024.
The GC Inter-County Cup was presented to Nottinghamshire by Brian Gardner (Cheltenham CC).
Cheltenham CC and their team of helpers were warmly thanked by Ian Burridge for all their efforts before and during the event, and for their excellent hospitality.
The Divisions swap locations next year, so Div 1 will be at Sussex CCC and Div 2 will be at Cheltenham.
The final table is below and the detailed results can be found on Croquet Scores here:
Div 1 Block: https://croquetscores.com/2023/gc/inter-county-championship-blocks/division-1
Div 1 Matches: https://croquetscores.com/2023/gc/inter-county-championship-tests/division-1
| | | | |
| --- | --- | --- | --- |
| Division 1 | Wins | Losses | Net Games |
| Nottinghamshire | 11 | 0 | 27 |
| Somerset | 8 | 3 | 11 |
| Hertfordshire | 7 | 4 | 7 |
| Yorkshire | 6 | 5 | 9 |
| Essex | 6 | 5 | 7 |
| Dorset | 6 | 5 | 1 |
| Devon | 6 | 5 | -1 |
| Northamptonshire | 5 | 6 | -5 |
| Sussex | 4 | 7 | -9 |
| Middlesex | 4 | 7 | -13 |
| Hampshire | 2 | 9 | -11 |
| Surrey | 1 | 10 | -23 |
---