England win Home Internationals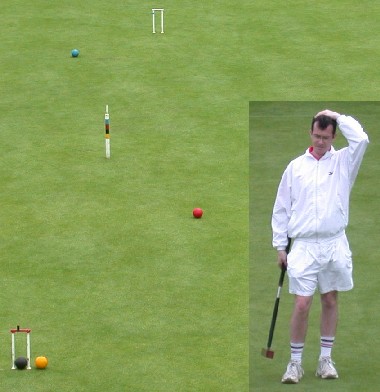 by Dave Kibble
17th June 2003 (
International
)
Most of the visitors found adjusting to the Dawson 2000 balls difficult, both for ratio and gauging the pull. It was notable that at the end of the first day only the Irish, Dave Maugham and Jonathan Kirby had completed triples.
Turn of the match has to go to Martin Murray, who hit in on turn 3 and went round making a dream leave, except he failed to notice that the rush from the east boundary was for his opponent's ball! Ed took the long shot into corner 4. Martin marched on and played the rush he had left, only then to realise his error.
A great laws debate was triggered when Ronan stuck in 5 during a standard triple, Ian (pictured) hit blue by 6 and took off to rush-peel black to red, only to finish slightly short and with a very difficult shot. He eventually shot hard and managed to peel black by a few inches but he (and the referee) failed to remove the clip. He completed a double peel and contact leave in corners 2 and 3. Ronon came on and pointed out that the clip should be on 6. Much debate later, referee-on-call Dave Maugham offered a replay from before the peel, which Ian agreed was the point in the break where he would have taken a different line of play. Ian declined and allowed play to continue.
Round 1
England beat Wales 4-1
David Maugham beat Ian Burridge +12 +21tp
Colin Irwin beat Tony Mrozinski +23 +16
Dave Kibble beat Chris Williams +15 -4 +8
Tim Wilkins lost to Sam Tudor -19 -17
Dave Mundy beat William Prichard -14 +13 +17
Ireland beat Scotland 4-1
Ronan McInerney lost to Jonathan Kirby -26 +13tp -15tp
Mark McInerney beat David Magee +26tp +26tp
Simon Williams beat Bruce Rannie -24, +21tp, +21tp
Ed Cunningham beat Martin Murray +13 +6tpo
Alan McInerney beat Gordon Hopewell +14 +12
Round 2
England beat Ireland 5-0
David Maugham beat Ronan McInerney +13tpo +14tp
Colin Irwin beat McInerney +17 +17
Dave Kibble beat Simon Williams +15 +15
Tim Wilkins beat Ed Cunningham +26 +17
Dave Mundy beat Alan McInerney +16 -26tp +25
Wales lost to Scotland 2-3
Ian Burridge lost to Jonathan Kirby -15 -26tp
Tony Mrozinski lost to David Magee -19 -3
C Williams beat Bruce Rannie +25 +15
Sam Tudor lost to Martin Murray -24 -26
William Prichard beat Gordon Hopewell +22 +14
Round 3
England beat Scotland 4.5-0.5
David Maugham beat Jonathan Kirby +17tp -26tp +26tp
Colin Irwin beat David Magee +19 +18
Dave Kibble beat Bruce Rannie +25tp +18
Tim Wilkins beat Martin Murray +19 +26tp
Dave Mundy (+4) drew with Gordon Hopewell (+14) 1-1 (3rd game unfinished)
Ireland lost to Wales 2-3
Ronan McInerney beat Ian Burridge +14 +2
Mark McInerney lost to Tony Mrozinski -19 -14otp
Simon Williams lost to C Williams -7 -14tp
Ed Cunningham lost to Sam Tudor -12 -16tp
Alan McInerney beat William Prichard +26 +21
Final Placing
England 3 Matches
Wales 1 Match, 6 Rubbers, 14 games
Ireland 1 Match, 6 Rubbers, 14 games
Scotland 1 Match 4.5 Rubbers
---