Millennium Tournament - The first sod is cut for Cheltenham's '11th lawn' programme at the Millennium Tournament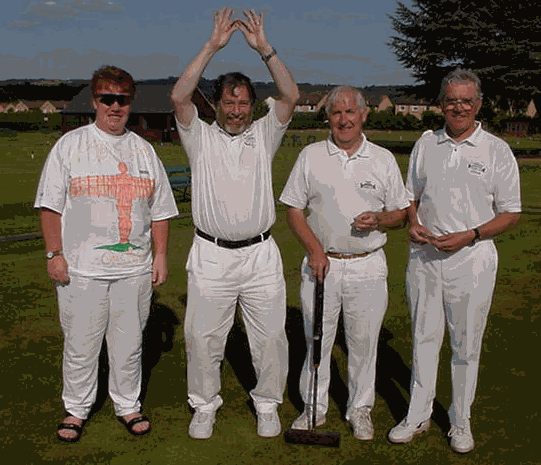 by Ian Burridge at Cheltenham
3rd September 2000 (
AC - Handicap
)
Tyneside Croquet Club's 'Angles of the North' team won the Croquet Association Millennium Tournament held at Cheltenham 2 - 3 Sept. Twenty teams from all over the country played in the eight round Swiss format event in which matches consisted of two 14 pt handicap doubles, with teams winning one point for a draw and two for a win. The tournament was managed by Ian Burridge, and superbly hosted by the Cheltenham Club. Players enjoyed superb weather and a very warm and friendly atmosphere throughout the weekend.
The competition was close fought, with several possible outcomes right up until the end of the last round. Tyneside's closest rivals for the event were Nailsea, who they had defeated at the end of day one in a tense after time victory. In the final round Tyneside continued their winning ways with a nail biting two nil victory over Cheltenham's 'Los Banditos', which secured there win over Nailsea, with Cheltenham's 'Dave's Marauders' finishing in third place.
Manager's Report
The 14-point team doubles Millennium Tournament event was won by "The Angels of the North" (Tyneside) captained by Gail Curry. The crucial result came in the 5th round when the Angels beat Nailsea 2-0 with David Turner scoring the decisive hoop in the second game after a nail biting 25 minutes of sudden death after time play.
One of the highlights of the weekend was the cutting of the first sod of Cheltenham's ambitious £55,000 redevelopment of lawns 9, 10 and 11 at the prize giving ceremony. Few who have played at Cheltenham in the past few years would argue with lawn 9 "hosting" this event and Derek Bradley dug the first turf from near hoop 5 despite popular support for the approach to 3-back.
Results
13 Angels of the North (Tyneside)
12 Nailsea
10 Dave's Die-hards (Cheltenham)
9 Medway, Northern Lights (Tyneside), Cornwall, Los Bandito's (Cheltenham), Sussex Eagles, Dyffryn Dragons
8 High Wycombe, Bristol Blue, Bristol Cream
7 Racketeers (Cheltenham), Harwell
6 Blewbury, Ipswich, Three Counties (Cheltenham), Sussex Condors
5 Bits and Pieces (Cheltenham)
4 Dab's Demons (Cheltenham)
---