Nelson Morrow won the Golf Croquet Selectors' Weekend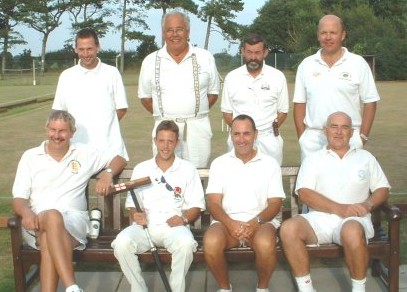 L to R, back row first: Moore, Arliss, Ware, Sheen; Beck, Dray, Morrow, Hopkins
by Bill Arliss
18th August 2003 (
GC
)
The first staging of this event was played at Hunstanton. The eight players selected for the event were Bill Arliss, Don Beck, David Dray, David Hopkins, John Moore, Nelson Morrow, Chris Sheen and Roy Ware. The format chosen for the event followed the normal 'eights' practice with each player playing every other player twice with a single 19 point game.
As there are no watering facilities at Hunstanton, the lawns were extremely fast and showed every slight dip and rise. Luckily there were not too many of these and the players soon recognised the most difficult hoops and adjusted their approach accordingly. Nelson Morrow quickly adapted to the conditions and finished the day with six wins from seven games with Chris Sheen second on five from seven. No time limits were imposed on day one and several games took well over the expected hour with play finishing after 7.00pm.
Day two and the same again. A time limit of 65 minutes was imposed before the start of play but most players had by then partially mastered the conditions and most games were finished within time. Nelson continued his progress without a further loss and finished outright winner with 13 wins from 14 games and collected the Musk Cup and the £250 prize money sponsored by Chris Sheen's company, Musk. Roy Ware and Chris Sheen finished equal second with 9 wins from 13. Perhaps a tweaking of the format will be necessary next year as after eight hours of almost continuous play on both days, stamina started to rival skill in determining results towards the end of the competition.
---