Mark McInerney retained the European Golf Croquet Title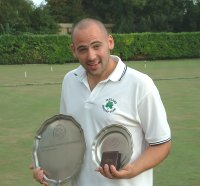 by Bill Arliss at Carrickmines
15-17 Sept 2003 (
GC
)
In the second European Golf Croquet Championship, Mark McInerney retained the title he first won in 1999 with an awesome display of shooting that left fellow Irishman and finalist Evan Newell rather shell shocked and for once quiet after the first game. Mark managed to run virtually every hoop from the 12 to 15 foot range and only bouncing on one hoop to win the first game 7-2 in about 15 minutes. Not only was his hoop running superb, but his long distance clearances were of a similar standing with a 90% hit rate at over 25 yards. The pace slowed rather in the second game and allowed Evan to come back with a steady 7-5 win but Mark then stepped up a gear to take the final game 7-3.
If only Mark can maintain this kind of form, we may have a possible challenge to the Egyptian supremacy for next year's Worlds as Mark's style is very much like the leading Egyptian's. Mention must however be made of Evan's record over the last two weeks, having been the loosing finalist of the Yorkshire and Irish Opens and the European Championship.
The Championship was held in near perfect weather on lawns that were quite green but surprisingly quick. Simon Williams had set some quite tight hoops that were extremely unforgiving and were kept that way for the whole of the Championship. Initially the event was arranged for a field of 24 but a last minute withdrawal by three Frenchmen left Manager Peter Payne burning the midnight oil to reinvent the format. I am not sure what mental processes Peter went through but we finished with a mixture of blocks, super blocks, knockouts, 19-point games and best-of-three 13-point games. Irrespective of his reasoning, it produced the result that every player wanted: plenty of play for the full three days and a worthy winner by 5.00 pm on the Wednesday.
Initially play started in four blocks of five with Derek Old, Chris Sheen, Evan Newell and Karl von Scheimeder winning their respective blocks. Whilst the block winners played a round robin (super block) to decide their places in the final knock out, the remaining players played a best of three knockout to decide the other four quarter finalists which produced the following results
Quarter-Finals
McInerney beat Old 7-3, 7-4.
von Schmeider beat Payne 7-5, 3-7, 7-4
Newell beat Donati 7-4, 7-4
Sheen beat Moore 6-7, 7-6, 7-4
Semi-Finals
McInerney beat von Schmeider 7-5, 7-4.
Newell beat Sheen 7-6, 7-2
Final
McInerney beat Newell 7-2, 5-7, 7-3
---