10 Things You Might Not Know About the Croquet Association

10 Things You Might Not Know About the Croquet Association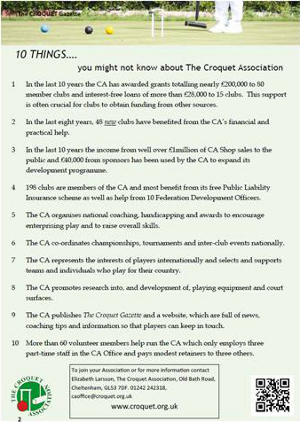 If you don't see this poster at your club please contact the CA Office and we'll will send one
In the last 10 years the CA has awarded grants totalling nearly £200,000 to 80 member clubs and interest-free loans of more than £28,000 to 15 clubs. This support is often crucial for clubs to obtain funding from other sources.
In the last eight years, 48 new clubs have benefited from the CA's financial and practical help.
In the last 10 years the income from well over £1 million of CA Shop sales to the public and £40,000 from sponsors has been used by the CA to expand its development programme.
198 clubs are members of the CA and most benefit from its free Public Liability Insurance scheme as well as help from 10 Federation Development Officers.
The CA organises national coaching, handicapping and awards to encourage enterprising play and to raise overall skills.
The CA coordinates championships, tournaments and inter-club events nationally.
The CA represents the interests of players internationally and selects and supports teams and individuals who play for their country.
The CA promotes research into, and development of, playing equipment and court surfaces.
The CA publishes the Croquet Gazette and a website, which are full of news, coaching tips and information so that players can keep in touch.
More than 60 volunteer members help run the CA, which only employs three part-time staff in the CA Office and pays modest retainers to three others.
Message From Quiller Barrett, CA President
More than 1,000 players responded to the CA's 2012 Survey and about half gave us their comments on a variety of croquet topics. Often respondents were passionate as well as articulate in expressing their views and a common theme was that players were ignorant about what the Croquet Association does.
So, the CA's Marketing Committee has taken the initiative to produce a poster that includes some facts that may come as a surprise to many.
Club Secretaries have been asked to display the laminated copies of the poster we sent to them. If you don't see the poster at your club please tell Mark Suter and we will send you one. It's up to everyone - CA committee members, Federation and Club officials, and you - to spread the word about your Association. If your croquet friends say to you "I've no idea what the CA does for me and my club" just ask them to read the poster, and then suggest their friends do the same. Thank you very much.