Journalists' Resource Area
This area of the website provides easy access to news and information suitable for media news items and features. We hope the information you are looking for is here, and you are free to copy and use any information or pictures in this section of the website unless stated otherwise, except that there are restrictions on the use of photographs in the photo library - please see the copyright statements in that section.
If you need any further information, or would like a suitable quote, please contact the CA Office. An alternative contact is the Chairman of the Marketing Committee.
Please feel free to explore the other sections of this site and discover the world of croquet. For an overview of croquet, read Introduction to Croquet.
The principal events are contested by the top players - see the Current UK and World Player Rankings.
Resources: Library of croquet photographs, Technical Jargon.
News: Association Croquet Championship News, Golf Croquet Championship News, Growth and Recruitment Strategy, News Menu, The Croquet Gazette.
Latest Competition News and Results

More news...
Details
Jose Riva won the Championship of Surrey
by Samir Patel at Surbiton Croquet Club
4th August (AC - Championships)
Jose Riva

Jose Riva
+26tp +2

Jose Riva
+26tp +2sxp

Jose Riva
+13 +17qp

Jose Riva
+24qp +2tpo +26tp

Andy Dibben

Robert Wilkinson
+3 +26tp

Robert Wilkinson
Mark van Loon

Mark van Loon
+4otp -17 +16

Andy Myers
Samir Patel

Samir Patel
-15tp +22tp +4tp

Samir Patel

-13otp +26qp +17qp

Mark Ormerod
Paul Castell

Christian Carter
+2 +26stp

Christian Carter
David Maugham

David Maugham
+2 +26tp

David Maugham
-26tp +15tp +8

David Maugham
+18 -8tpo +10tp

Richard H Smith
Joel Taylor

Joel Taylor
+20tp +5tp

Jeff Dawson
+20tp +5tp

Ian Plummer
Chris O'Byrne

Jeff Dawson
+20tp +5tp

Jeff Dawson
Robin Brown

Robin Brown
+26tp +8

Robin Brown
+11tpo +14otp

Graham Gale
Alison Maugham

Mark Suter
+25tp +26tp

Mark Suter
Mark van Loon won the Plate, beating Mark Ormerod +10tp in the final.
---
WCF Simon Carter Golf Croquet World Championship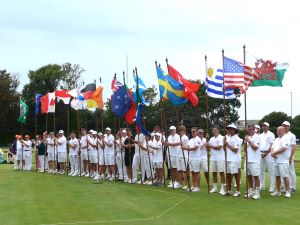 Competitors at the Opening Ceremony (Photo: Ray Hall)
by Dr Ian Vincent
27th July (
World Championship
)
The CA is hosting the WCF Simon Carter GC World Championship at the Sussex County, Compton, Tunbridge Wells and West Worthing clubs from 27th July to 4th August. Spectators are welcome at all venues.
The Championship was formally opened on Friday 26 July 2019, by Prince Richard, Duke of Gloucester, with representatives from the WCF, the CA and local dignitaries.
The Knockout stages are being broadcast live on YouTube from Thursday 1st August, complete with audio commentary.
---