Top Player Profiles
Players are presented here in alphabetical order. For current rankings, please refer to the relevant ranking listing.
There are two main variants of the game played in the UK: Golf Croquet and Association Croquet (also known as International Rules Croquet) - see Introduction to Croquet for an outline. Some players play (or excel) in one version of the game, some at both. This is shown below as (AC) or (GC).
Mark Avery (AC)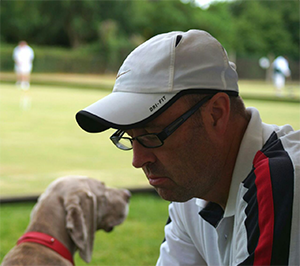 Mark Avery
Mark has been playing at the top level for close to 40 years, representing his country in four MacRobertson Shields, winning three of them. He is the youngest winner of the Open Championship (1987), a finalist in the first World Championship (1989), a winner of various regional championships, and a former Open Doubles champion in both England and New Zealand. Mark won the President's Cup in 2021, and has been selected for the fifth time to represent England / GB in the MacRobertson Shield, in 2022.
Reg Bamford (AC GC)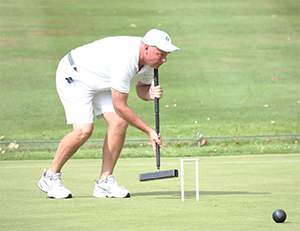 Reg Bamford
Born in 1967, Reg is married with two sons. A South African Chartered Accountant by training, Reg started his own business in the UK in 1996 and now employs over 150 staff in his professional services business.
Reg lives in Surrey, and is a member of the Surbiton and Roehampton Clubs. He has been playing croquet since he was 7, and has represented South Africa since the age of 14 in numerous Test matches, most recently as captain. Reg has been a top-ranked player in the world for over 30 years, and is a 11-time AC Open Champion, 12-time GC Open Champion, 5-time AC World Champion (2001, 2005, 2009, 2012 and 2020) and twice GC World Champion (2013 and 2017). As well as croquet, Reg enjoys skiing, golf and sailing.
Reg can be contacted on 07780 661 468, or email reg.bamford#sableinternational.com
Pierre Beaudry (GC)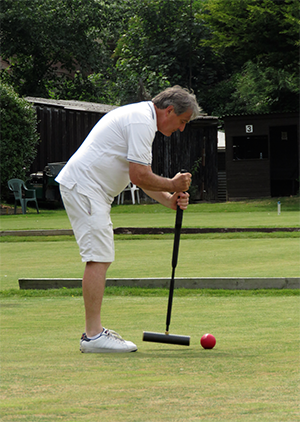 Pierre Beaudry
Born in 1954, Pierre (legally) migrated to south London in 1979. He started playing croquet in Sydenham in 2005 and has been a member of the Dulwich Croquet Club since 2006. Pierre prefers the dynamics of Golf Croquet and has represented Belgium in five GC World tournaments winning the Bowl in 2013 in Cairo.
He captained Belgium in the 2012 Team Championship in Cairo where they narrowly lost to Wales in the final. In partnership with UK number one under-21 player Harry Dodge, Pierre has won the premier doubles GC event in the UK in 2013, 2014, and 2015. Pierre has also played for Kent in the GC Inter-Counties.
Richard Bilton (GC)
Richard Bilton
Richard started playing Croquet back in the summer of 2008, and he significantly improved when he joined Nottingham Croquet Club in September 2015. He qualified for the GC B Level Series National Final in Budleigh Salterton in 2016, having won the Hurlingham B Level Tournament that August, and came second.
In January 2017, Richard was selected for the GC International Performance Development Squad, and finished 3rd place in his first English National Singles Championship (Ascot Cup) at the end of the season. At the end of 2017, Richard became a member of the GC Tournaments Committee, and was also awarded the Spiers Trophy for the most improved GC player in 2017.
In May 2018, Richard won his first open tournament, the Hunstanton A-Level, and saw further success in winning his first ENSC qualifier at Nottingham that July, winning all 15 games. Having qualified as of right for the ENSC for the first time, Richard went to Southwick in September and won the Ascot Cup, his first GC 'major'.
Richard is hoping to be playing in the 2020 World GC Team Championships in New Zealand.
Jamie Burch (AC GC)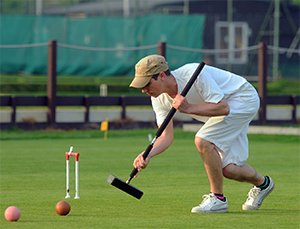 Jamie Burch
Jamie Burch - from Reigate Croquet Club in Surrey, England. A painter & decorator by trade.
He is a busy family man who enjoys spending time with his wife and two young children.
He still finds enough time for croquet and darts - his winter sport.
Jamie has been selected to play for England in the 2022 MacRobertson Shield, his third appearance.
Euan Burridge (GC)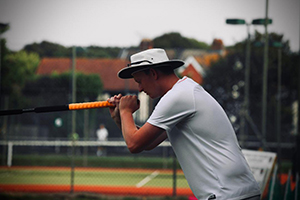 Euan Burridge
Euan took up the game at the age of 7 under his Dad's wing at Nottingham Croquet club and has since gone on to play various tournaments both nationally and internationally. His notable performances have been a Semi-Final at the U21 Golf Croquet World Championships in 2019 and winning the plate and the main event that year. He has also won the GC Welsh Championship, AC National Junior Championship, whilst also reaching the semi-final of the 2020 Ricki Savage Memorial. Currently he predominately plays GC however is keen to take up AC over the next few years. Euan currently studies International Business Management and Professional Golf at the Tournament Golf College.
Ian Burridge (AC GC)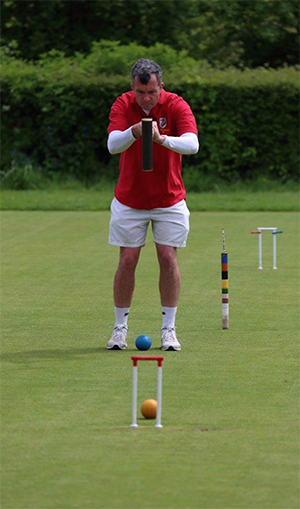 Ian Burridge
Ian has been a leading AC player since taking up the sport in 1988. He has represented Great Britain on numerous occasions, including the 1996 MacRobertson Shield. He has won both the Southern (1995) and Eastern (2015) Championships. Born in Aberdare, Wales, he has represented Wales in both team and individual events since 1990, won the Welsh Championship on 13 occasions and is the Chairman of the Welsh Croquet Association.
Recently Ian has enjoyed success as a GC player winning both the Ascot Cup (2015) and Musk's Cup (2016).
Ian was named Croquet England Coach of the Year for 2015.
Christian Carter (AC)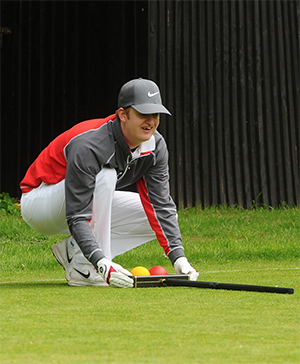 Christian Carter
Born in 1987 in North Yorkshire, Christian moved to London in 2006 where he studied Mechanical Engineering at Imperial College London. It was here he was introduced to croquet in 2009 by the legendary Eugene Chang. Now living in Surbiton with his wife Fiona, Christian is a Commercial Accountant for KFC and a keen hobbyist woodworker and furniture maker.
After winning his first-ever tournament and achieving his first triple peel in the same event it wasn't surprising he developed an obsession for the game that so many of us share. Christian first represented England after gaining a qualifying place in the 2013 AC World Championship where he made it to the block play-offs. In 2016 the same number of block wins gained him a place in the last 32 where he was defeated by his arch-rival Stephen Mulliner who subsequently went on to win the event.
In 2018 Christian made the last-16 of the World Championship in Wellington, New Zealand, and tied for first place in the President's Cup, Croquet England's top selection event, before losing the play-off to Robert Fulford.
Christian has been selected to play for England in the 2022 MacRobertson Shield.
Christian can be contacted on 07889 423 133 and emailed at carter.christian#gmail.com
Jeff Dawson (AC GC)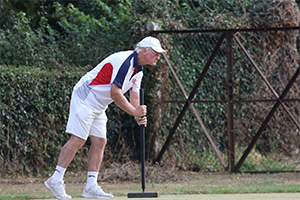 Jeff Dawson
Born in 1956, Jeff is married with two grown-up sons. Originally a software engineer and project manager, he left to run Croquet England's online shop which he did for seven years before taking early retirement. He now works as a volunteer with Citizens Advice.
Jeff has been active on Council, serving as Chairman for two years as well as on the marketing, publishing, ICT, Laws and International committees at various times. He was responsible for the recent membership structure changes, and has been helping with the database project which is implementing them. He is also an AC referee, and periodically runs laws courses to train new referees. Jeff plays mostly Association croquet, although he has dabbled with Golf croquet a little.
Jeff lives in Surrey, and is a member of Woking Lawn Tennis and Croquet Club. He has been playing croquet for over 35 years, and has played in the President's cup (for the top eight available players) several times, and has won the Chairman's Salver (for the second eight) three times. As well as croquet, Jeff likes to go on walking holidays.
James Death (AC GC)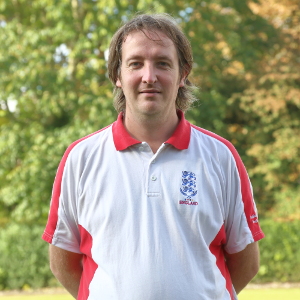 James Death
James Death is one of the most talented players in the world. His fluent style makes him a "must-see" for spectators. James has previously won the prestigious Presidents Cup, twice been the UK Men's Champion, three times been Open Doubles champion, and been a semi-finalist in the 2005 World Championships. In 2019 he won the AC Open Championship.
James is a club operations manager at a bingo hall. James enjoys eating, drinking and computer games.
James has been selected to play for England in the 2022 MacRobertson Shield, his third appearance.
Marcus Evans (AC)
Marcus was born in Bristol in 1985 and took up croquet in Nailsea 11 years later. Having graduated in philosophy from the University of Nottingham in 2007 (where he was a sports bursar for croquet for three years, as well as appearing on "University Challenge" and singing in Gilbert & Sullivan's "Iolanthe", among other things), Marcus now works as a pensions consultant for Hargreaves Lansdown in Bristol. In the winter months, Marcus is a keen musician on both piano and 'cello, and sings in the Bristol Bach Choir.
Marcus has appeared in three previous Golf Croquet World Championships and four Association Croquet World Championships, reaching the semi-finals in Adelaide in 2012. In addition, he has represented the England and Great Britain teams in various international matches. He also enjoys many other sports including tennis, squash, running, and bridge.
Harry Fisher (AC GC)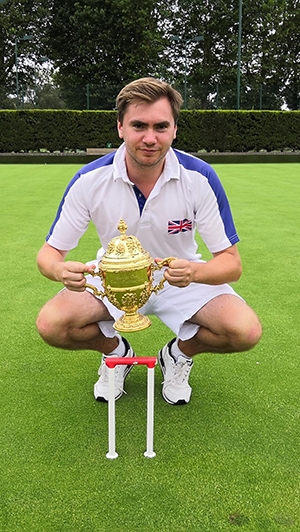 Harry Fisher
Harry discovered croquet at university, when his friends entered him into a tournament without his knowledge. Competitive by nature, he took it far too seriously and was playing for his country a few years later. He has since played both home and abroad for England in both AC and GC. He has no notable wins, but a first President's Cup appearance in 2019 followed by a run to the quarter-finals of the World Championships in Melbourne, and the final of the AC Opens in 2020, convinced him that he might be becoming a "top player".
Harry has been selected to play for England in the 2022 MacRobertson Shield.
Robert Fulford (AC GC)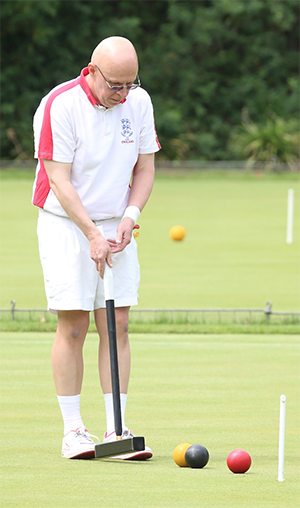 Robert Fulford
Robert is one of the most successful players in the history of the game. He has won the world championship a record five times and has been part of a winning British MacRobertson Shield team on an unprecedented seven occasions (twice as Captain). Other achievements include winning the British Open nine times, the President's Cup 11 times, the British Open Doubles 10 times with Chris Clarke and twice with James Death. Robert plays with a fluent style and loves tactics, employing a wider range than other top players.
Robert was born in Colchester in 1969 and started playing aged 15 at the Colchester Club where he still plays. Robert and his most regular doubles partner, wife Susan, live in Lower Raydon, Suffolk.
James Galpin (AC GC)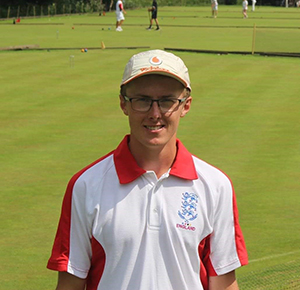 James Galpin
James started playing croquet in 2013, aged 12, after he attended an open day at Nailsea Croquet Club. Some of his croquet achievements include winning the AC National Junior Championship 3 times(2017, 2018 and 2019) and helping Somerset to win the 2019 GC Inter-Counties. He has also represented England twice, coming runner up in the 2019 GC World Under 21s and reaching the knockout of the 2020 AC World Championship. He is due to be starting a new job as a Communications Apprentice with the Royal Fleet Auxiliary in April 2021.
Rachel Gee (GC)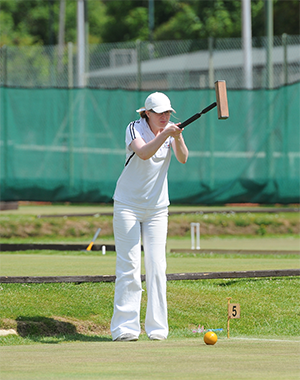 Rachel Gee
Rachel played in the 2016 England Openshaw Shield team, won the 2014 and 2018 European Golf Croquet Championships and the 2011 World Women's Golf Croquet Championship. She played in the U21s from 2007 and won the Steel Bowl for the most improved female AC player in 2008. Rachel won the GC English National Singles (the Ascot Cup) in 2019 and 2020.
Rachel has a Maths degree from Warwick and has been working for Experian as a Data Developer in Nottingham since graduating in 2010.
She likes travelling to new places and finds Croquet provides lots of excuses for this!
Will Gee (GC)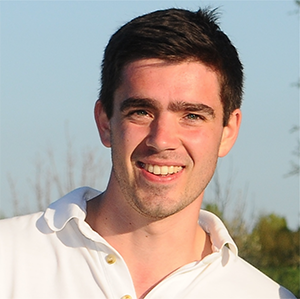 Will Gee
Will started playing Croquet in 2004 at Nottingham, originally playing only Association Croquet. In 2005 he won the Apps Memorial Bowl for being England's most improved male player. In 2008 he shifted his tournament play to GC and also joined his GC home club, Ashby.
Between 2011 and 2013, Will won several GC ranking competitions, including two English National Championships and was awarded a full Blue at Oxford for Croquet. Will has also played for England in two GC World Team Championships (2012, 2016). In 2014, his practice and tournament time evaporated when he undertook a PhD in sleep deprivation. After briefly pursuing an academic career in Melbourne, Will returned to his hometown of Nottingham in 2019 and is now playing a little more regularly.
Outside of Croquet, Will enjoys Chess, gardening and playing the Piano.
Alain Giraud (AC)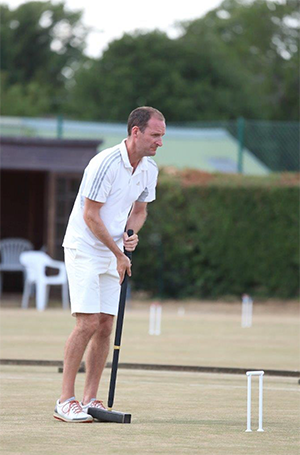 Alain Giraud
Alain first played croquet more than 30 years ago having started in the garden and then being introduced to competitive croquet at Southport Croquet Club by his Aunty Alice.
It wasn't until he reached his late 30's however that he rediscovered croquet and started to move up the rankings. In 2018 he reached a career-high world ranking of 29.
In the UK he has won the Open plate - 2014 and 2018, the Du Pre (Men's plate) - 2017 and 2018, the East Midlands Championship plate - 2015 and 2017 and the Hurlingham Cup - 2018.
In 2018 he also won both the Bronze Medal in the NZ Open and the NZ Open doubles plate partnering Ian Burridge.
He has played in three World Championships and reached the plate final in NZ in 2018.
He has only entered one ranking Golf Croquet tournament, the Nottingham GC Championship in 2015, in which he reached the final and qualified for the Ascot Cup.
In 2013 he was the croquet consultant on the film The Theory of Everything with Eddie Redmayne, Felicity Jones and director James Marsh.
He is a club coach, founder member of Huddersfield Croquet Club and former secretary and honorary member of Ealing Croquet Club.
Dr Jonathan Kirby (AC)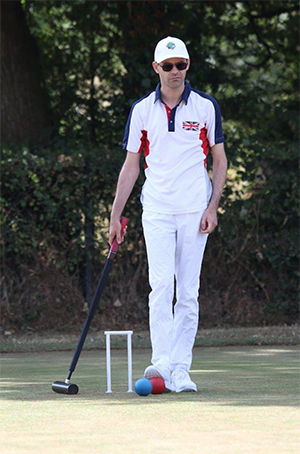 Jonathan Kirby
Jonathan Kirby took up croquet as a student in 1999 when he was 20. He played for Great Britain in the MacRobertson Shield in Australia in 2006, and has also played many times for Scotland. He won a bronze medal at the singles World Championship in 2005, and won the British Open doubles (with Ian Burridge) in 2009. Jonathan has also played in the President's Cup four times, and the Resort Invitational in Oregon twice. He is very pleased to be returning to the Great Britain team for the Solomon Trophy in 2018, after a 10-year break.
Married with a young family, Jonathan works as a lecturer in mathematics at the University of East Anglia, in Norwich. Aside from playing, Jonathan has supported croquet as a coach, a referee, and with various administrative roles including being chairman of Croquet England's International Committee and chairman of the World Croquet Federation's world ranking review committee for Association Croquet. More recently he was involved in adjusting the handicap system in use in Golf Croquet.
David Maugham (AC)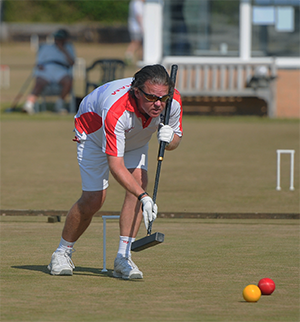 David Maugham
David Maugham was introduced to croquet by his father in 1981 when he was 12 and started playing competitively in 1985. He has won various singles honours including the British Open Championship twice, four British Men's Championships, five British President's Cups, the Sonoma-Cutrer World Championship three times, the Australian Open, the US Open and over-25 British Regional Championships. His doubles successes include four British Open Doubles titles (with Steve Comish, Chris Clarke, Mark Avery and Paddy Chapman) and five British Mixed Doubles (once with Jenny Williams, twice with Ailsa Lines, once with Gabrielle Higgins and once with Alison Jones).
David has also been on six MacRobertson Shield winning Great Britain sides, and considers his best match to be the one in which he completed a TP to win the deciding game of the final match of the test against New Zealand at Christchurch in 2000 when the scores were level.
2018 saw David win seven of the nine AC Championships in England.
Outside of croquet, David works as the IT manager for a natural stone company; has a black belt in ju-jitsu; enjoys computer games; and practices modern jive and ballroom dancing.
John-Paul Moberly (GC)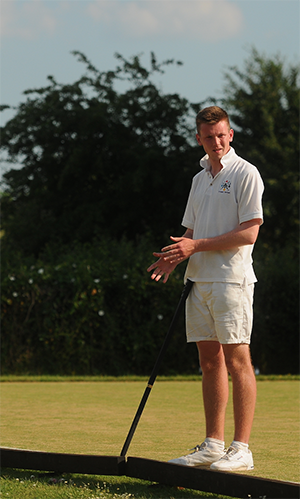 John-Paul Moberly
After discovering croquet at his local club Croquet Durham in 2011, John-Paul entered the GC tournament circuit in 2014 and has since won numerous national tournaments. He is a three times Ricki Savage Memorial (First Eight) champion and four times British Open runner-up. He has competed internationally at the last three GC World Championships, finishing 10th overall in 2017.
As captain he led England to a bronze medal in the 2020 Openshaw Shield.
He is also a minus player at AC and won his block at the 2018 AC World Championship before being beaten in the last 32.
John-Paul is a member at Bowdon and outside of croquet is a Hydraulic Engineer for United Utilities.
Stephen Mulliner (AC GC)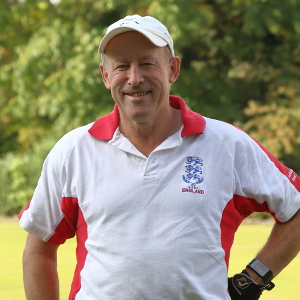 Stephen Mulliner
Stephen Mulliner, 70, discovered competitive croquet as a Cambridge undergraduate in 1975 and began playing in tournaments in 1976.
Association Croquet: World Champion 2016 and finalist in 1997 and 2008; British Open Champion 1988, 1990, 2000 (47 consecutive appearances since 1977); Open Doubles champion 11 times, President's Cup winner six times, including 2023 (record 45 appearances since 1978), Sonoma-Cutrer Champion four times, European Champion 13 times 1993-2013. The only player to have won both the Singles and Doubles Championships of Australia (2009), England (see above), New Zealand (2009 singles, 2000 doubles) and United States (2011). Represented Great Britain in the MacRobertson Shield in 1982, 1986, 1990, 2000, 2003, 2010 and England in 2014 and 2017.
Golf Croquet: World Championship semi-finalist 2000, 2006 and 2015; British Open Champion 8 times, including 2010-13, 2016 and 2020, English National Champion (Ascot Cup) 2012, 2014, 2021 and 2023; First Eight winner 2015, 2019 and 2023; European Champion 2007, 2009, 2013, 2015 and 2019; represented Rest of the World vs. Egypt in the Ramsis Cup (2008 and 2016). Represented England in the GC World Team Championship in 2012, 2016 (both times as captain) and 2020. Has competed in 20 different WCF Member countries.
Vice-President of the Croquet Association, former Secretary-General of the World Croquet Federation and current chairman of the WCF Golf Croquet Rules Committee. Lives in Haslemere, Surrey. Married to Sarah with four children aged 34 to 40.
Samir Patel (AC)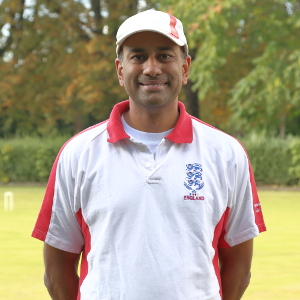 Samir Patel
Samir has been playing croquet since taking up the sport in the late-nineties at Oxford University.
Now a member of Surbiton Croquet Club, he has won the Club Championship for both Association and Golf Croquet, and has won the Inter-Club Championship in both codes. He has been as high as fourth in the AC world rankings. Samir is Chair of Council, and a member of the WCF Management Committee.
Tournament successes include the President's Cup (2013, 2022), Open Doubles Championship (2017, 2019, 2021) and Championship of Surrey (2010, 2014). He has also reached the final of the British Opens (2008, 2013, 2016) and Quarter Finals of the World Championship (2012, 2016, 2018).
He has regularly represented both England and Great Britain since 2007. He has captained the Solomon Trophy team since 2013, and the MacRobertson Shield team in 2014 and 2017. Samir has been reappointed as England captain for the 2022 MacRobertson Shield.
Jonathan Powe (AC GC)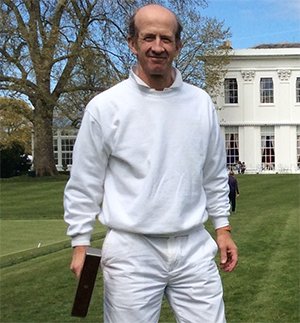 Jonathan Powe
Jonathan started playing AC on the small lawn in his village in Dorset in 2013 having just retired from the Army. He started playing competitively in 2015 and also took up GC. He made reasonably quick progress in his first two years, rising up the rankings in both AC and GC.
He was awarded the Apps Memorial Bowl (AC - most-improved male player) in 2015 and he won the Treasurer's Tankard in 2016. In 2018: he played in the AC World Championship in NZ in February, winning the Bowl; he was selected for the England GC Team for the Home Internationals in July; with David Nicholson, he won the English National GC Doubles in September; and he played in the Over-50 GC World Championship in Cairo in October, again winning the Bowl.
Tobi Savage (GC)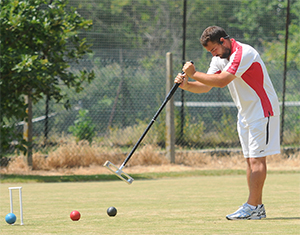 Tobi Savage
Tobi started playing Croquet at the age of 15. He started competing in 2010, and is now an established competitor. His notable achievements include:
2010: Won the GC All-England Handicap
2012: Won the GC All-England Handicap and GC Inter-Counties championship
2013: Played in GC World Championship in Cairo. Runner-up in Musk's Cup, won Roehampton GC Open and the Plate at the English National Singles Championship
2015: Played in GC World Championship in Bay of Plenty, New Zealand. Won English National Singles Championship, won GC Kent Cup
2016: Represented England in GC World Team Championship. 3rd Place at Ramsgate GC Open. 3rd Place in British Open Doubles Championship with David Wise. Runner-up in British Open Singles Championship. Won GC Kent Cup and English National Doubles Championship with J-P Moberly
2017: Runner-up in East Anglian GC Championship and British Open Doubles Championship with J-P Moberly. Semi-Finalist in British Open Singles Championship. Won Belgian Open Championship. Represented England and won GC Home Internationals
2018: Won British Open Doubles Championship. Quarter-finalist in British Open Singles Championship. Represented England and won GC Home Internationals. Won Musk's Cup for GC Top Eight Selection Event
He has a hard-hitting play style, and is known across the globe for his jump shots!
Mark Suter (AC)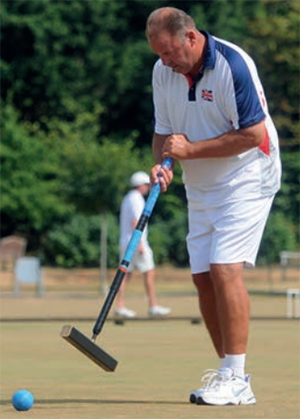 Mark Suter
Mark started playing Association Croquet at the tender age of 11. At age 18 he was selected to play in The Chairman's (Second best available eight Players in the UK) and was also selected for the under-21 GB Squad. A year later, he moved with his family to Cornwall and had to stop playing because there weren't any Croquet clubs, at that time, within reasonable travelling distance from his home. After graduating from University in 1994, Mark moved to Cape Town, South Africa where he started playing again. Very quickly he rose to the top and won all the major SA championships, including representing SA in test matches against England and Ireland.
Shortly after moving to Ireland in 2002, Mark had to stop playing again due to business and family commitments, although he did find time to represent Ireland in a test match against GB in 2004.
Mark returned to play Croquet again in 2017 and, like his first return to the sport after a significant break, he very quickly rose to the top and was selected to play in the Chairman's for the second time, this time winning the event. In his second season back in 2018, Mark continued to improve and was selected to play for England in the Home Internationals and for GB in the Solomon Trophy. He was also selected to play in the Presidents Cup (top available eight Players in the UK).
Mark works as the Manager of Croquet England from their offices in Cheltenham.
Pete Trimmer (AC)
Pete is a theoretical biologist.
Long ago, Pete had a long-and-lucky run to become the World No 3. Pete is a tactician at heart but rarely practices so is physically inconsistent. Pete occasionally wins events, but you'd be hard-pushed to find his name. His brother's name, D. Trimmer, remains in perpetuity on the Gold Cup for the Southern Championship. D. Mundy was initially inscribed on the Men's Championship cup. There was no name on his US Open Championship trophy, and the North American Open trophy is (years on) still to be inscribed. He resorted to making and offering a bronze trophy for the World Championships, subtly inscribed with a 'P', but it was deemed too valuable (insurance-wise) to be used, so was instead sold privately. He is now resigned to the fact that, to get his name on a World trophy, he'll have to play extremely well ... and then inscribe it himself.
Aston Wade (GC)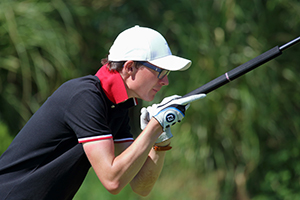 Aston Wade
Aston started playing Association Croquet in 2016 during his first year at Winchester College. He began to play Golf Croquet in the summer of 2020 at Hamptworth Croquet Club and made his first appearances on the tournament circuit in both AC & GC that August.
The following year, Aston won the 2021 British Golf Croquet Open on his debut at the event and at the age of 18. His other victories so far include the National Junior GC Championship and the AC Student's Championship. He also won the Plate at the 2021 British GC Open Doubles Championship with Lionel Tibble. In 2021 Aston was awarded the Spiers Trophy for the most improved male GC player of the year.
Aston plays for Essex in the AC and GC Inter-Counties and aspires to represent his country at both codes in the future.
He is currently studying Medical Sciences at the University of Exeter where he also enjoys playing tennis, squash, golf, snooker and chess.