Top Player Profiles
Players are presented here in alphabetical order, please refer to the relevant ranking listing to see who is the creme de la creme today!
There are two main variants of the game played in the UK: Golf Croquet and Association Croquet (also known as International Rules Croquet) - see Introduction to Croquet for an outline. Some players only play (or excel) in one version of the game, which is shown below as (AC) or (GC).
Keith Aiton (AC)
Born in 1958 Keith took up croquet seriously while a student at Cambridge University where he was captain of the team against Oxford in 1982. The next year he reached the final of the Open Championship and won the Chairman's Salver. For the next six years he was near the top of the game in Britain while also developing an interest in coaching. From 1988 to 1992 he ran the National Junior Squad that produced world champions Robert Fulford and Chris Clarke and several other Great Britain internationals including the mighty David Maugham. Keith was coach of the winning Great Britain team in the MacRobertson Shields of 1990, 1993 and 1996. Keith's playing career became revitalised in 2005 due to the purchase of a new (modern) mallet, and he won the President's Cup that year. In 2006 he played in the Great Britain team that retained the MacRobertson Shield in emphatic fashion. Keith was the only player to win all six of his singles matches. He was picked for the team again in 2010, this time as captain. Great Britain won rather less convincingly, but Keith scored the crucial win in the deciding test match. He is a member of Nottingham and Bowdon croquet clubs.
Outside of croquet Keith works as Commercial Mediator and is a doting father to his two children. He plays chess for his local club and golf when time permits.
Keith can be contacted on 07891 449305 and email kmhaiton#msn.com
Mark Avery (AC)
(Profile not yet available)
Reg Bamford (AC GC)
Born in 1967, Reg is married with two sons. A South African Chartered Accountant by training, Reg started his own business in the UK in 1996 and now employs over 200 staff in his professional services business. Reg lives in Surrey, and is a member of the Surbiton and Roehampton Clubs. He has been playing croquet since he was 7, and has represented South Africa since the age of 14 in numerous Test matches, most recently as Captain. Reg has been a top-ranked player in the world for the past 20 years, and is a 10-time British Open Champion, a 4-time AC World Champion (2001, 2005, 2008 and 2009) and a 1-time GC World Champion (2013). As well as croquet, Reg enjoys skiing, golf and sailing.
Reg can be contacted on 07780 661 468, or email reg.bamford#sableinternational.com
Pierre Beaudry (GC)
Born in 1954 Pierre (legally) migrated to south London in 1979. He started playing croquet in Sydenham in 2005 and has been a member of the Dulwich Croquet Club since 2006. Pierre prefers the dynamics of Golf Croquet and has represented Belgium in five GC World tournaments winning the Bowl in 2013 in Cairo. He captained Belgium in the 2012 Team Championship in Cairo where they narrowly lost to Wales in the final. In partnership with UK no.1 under 21 player, Harry Dodge, Pierre has won the premier doubles GC event in the UK in 2013, 2014, and 2015. Pierre has also played for Kent in the GC inter counties and has been asked to join the AC squad for 2017.
Jamie Burch (AC)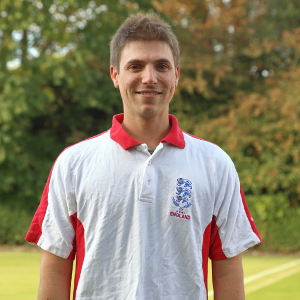 Jamie Burch - from Reigate Croquet Club in Surrey, England. A painter & decorator by trade. He is a busy family man who enjoys spending time with his wife and 2 young children. He still finds enough time for croquet and darts - his winter sport.
Ian Burridge (GC)
Ian has been a leading AC player since taking up the sport in 1988. He has represented Great Britain on numerous occasions, including the 1996 MacRobertson Shield. He has won both the Southern (1995) and Eastern (2015) Championships. Born in Aberdare, Wales, he has represented Wales in both team and individual events since 1990, won the Welsh Championship on 12 occasions and is the Chairman of the Welsh Croquet Association.
Recently Ian has enjoyed success as a GC player winning both the London Masters and the Ascot Cup.
Ian is the CA's AC International Performance Director and was named CA Coach of the Year for 2015.
Christian Carter (AC)
Born in 1987 in North Yorkshire, Christian moved to London in 2006 where he studied Mechanical Engineering at Imperial College London. It was here he was introduced to croquet in 2009 by the legendary Eugene Chang. Now living in Surbiton with his wife Fiona, Christian is a Commerical Accountant for KFC and a keen hobbyist woodworker and furniture maker.
After winning his first ever CA tournament and achieving his first triple peel in the same event it wasn't surprising he developed an obsession for the game that so many of us share. Christian first represented England after gaining a qualifying place in the 2013 AC World Championship where he made it to the block playoffs. In 2016 the same number of block wins gained him a place in the last 32 where he was defeated by his arch enemy Stephen Mulliner who subsequently went on to win the event.
It's fair to say 2016 was a strong year for Christian, after the Worlds he went onto make his first appearance for Great Britain in the Maugham Salver and later went on to share a joint win with Ian Lines at the Chairman's Salver in his first eight.
Christian can be contacted on 07889 423 133 and emailed at carter.christian#gmail.com
Paddy Chapman (AC)
Paddy was born in 1987 in Christchurch, New Zealand, and moved to Nottingham in 2010 where he works in IT for Walgreens Boots Alliance. He started playing croquet at the age of 11, and was mentored by the legendary John Prince. in 2012 he married Miranda, who is one of the top female croquet players in the world.
Titles he has won over the years include the NZ Open Championship, Australian Men's Championship, Australian Open Doubles (with Greg Bryant and Miranda Chapman respectively), British Open Doubles and UK President's Cup. In 2013 he reached the final of the World Championship at Surbiton, and in 2014 he was a member of the winning New Zealand MacRobertson Shield team.
Howard Cheyne (GC)
Howard took up Croquet in 2008 having won the National Garden Golf Croquet Challenge in 2007. In 2009 he was National GC Doubles Champion with Richard Thompson and was the inaugral winner of the John Spiers Award for the most improved player. He again won the English National Doubles in 2012 and has since won the British Open Doubles in 2014 both times with his brother Nick. Outside of croquet Howard spends the winter months playing competitive hockey for Epsom HC.
Nicholas Cheyne (GC)
Took up croquet in 2009
Winner of the John Spiers Award in 2010
2011 The British Open Golf Croquet Doubles Champion with Ryan Cabble
2012 The English National Golf Croquet Doubles Champion with Howard Cheyne and British Open GC Plate Winner
2014 The British Open Golf Croquet Doubles Champion with Howard Cheyne
Outside of croquet enjoys playing Hockey and numerous other sports
Chris Clarke (AC GC)
Born in 1971, Chris has been ranked world number 1 at AC for most of the past 6 years. He was also ranked world number 1 at GC at the end of 2010 and is currently ranked world number 5. Chris married Jenny Williams, the best lady player in the world, in January 2008. Currently residing in Christchurch New Zealand, Chris is a member of United in NZ. Chris has a background in logistics and finance, but currently works as a sports trader.
After over 20 years representing GB and England, Chris changed allegiance to NZ in 2012 after the CA failed to select him for the GC World Teams despite being ranked world number 2. He went on to be the winningmost player in the 2014 MacRobertson Shield, and help NZ register their first win since 1986, making him the only player to have been on winning teams for different countries
Chris has served on CA Council in the 90's and has recently finished his second term as CCA President in NZ. He runs a free croquet website clarkecroquet.com
Chris has won many major croquet titles which include
1995 + 2008 World Champs
1997 Sonoma-Cutrer World Champs
1997 British Open Champs
2005 British Mens Champs
5 times Presidents Cup winner
11 times British Open Doubles winner plus one shared
2007 NZ Open Champ
5 times NZ Open Doubles Champ
2007 Aus Singles and Doubles Champ
Chris has played in all the GB Mac teams between 1993 and 2006, captaining it in 1996.
Chris was the youngest player to be inducted into the WCF Hall of Fame at the age of 39.
Jeff Dawson (AC GC)
Born in 1956, Jeff is married with two sons. Originally a software engineer and project manager, he left to run the CA's on-line shop which he did for 7 years before taking early retirement. Jeff is active on the CA council, and serves on the publishing, ICT, Laws and International committees, as well as being responsible for recent membership structure changes. He is also a referee, and periodically runs laws courses to train new referees. Jeff plays mostly Association croquet, although he has dabbled with Golf croquet a little. Jeff lives in Surrey, and is a member of Woking Lawn Tennis and Croquet Club. He has been playing croquet for some 30 years, and has played in the President's cup (for the top 8 available players) several times, and has won the Chairman's Salver (for the second 8) three times. As well as croquet, Jeff enjoys skiing in winter months, and likes to go on walking holidays.
James Death (AC)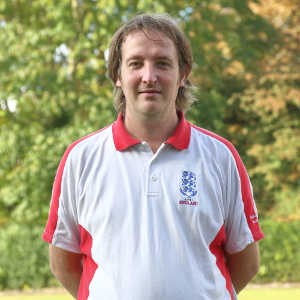 James Death is one of the most talented players in the world. His fluent style makes him a "must-see" for spectators. James has previously won the prestigious Presidents Cup, twice been the UK Mens Champion, twice been Open doubles champion, and been a semi-finalist in the 2005 World Championships. James is a club operations manager at a bingo hall. James enjoys eating, drinking and computer games.
Caroline Denny (AC)
Caroline started playing croquet at Waldron, East Sussex with her father Dr Pieter Gray in 2009. A trip to play against a French club prompted her to join the Bear of Rodborough, Stroud where she lives and was introduced to the competitive side of the game. After learning the basic elements of the game by playing doubles she entered some high bisquers tournaments herself in 2011.
Caroline had a most successful year in 2013 winning the Buddleigh Salterton high bisquers tournament and The Latham Cup. She also won the Cheltenham club D class club competition. Her handicap had reduced from 20 to 8 that year and was awarded the Steel Memorial Bowl for most improved lady association player.
At the Latham cup event in May 2014 Caroline achieved the silver award.
In June 2014 Caroline won the El Merretts cup, the D class event at the Cheltenham open class singles tournament. In July 2014 Caroline won 5/5 matches to win the Hamptworth Advanced singles tournament 2nd class. I n August Caroline partnered Mark Omerod and won the mixed doubles cup at Hurlingham summer week. In Sept. Caroline won the Sidmouth C Level advanced tournament and her handicap reduced to 4.5. Her handicap is now 5.
2015 June 15 Caroline won 5/5 matches to win the Michapel Poole cup at the Nailsea C level tournaments she also won the fastest game prize winning the final, plus 26 in 53.5 mins. Handicap 4.5
June 21 2015 won the C Class in the Cheltenham advanced class singles. Handicap now 4. C. Had to withdraw from the final of the Cheltenham club handicap competition.
In the winter of 2015/2016 Caroline was invited to play in the NZ Women's Invitational tournament and was the runner up. H/C 2.5
Harry Dodge (GC)
First full season in 2011. Semi-finalist at the Under 21s World Championship 2015 in New Zealand and reached the latter knockout stages at the British Open Championships in 2015 and 2016. Was invited to represent the RoW v Egypt and England World teams 2016 however University exams prevented participation. Winning isn't everything, but wanting to win is.
Ed Duckworth (AC)
Ed was born in 1972, is married and has a 2 year old son and baby daughter. He is a solicitor, acting on behalf of the NHS and other healthcare bodies (useful as his wife is a nurse). Ed lives in North Somerset and has been a member of the Bristol Croquet Club for over twenty years. He has won the Southern Championship three times and was runner-up in the President's Cup in 2010.
Beyond this, he enjoys travelling, pinball, surfing, body-boarding, avoiding DIY and walking his two Border Terriers.
Marcus Evans (AC GC)
Marcus was born in Bristol in 1985 and took up croquet in Nailsea 11 years later. Having graduated in philosophy from the University of Nottingham in 2007 (where he was a sports bursar for croquet for three years, as well as appearing on "University Challenge" and singing in Gilbert & Sullivan's "Iolanthe", among other things), Marcus now works as a pensions consultant for Hargreaves Lansdown in Bristol. In the winter months Marcus is a keen musician on both piano and 'cello, and sings in the Bristol Bach Choir.
Marcus has appeared in three previous Golf Croquet World Championships and four Association Croquet World Championships, reaching the semi-finals in Adelaide in 2012. In addition he has represented the England and Great Britain teams in various international matches. He also enjoys many other sports including tennis, squash, running, and bridge.
Martin French (GC)
Martin started playing in 1981 at age 27 and soon won the Apps Bowl as the most improved male player. In the late 80s/ early 90s he reached his first peak, playing in the Solomon Trophy and Presidents Cup. He won the Association Plate at the first World Championship in '89, the Du Pre plate in the Mens Championship, and the Spencer Ell Trophy too. He was active in revamping Ipswich Croquet Club and became a member of CA Council. Martin was involved in the creation of the AC Automatic Handicap System - the first handicap cards (not very different from the current ones) were produced on a primitive PC in his lunchbreak. He then stopped play completely from '92 to late 2004, for family reasons.
On resuming play, he soon had his AC handicap back to its previous level (-1.5) and also a similar grade. Martin took up GC in 2011 and was soon well-placed in several events, winning some Ascot Qualifiers, getting to the KO in the 2013 GC World Championships in Cairo and to the Semi-Finals in the 2014 British Opens and 2016 Europeans. From 2015, he has played only GC. He is once again on CA Council, this time interested in GC Rules and Selection. He drove the creation of the new GC handicap system. Martin retired in August 2010 and soon after took on the role of Secretary-General of the World Croquet Federation. He relinquished the role after 3 years but in July 2016 became WCF Treasurer instead. He won the 2016 European GC Master title.
Robert Fulford (AC GC)
Robert is one of the most successful players in the history of the game. He has won the world championship a record 5 times and has been part of a winning British MacRobertson Shield team on an unprecedented 7 occasions (twice as Captain). Other achievements include winning the British Open 9 times, the President's Cup 11 times, the British Open Doubles 10 times with Chris Clarke and twice with James Death. Robert plays with a fluent style and loves tactics, employing a wider range than other top players.
Robert was born in Colchester in 1969 and started playing aged 15 at the Colchester Club where he still plays. Robert and his most regular doubles partner, wife Susan, live in Lower Raydon, Suffolk.
William Gee (GC)
Will started playing Croquet in 2004 at Nottingham, originally playing only Association Croquet. In 2005 he won the Apps Memorial Bowl for being England's most improved male player. Having reached an Association handicap of -1 he turned his attention to Golf Croquet in 2008 when he joined Ashby Croquet Club. This coincided with him focusing on his studies much more. In 2009 he began a degree in Biochemistry at Oxford University where Will became only the third person to receive a Full Blue for Croquet. In 2013, Will started a PhD researching the molecular aspects of Sleep at the University of Cambridge, and has since struggled to find time to play much Croquet.
Since 2011, Will has won several GC ranking competitions, including two English National Championships (2011, 2013). Will has also played for England in both GC World Team Championships (2012, 2016) and the 2016 Rest of the World vs Egypt Test match.
Outside of Croquet, Will enjoys Chess, Squash and playing the Piano.
James Goodbun (GC)
(Profile not yet available)
Gabrielle Higgins (AC)
Gabrielle discovered croquet the old fashioned way, on a vicarage lawn. She eventually progressed to club croquet and then competitive croquet, winning the Mixed Doubles Championship with Keith Aiton in 2009, 2010, 2013, and 2014 the Women's Championship in 2010, 2013, and 2014, the Easterns and Southerns Plates in 2011, the Open Doubles Plate with Christian Carter in 2012 and Nigel Polhill in 2014, and the Spencer Ell trophy in 2013. 2012 saw her first foray into international croquet, playing at the World Championship in Adelaide and in London the following year.
She is currently the highest ranked woman in the UK and second highest in the world. Her main club is Southwick, and she is also a member of Bygrave and Hampstead Heath, which she co-founded in 2008. She is the only person to have been awarded the Steel Bowl for the most improved female player twice, in 2009 and 2010.
Dr James Hopgood (AC)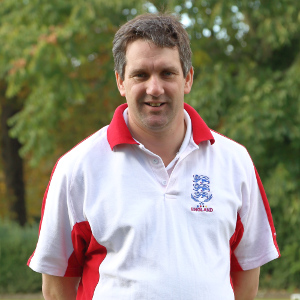 James discovered association garden Croquet in the summer of 1994 while at the University of Cambridge. The occasional biannual games played in the College gardens involved the stereotypical Oxbridge attributes: drink, beautiful scenery but slow lawns, tactical naivety, and debates over Law 4e. Upon moving to Edinburgh in 2004, James spotted, while buying in a local chip shop the Scottish delicacy known as a "rump chip steak", an advert for a beginner's course at the Meadows Croquet Club (http://www.meadowscroquet.org.uk/). Assuming this would be similar to his University Croquet experience, James visited hoping for more… only to discover flat lawns, proper hoops, bisques, coaching, a good social scene, and a thoroughly more interesting game than he thought imaginable. After entered his first advanced Association Croquet tournament in June 2006, James is now a regular on the UK tournament circuit, and thoroughly enjoys the competitive play, the lifesaving lunches, and the great company Croquet players provide. Some recent successes include winning the CA Chairman's Salver for the second time in 2015, and two UK Regional Championships in the same weekend in September 2016: The North of England, and South of England, naturally both finals being in one of the most southern parts of England. James is a lecturer at the University of Edinburgh and his research area is in Statistical Signal Processing, is married to Laura, and occasionally curls in the winter.
Dr Tim King (GC)
Born in 1968, Tim began croquet in his grandparent's garden at an early age and then played at school. He became involved in organized croquet when he joined the Ashby club in 2000. He enjoys both forms of the sport but has made most progress in GC and become a strong competitor with hard, straight hitting. His finest achievements include winning the Italian Open in 2006 and beating world number one Reg Bamford in the semi-finals of the British Open in 2010. He represented England at the 2006 and 2008 World GC Championships in New Zealand and South Africa respectively. He contributes to the administrative side of the CA, in particular being Vice-Chairman of the Croquet Association Council and was Tournament Manager of the inaugral World GC Team Championship in 2012. He is an engineering consultant, is married to Ayako from Japan and they have three children.
Dr Jonathan Kirby (AC)
Jonathan Kirby took up croquet as a student in 1999 when he was 20. He played for Great Britain in the MacRobertson Shield in Australia in 2006, and has also played many times for Scotland. He won a bronze medal at the singles World Championship in 2005, and won the British Open doubles (with Ian Burridge) in 2009. Jonathan has also played in the President's Cup four times, and the Resort Invitational in Oregon twice.
Married with a young family, Jonathan works as a lecturer in mathematics at the University of East Anglia, in Norwich. Aside from playing, Jonathan has supported croquet as a coach, a referee, and with various administrative roles including being chairman of the CA's International Committee and chairman of the World Croquet Federation's world ranking review committee for Association Croquet. More recently he was involved in adjusting the handicap system in use in Golf Croquet.
Ailsa Lines (AC)
Born in 1967, Ailsa is Head of Mathematics at her local Girls' Grammar School in Grantham which caters for pupils aged 11- 18 years. She has been playing croquet since 1993. Ailsa won England's Ladies' Championship (Barlow Bowl) in 1999, the British Women's Championship in 2012 and the British Mixed Doubles title with David Maugham in 2005 and 2012. She has also represented England in the Home Internationals (2007 and 2009) and got to the group stage in the World Association Championships three times (England 2005, New Zealand 2008 and England 2013). In 2012 she participated in the inaugural Women's AC World Championship at Cairnlea, Australia and reached the quarterfinal stage. In 2015 she took part in the 2nd WAWC and won the Bowl event. Ailsa is a member of Nottingham Croquet Club.
Debbie Lines (AC GC)
Debbie has been playing croquet since she was six years old. Every year the family would go on holiday to a hotel in Cromer and play an American rules tournament that was taken very seriously. Then, in 1985 the family entered the Hunstanton week and discovered the delights of association croquet.
In the next 10 years Debbie developed her skills, her first TP was in 1987 and she won the Spencer Ell in 1988. She went on to play in the Chairmans and Presidents Cup, the Solomon Trophy, came second at the Sonoma Cutrer World Championships and has also twice been USCA American rules doubles champion. Her best year was 1995 when she was a Quarter Finalist in the 1995 World Championships in France, lost to Reg Bamford in the semi-final of the British Opens and beat David Maugham to win the North of England Championships. These achievements were enough for her to be selected to represent Great Britain in the GB team that won the 1996 MacRobertson Shield.
Debbie rested from the game in the late 90's and early 0's, but returned in 2008. She continues to enjoy playing advanced croquet, still has occasional TP's and even managed her first sextuple in 2014. Debbie manages the Nottingham Advanced weekend in September and as soon as work commitments allow would like to spend some time on council.
Debbie is now living in Lincolnshire with husband Ian Lines. She works for Interflora as Head of Florist Operations.
Ian Lines (AC GC)
Born in 1965, Ian is a safety and risk management consultant living near Stamford. He started playing croquet in 1993, and won the 1995 All England Association Handicap Championship. During 2004, he won the Chairman's Salver and played for Great Britain in their successful Solomon Trophy team against the USA in Palm Springs. More recently, he has represented England in the Home Internationals, won the Chairman's Salver again in 2008 and 2016, the Coles Championship in 2008 and the North of England Championship in 2009. He has played in the President's Cup in 2010 and been ranked as high as 5th in the Association world rankings. Although primarily an Association player, Ian also enjoys Golf croquet, in which his greatest achievements have been winning the Musk Cup in 2007 and the Plate at the 2008 World Championship in Capetown. However, his proudest croquet achievement was to be a member of the Great Britain team that won the MacRobertson Shield in 2010. Ian has travelled extensively around the world to play croquet, and came 3rd at the 2006 Australian Open, won the Z event at the 2007 New Zealand Open, won the Plate at the AC World Championship in Florida in 2016 and won the 2009 New Zealand Open Doubles with Michael Wright.
Ian has been the Tournament Secretary for Bowdon Croquet Club since 1997, organising all the external tournaments, as well as managing several CA tournaments each year. He was Secretary of the North West Federation of Croquet Clubs for 10 years, and joined the CA Council in 2012, currently serving on the International and the Association Laws Committees, as well as being Chairman of the Mac and AC Selection Committees. In addition to playing croquet, Ian is a Grade 3 coach, Championship Referee and also enjoys walking and travel with his wife Debbie.
David Maugham (AC)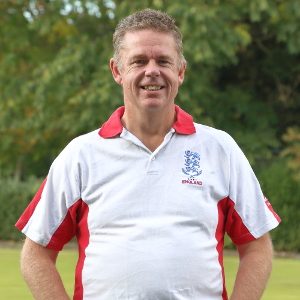 David Maugham was introduced to croquet by his father in 1981 when he was 12 and started playing competitively in 1985. He has won various singles honours including the British Open Championship, three British Men's Championships, five British President's Cups, the Sonoma-Cutrer World Championship 3 times, the Australian Open, the US Open and over 25 British Regional Championships. His doubles successes include four British Open Doubles titles (with Steve Comish, Chris Clarke, Mark Avery and Paddy Chapman) and four British Mixed Doubles (once with Jenny Williams, twice with Ailsa Lines and once with Gabrielle Higgins).
David has also been on six Macrobertson Shield winning Great Britain sides, and considers his best match to be the one in which he completed a TP to win the deciding game of the final match of the test against New Zealand at Christchurch in 2000 when the scores were level.
Outside of croquet, David works as the IT manager for a natural stone company; has a black belt in ju-jitsu; enjoys computer games; and practices modern jive dancing.
John-Paul Moberly (GC)
John-Paul first discovered croquet at his local club Croquet Durham in 2011 and has been playing regularly ever since.
He burst onto the national Golf Croquet scene with a block victory over Reg Bamford and quarter-final finish at the 2014 British Open. This earned him the John Spiers trophy for Most Improved GC player of 2014.
His main achievements have been: in 2015 reaching the semi-finals of the British Open GC singles and doubles, winning the Shield (for 5th place) at the Under 21s GC World Championship and playing at the GC World Championship, and in 2016 winning the Ramsgate Open, the London Masters, the Musk's Cup, the National Doubles with Tobi Savage and finishing 3rd at the Ascot Cup. He also achieved a ranking high of England no. 2 and World no. 11.
He also plays AC and hopes to further reduce his handicap in the coming years.
Nelson Morrow (GC)
Nelson plays in both New Zealand and UK, but represents NZ in international events.
He has been playing AC in England since 1992 and starting playing GC 10 years later. Nelson has played in 4 AC World Championships and 5 GC World Championship, his best showing was 10th in the over-50's GC World Champs. in Cairo. During this time Nelson has won various cups including The Hurlingham Cup (twice), The Woking Cup, The Selectors Cup in the UK and The Silver Badge and The Silver & Bronze Medals in NZ. His initial successes in GC included winning the Ascot Cup in 2002 and the GC National Doubles & the Musk Cup in 2003. Since then he has played in most Top 8's and has been runner up both here and in NZ.
In the latest GC World Champs(2015), Nelson won the plate event.
In 2016 Nelson added two other country AC titles, The North American Open and The Gold Goast Men's in Australia.
Nelson is a manager of both GC and AC at The Hurlingham Club, as well as being a GC championship referee and club handicapper. He enjoys splitting his time between NZ & UK and the chances it gives him to play throughout the year.
Stephen Mulliner (AC GC)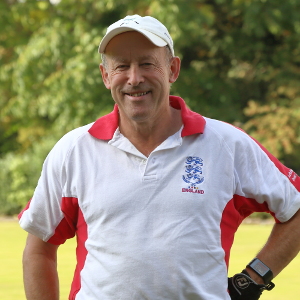 Stephen Mulliner, 63, took up tournament croquet as a Cambridge undergraduate in 1976. Association Croquet: current World Champion (2016 at West Palm Beach, Florida and finalist in 1997 and 2008); British Open Champion 1988, 1990, 2000; Open Doubles champion 9 times, President's Cup winner 5 times 1981-92, Sonoma-Cutrer Champion 4 times, European Champion 13 times 1993-2013. Only player to have won both the Singles and Doubles Championships of Australia (2009), England (see above), New Zealand (2009 singles, 2000 doubles) and United States (2011). Represented Great Britain in the MacRobertson Shield in 1982, 1986, 1990, 2000, 2003, 2010 and England in 2014 and selected for 2017 event. Golf Croquet: World Championship semi-finalist 2000, 2006 and 2015; British Open Champion 9 times, including 2010-13 and 2016, English National Champion (Ascot Cup) 2012 and 2014; Musk's Cup winner 2015; European Champion 2007, 2009, 2013 and 2015; represented Rest of the World v Egypt in the Ramsis Cup (2008 and 2016); captained England in GC World Team Championships 2012 and 2016. Has competed in 16 different WCF Member countries. Vice-President of the Croquet Association, President of the European Croquet Federation and Secretary-General of the World Croquet Federation. Lives in Haslemere, Surrey. Married to Sarah with 4 children aged 27 to 33. Management consultant, Waverley Borough Councillor, active in local politics and keen golfer and all-round sportsman.
David Openshaw (AC)
David was been a regular member of the Great Britain croquet team between 1979 and 2002 and its Captain from 1982 to 2002. During this period the Great Britain croquet team was Britains most successful sports team.
His trophies include British Open Champion 1979, 1981 and 1985, US Open Champion 1991, Canadian Open Champion 1991 Scottish Open Champion 2006. He has also been successful in doubles competitions winning the British Open in 1985 and 1987 with Mark Avery, the British Mixed Doubles Championship with Kathleen Priestley in 2002 and 2003, and the NZ Open Doubles Champion with Stephen Mulliner in 2000. He is also pleased to have won the North of England Championship on six occasions.
In the World Championship he was losing finalist in 1991 and reached the semi finals in 1989 and 1992.
David was President of the World Croquet Federation from 2004 to 2010. He works in the Automotive Industry as a consultant.
Samir Patel (AC)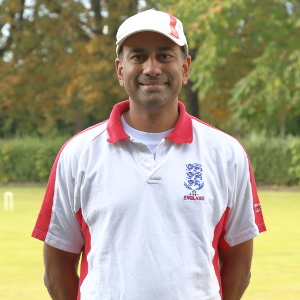 Samir has been playing croquet since taking up the sport in the late-nineties at Oxford University.
Now a member of Surbiton Croquet Club, he has won the Club Championship for both Association and Golf Croquet, and has won the Inter-Club Championship in both codes. He has been as high as fourth in the world rankings. Individual tournament successes include the President's Cup (2013) and Championship of Surrey (2010, 2014). He has reached the British Opens Final on three occasions (2008, 2013, 2016) and World Championship Quarter Finals twice (2012, 2016).
He has regularly represented both England and Great Britain since 2007. He has captaining the winning Solomon Trophy team since 2013, and the MacRobertson Shield team in 2014 and 2017.
Samir is an Operational Research consultant, is married and lives in Richmond, Surrey. His son can often be seen court-side demanding to be allowed to play.
Duncan Reeve (AC)
Duncan (b 1966) started playing croquet seriously as a student at Durham University, and in 1985 and 1986 was part of the few teams outside Oxbridge to win the Edmund Reeve Universities Croquet Challenge Cup, named after his great-grandfather.
In the following few years his achievements included representing representing GB in the Solomon Trophy, representing Scotland in the Home Internationals on a number of occasions, winning the Eastern Championship, and reaching the final of the Opens Doubles.
Having 'retired' for about 20 years to follow family pursuits, he eased back into the tournament scene around 2013, and soon got back to his previous standard.
Duncan is also active in supporting grass roots croquet at his home club in High Wycombe.
Rachel Rowe (GC)
Rachel played in the 2016 England Openshaw Shield team, won the European 2014 Golf Croquet Championship and the 2011 World Women's Golf Croquet Championship. She played in the U21s from 2007 and won the Steel Bowl for the most improved female player in 2008.
Rachel has a Maths degree from Warwick and has been working for Experian as a Data Developer in Nottingham since graduating in 2010.
She likes travelling to new places and finds Croquet provides lots of excuses for this!
Tobi Savage (GC)
Tobi began playing competitive Croquet in 2010. He plays both GC and AC, but has a passion for GC. He is a competing member of Canterbury Croquet Club.
He was proud to have received his Gold, Silver and Bronze award for AC, he has represented Kent in the AC Intercounties, and he aims to continue to do so. He has also played in the AC Kent Cup, winning the award for the best performing high handicap.
This year he won the Alf Moat trophy at his club, but he is yet to seriously compete nationally. He hopes to improve his AC ability as time goes on, but he doesn't find AC grabs him in quite the same way as GC does. Tobi also finds the atmosphere that surrounds the game somewhat unwelcoming, especially to amateur players, which he feels is of detriment to the sport.
Tobi has won numerous Club GC Competitions and events at club level, and in 2013 he won the Roehampton GC Open, which gained him qualification for the English National Singles Championship for the first time. His most notable club competition victory is the Dulwich Presidents Invitational 2015. He is hoping to defend this title, and very much enjoys competing in this particular event.
He has represented Kent in the GC Intercounties a number of times, and has been part of a winning Kent GC team. He is now Kent Intercounties GC Team Captain.
He has won the GC Kent Cup 3 times.
He has won the GC All England Handicap event twice.
He has competed in the GC European Championship once (2014) and the Golf Croquet World Championships twice (2013 & 2015). Tobi also represented his country in the GC World Team Championship in 2016, which was a tremendous honour. In New Zealand at the 2015 GC World Championships, Tobi played his most memorable shot ever, by jumping over the top of the peg to score hoop 12 for a 7-5 win. It was described by an international player of the highest calibre as "probably the best ending to a game of GC ever" - high praise indeed! He has played some pretty unforgettable shots over the years (and indeed some pretty forgettable ones, too!), but this is without doubt his all-time favourite. He came close to re-enacting the shot in competition, and has done it once or twice in practice.
His proudest achievement to date is winning the English National Singles Championship in 2015. Tobi feels his GC ability is moving from strength to strength, and he hopes to continue improving as the years go by. Playing spectacular shots occasionally is one thing, but Tobi believes the true key to success in Croquet is consistency.
Outside of Croquet, Tobi works as a Railway Conductor. He is married to Emma, and has a beautiful Siberian Husky. He enjoys riding his motorcycle, but having a 45+" mallet can make this quite challenging!
Samantha Thompson (GC)
Born in 1964, Samantha is Managing Director of the Ripon Spa Hotel, and is a founder member of the Ripon Spa Hotel Croquet Club, she is currently having a year off , having played in many tournaments last year .
Lionel Tibble (GC)
Lionel is a retired energy consultant with a background in marine engineering and brewing. He began playing AC in 1991 and GC in 2011. He is a three times winner of the Du Pre Cup and an active member of Northampton Croquet Club. In his debut year of competitive GC he reached the knock out stages of the 2011 London World Championships. He won the inaugural London Masters event in 2012 without losing a single game and since then has played in both the Ascot and Musk cups regularly. Lionel was a team member of the England squad for the 2016 World Team GC Championships and has recently taken up the appointment for International Performance Development Director GC.
Peter Trimmer (AC)
Pete is a theoretical biologist at Bristol, researching how brains have evolved to make decisions. A lucky run of wins has plunged Pete's ranking in 2013, suggesting that his form is close to his former best of World Number 3.
On the rare occasions that Pete wins anything, the wrong name is usually engraved on the cup. His brother's name, D. Trimmer, remains in perpetuity on the Gold Cup for the Southern Championship, and D.Mundy was initially inscribed on the Men's Championship cup.
Pete does kung fu and enjoys many games like table-tennis, snooker, scrabble and Go. Pete is also interested in dancing, girls, and dancing girls.
Jack Wicks (AC)
Jack, commonly known as Wixy, isn't quite 30 yet. He started playing croquet at his local club, Colchester, at the age of 13, thanks to his grandmother's passion for the game. Jack quickly started to play the game seriously and has been competing in CA events ever since. Some of his achievements in the sport include; final of the Men's Championship 2006; played in Presidents cup 2006 & 2016; semi-final of the Open Championship 2008; Winner East Midlands Championship 2014; Winning Interclub Competition with Colchester 2014; Winner Du Pre Consolation Event 2015; Representing England in winning teams at the Home Internationals; Representing GB in winning teams against Ireland.
Robert Wilkinson (AC)
(Profile not yet available)
Liz Wilson (AC)
(Profile not yet available)