Growth and Recruitment in the CA
Concerns have been expressed about perceived declining levels of competitive croquet across the country. This has often been attributed to a growth in 'social croquet', which is not confined to Golf Croquet but certainly this variant represents the greater part of the rise in non-competitive play.
A CA Recruitment Working Party and the CA Marketing Committee set about measuring whether the concerns were justified and determining what could and should be done about it. This is a summary of the report, which was ratified by the Council in March 2011, and which include a change of direction of the CA's Growth and Recruitment Strategy.
Recommendations
The introduction, by the federations, of more local competitions, for both AC and GC players, designed to encourage players who have previously not tried external competitions.
Running AC Introduction courses for GC-only players.
Especially support recruitment of the type of croquet player who is more likely to be competitive.
Croquet is essentially a competitive sport and the CA should concentrate on promoting competition. This might include greater selectivity in respect of clubs which are to receive enhanced support from the CA,
The CA should take a lead in formulating a Growth and Recruitment Strategy, which will not only deliver increased numbers of players but also the 'right kind of player'.
In particular, the CA Development Committee should formulate a plan to introduce croquet into more universities, possibly working with university authorities to form new clubs which are also available to the communities local to them.
The CA (through PR, literature, etc.) needs to emphasise the intellectual challenge of croquet.
There should be a rebalancing of the Individual Member Subscription and the Capitation Fee, which would help to remove one barrier to increased competition.
In addition, The CA is keen to spread existing good practices that encourage competitive play in clubs. Please share your club's experience with the CA Office and the Marketing Committee will gather the good practices and publicise them to all clubs.
Measuring the Problem
| | 2008 | 2009 | 2010 |
| --- | --- | --- | --- |
| AC | 3731 | 3530 | 3267 |
| GC | 495 | 477 | 507 |
| Total | 4226 | 4007 | 3774 |
Despite a slight increase in the number of CA tournaments advertised in the Fixture Book, the absolute numbers of people entering them has fallen over the past three years. The table shows entries, per person per event, for 2008-2010.
Entries for AC tournaments has declined by an average of 12% (with entries in the lower end of competitive AC, handicap singles events, down 20% and handicap doubles down 27%). Meanwhile, entries in GC tournaments (13% of the total) have stayed roughly constant, while the number of GC players has surged.
Additionally, a survey of clubs was undertaken in both 2006 and 2010. Latest figures show that the proportion of all club players who play in any external competitions (including federation events and local leagues) is down to just 25%. This national average masks significant regional variations, from 6% in the West Midlands to 50% in the South East (though the latter unfortunately being an estimate based on incomplete data).
These statistics, along with considerable anecdotal evidence (e.g. some federations being unable to continue with local events and some competitive players being 'crowded out' of certain clubs with large numbers of social GC players) confirm that competitive croquet is in decline. Indeed, this appears to be as much a problem for GC as it is for AC.
More work needs to be done to fully understand why this is happening (for instance, the recession, with travel and accommodations costs becoming less affordable, has no doubt had some impact).
The Role of the CA
The CA does not have a Growth and Recruitment Strategy as such. It has largely been left to clubs to recruit as they see fit, and the CA has provided support.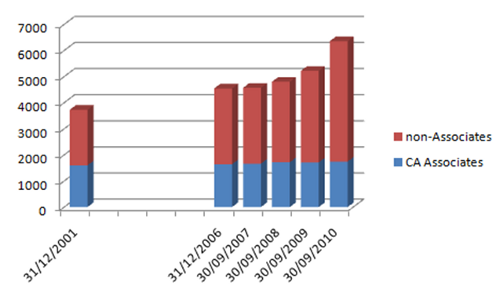 Growth in Croquet Player Numbers
The result of this has certainly been success in terms of numbers: The chart shows a compound annual growth rate of 8.75% within member clubs over the past four years, though it should be said that about half of this increase is because the number of member clubs has increased from 142 in 2006 to 182 in 2010, with much of this increase being because previously non-affiliated clubs have joined the CA.
Nonetheless, existing clubs have grown their numbers substantially, and the majority of growth has been down to recruiting social GC players (said to be "picking the low hanging fruit"). While this has been a success of sorts - with many clubs now finding themselves on a firm financial footing - it has raised other problems, one of which is the reduction in the proportion of competitive players.
Croquet is essentially a competitive sport and the CA should concentrate on promoting competition. This is a fundamental question which the CA Council needs to address. It might affect the CA's attitude to development grants, for instance; or it might mean that for investment in new or expanding clubs the CA should look for a 'return', in terms of additional Individual Members.
Along with a decline in the proportion of competitive croquet players, we have seen a decline in the proportion of club members choosing to join the CA as Individual Members. It is down from 45% in 2001 to 27% in 2010. The CA is greatly concerned by this, not only because of the obvious threat to its funding but also because it is unhealthy for the national body of any sport to have the support of only about a quarter of those players benefiting from its work.
There are insufficient benefits of becoming an Individual Member and some federation representatives have passed on feedback from grass roots club players that the current fee of £37 is too high - that is, the CA fee to allow entry into tournaments might be too great a hurdle. This season the CA has taken a first step to rectify this, by improving its cut price offer to new Tournament-playing Individual Members.
One longer term option is a rebalancing of the CA's income. For instance, the capitation fee for members of CA clubs is only £7. Based on the 2009 accounts, if this were to have been £10, then the membership subscription could have been reduced from £35 to £24, while maintaining the same total income.
There are now calls for the CA to take a lead in formulating a Growth and Recruitment Strategy, which will not only deliver increased numbers of players but also the 'right kind of player', who will be keen to participate in competitive croquet and to join the CA as Individual Members.
Characteristics of Croquet Players
The CA paper went on to explore the characteristics of the 'right kind of player' and to suggest where they might be found. It is not intended to be a complete blueprint of how to implement the new Growth and Recruitment Strategy. However, the strategy should influence CA Marketing, Development, Coaching, as well as how we finance our sport.
Some of the ideas explored are discussed below:
People in their 60s and 70s dominate croquet in this country; two-thirds are retired and less than 8% are aged under 40. There are few who do not believe that we need to recruit more younger people to the sport, not least because younger players tend to be more competitive.
While every support should be (and usually is) given to schools offering croquet, this is a very difficult source of new youngsters to proactively target, with a disappointing return for those clubs which put in the effort. However, there is considerable enthusiasm for the idea of introducing croquet into more universities. In those where success has been achieved in the past the results have been spectacular. A large proportion of this country's top players first encountered croquet at either Oxford or Cambridge. In this year's Oxford 'Cuppers' (now sponsored by the CA, along with the Cambridge equivalent) 430 teams of four have entered - the largest croquet competition in history!
Only 29% of CA Individual Members and only 10% of players with an AC ranking (a reasonable indicator of 'competitiveness') are female. Comparative figures for other major croquet-playing nations are: Australia - 65% and 30%, respectively, and for the USA - 45% and 15%. Attracting more females in this country will correct an under-represented segment of our market, and should be seen as a recruitment opportunity.
Historically, croquet has most appealed to graduates and professionals. This is because, like bridge, backgammon, chess, etc., it is a 'mind game'. There is a consensus that too little emphasis is put on this and we should in future emphasise the intellectual challenge of croquet.
Many people take up croquet to satisfy their competitive instincts when they can no longer play other sports (especially sports for individuals, such as tennis and squash, rather than team sports). This also suggests a degree of targeting when recruiting.
Another strand which has been investigated is the potential to do more than create a universal demand for croquet and to take advantage of it just in the areas where there are strong clubs, but to target certain geographies. Some early examples of research using advanced computer mapping tools has revealed certain 'croquet deserts', with no club, such as:
Stoke-on-Trent / Newcastle-under-Lyme / Crewe: 450,000 population
Swansea (223,000)
Great Yarmouth / Lowestoft (166,000)
There are also 'arid areas', with just one or two small clubs but considerable potential, such as:
Reading / Wokingham (293,000), with only the Caversham club.
Slough / Maidenhead / Windsor (253,000), with only High Wycombe and Phyllis Court.
Birmingham (977,000), served only by Edgbaston.
This summary was prepared by Kevin Carter on behalf of the CA Marketing Committee and the Recruitment Working Party, and first appeared in The Croquet Gazette, issue 332. The full paper, Growth and Recruitment in the CA, is available to Members of the CA.